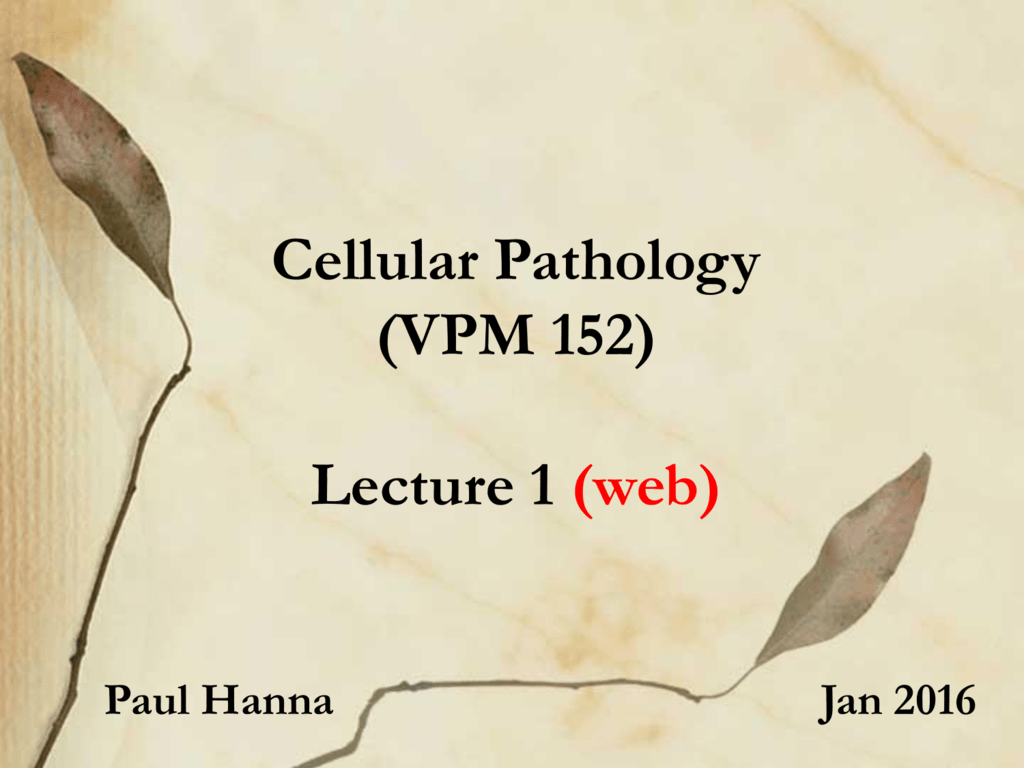 Cellular Pathology
(VPM 152)
Lecture 1 (web)
Paul Hanna
Jan 2016
CELLULAR PATHOLOGY
"All organ injuries start with structural or molecular alterations in cells"
concept began by Virchow in 1800's
• modern study of disease attempts to understand how cells react to injury, often at the
subcellular or molecular level, and how this is manifested in the whole animal.
J Clin Invest. 2006; 116(8): 2272–79
Podocyte
cell body
Primary
process
Foot
processes
Glomerular podocytes of normal mouse
Degeneration / loss of podocyte foot processes in mouse
with defective laminin in the glomerular basement membrane
NORMAL CELLS
• to understand the abnormal, you first have to understand the normal!
© Pearson Education Inc.
PLASMA MEMBRANES
• phospholipid bilayer with embedded proteins / glycoproteins / glycolipids
• semipermeable membrane with pumps (ionic/osmotic balance), receptors, adhesion molecules, etc
Fig 1-3 (Zachary) A variety of functions are performed by different types of transmembrane proteins.
NUCLEUS
Robbins & Cotran, 9th ed
• chromatin (euchromatin vs heterochromatin)
• nucleolus (synthesis of rRNA)
• transcription of genes to mRNA  moves to cytoplasm for translation to protein
MITOCHONDRIA
• site of oxidative phosphorylation, the main source of ATP
Intermembrane space
Mitochondria are present in
almost all mammalian cells;
exceptions are erythrocytes,
lens fibers and keratinocytes
of the stratum corneum
© Pearson Education Inc.
MITOCHONDRIA
• pyruvate & fatty acids enter
mitochondria and broken down to
acetyl CoA
• acetyl CoA enters citric acid cycle and
electrons are stripped off to reduce
NAD to NADH.
• high energy electrons passed from
NADH to electron transport chain in
inner membrane.
• electron transport creates proton
gradient across the inner membrane.
• proton gradient drives the rotary
enzyme ATP synthase to produce ATP
Glycolysis = 2 ATP
Ox-Phos = ~30 ATP
[Molecular Biology of the Cell]
RIBOSOMES, ENDOPLASMIC RETICULUM & GOLGI APPARATUS
RER & Golgi
• synthesis and packaging of proteins for export,
membranes, lysosomes
SER
• lipid biosynthesis (eg membranes, steroids)
• detoxification of harmful compounds (via P450's)
• sequestration of Ca2+ ions
[Bloom & Fawcett: A textbook of Histology]
PROTEIN PRODUCTION AND ASSEMBLY
Robbins & Cotran, 9th ed
In healthy cells, newly synthesized proteins are folded with the help of chaperones and are then incorporated into the cell or secreted. Cytosolic
proteins destined for turnover, senescent proteins, or proteins that have become denatured due to extrinsic mechanical or chemical stresses
can be tagged by multiple ubiquitin molecules which marks them for degradation by proteasomes.
Robbins & Cotran, 9th ed
Various external stresses or mutations induce a state called ER stress, in which the cell is unable to cope with the load of misfolded proteins.
Accumulation of these proteins in the ER triggers the unfolded protein response, which tries to restore protein homeostasis; if this response is
inadequate, the cell dies by apoptosis
LYSOSOMES AND MEMBRANE TRAFFICING
• autophagy vs heterophagy / endocytosis
• phagocytosis vs pinocytosis vs receptor-mediated endocytosis
• enzymatic (acid hydrolases) digestion of materials in the cell
[Molecular Biology of the Cell]
Macrophage phagocytosing
two chemically altered red
blood cells.
Robbins & Cotran, 9th ed
Figure 1-9 A, Lysosomal degradation. In heterophagy (right side), lysosomes fuse with endosomes or phagosomes to facilitate the degradation
of their internalized contents. The end-products may be released into the cytosol for nutrition or discharged into the extracellular space
(exocytosis). In autophagy (left side), senescent organelles or denatured proteins are targeted for lysosome-driven degradation by encircling
them with a double membrane derived from the endoplasmic reticulum and marked by LC3 proteins (microtubule-associated protein 1A/1B-light
chain 3). Cell stressors such as nutrient depletion or certain intracellular infections can also activate the autophagocytic pathway.
CYTOSKELETON
structure & movement of cells / organelles / molecules / phagocytosis
 Microfilaments = actin (~7 nm): in various arrangements → cell shape & movement
[Molecular Biology of the Cell]
 Microtubules (~25 nm): organelle movement / flagella / cilia / mitotic spindle
[Molecular Biology of the Cell]
Basic Histology
[Molecular Biology of the Cell]
 Intermediate filaments (~10 nm): cytokeratins, vimentin, desmin, GFAP, neurofilaments
Molecular Biology of the Cell
[Molecular Biology of the Cell]
Cytokeratin in epidermal keratinocytes
PEROXISOMES
• enzymes (oxidases, catalase) for fatty acid metabolism / detoxification / antioxidation
[Molecular Biology of the Cell]
[Molecular Biology of the Cell]
Figure 12–2 An electron micrograph of part of a liver cell
Frida Kahlo (1907–1954) was a Mexican
painter, who has achieved great international
popularity. She painted using vibrant colors
in a style that was influenced by indigenous
cultures of Mexico as well as by European
influences that include Realism, Symbolism,
and Surrealism.
CELL ADAPATION, INJURY & DEATH
I.
DEFINITIONS AND TERMINOLOGY
II.
CELLULAR ADAPTATIONS OF GROWTH
III.
CAUSES OF CELL INJURY
IV.
MECHANISMS OF CELL INJURY
V.
ISCHEMIC AND HYPOXIC CELL INJURY
VI.
FREE RADICAL - INDUCED CELL INJURY
VII. CHEMICAL INJURY
DEFINITIONS
1) Homeostasis
• cells maintain normal structure & function in response to physiologic demands
2) Cellular Adaptation
• as cells encounter some stresses they may undergo functional or structural
adaptations to maintain viability / homeostasis
• adapt to some stimuli by increasing or decreasing specific organelles
• adaptive processes: atrophy, hypertrophy, hyperplasia and metaplasia
DEFINITIONS
3) Cell Injury
• if limits of the adaptive response are exceeded or if adaptation not possible, a
sequence of events called cell injury occurs
a) Reversible Cell Injury
• removal of stress / injury  complete restoration of structural & functional integrity
Fig 2-1 (Robbins)
Stages of the cellular
response to stress
and injurious stimuli.
b) Irreversible Cell Injury / Cell Death
• if stimulus persists (or severe enough from start)  cell suffers irreversible cell injury & death
• 2 main morphologic patterns: necrosis & apoptosis
Myocardial
hypertrophy
Myocardial infarction
(ischemic necrosis)
Fig 2-2 (Robbins) The relationship between normal, adapted, reversibly injured, and dead myocardial cells. All three transverse sections of
the heart have been stained with triphenyltetrazolium chloride, an enzyme substrate that colors viable myocardium magenta. The cellular
adaptation shown here is myocardial hypertrophy (lower left), caused by increased blood pressure requiring greater mechanical effort by
myocardial cells. This adaptation leads to thickening of the left ventricular wall (compare with the normal heart). In reversibly injured
myocardium (illustrated schematically, right), there are functional alterations, usually without any gross or microscopic changes but
sometimes with cytoplasmic changes such as cellular swelling and fat accumulation. In the specimen showing necrosis, a form of cell death
(lower right), the light area in the posterolateral left ventricle represents an acute myocardial infarction caused by reduced blood flow
(ischemia).
CELLULAR ADAPTATIONS OF GROWTH & DIFFERENTIATION
*
* To be discussed in detail in
*
Disorders of Growth / Neoplasia
ATROPHY
• definition: decrease in the amount of a tissue or organ after normal growth has
been attained
• adaptive response where a tissue or organ undergoes a reduction in mass, due to
a decrease in the size &/or number of cells
Etiology of Atrophy
• due to:
decrease in work load
loss of innervation
loss of hormonal stimulation
reduced blood supply / hypoxia
inadequate nutrition
compression
aging
• atrophic cells have a reduced functional capacity
• still control their internal environment & produce enough energy to survive
• in many cases return to 'normal' when causative stimulus is removed
Mechanisms & Biochemistry of Atrophy
• catabolic > anabolic processes;
eg, muscle atrophy: ↓ myofilaments, ↓ mitoch., ↓ ER, ↓ metabolic activity
• cell shrinks in volume & decreases functions 
↓ energy requirements
• autophagic vacuoles increase and some cells may die
Gross Appearance of Atrophy
• tissue/organ is decreased in size
Microscopic Appearance of Atrophy
• cells are smaller &/or fewer than normal
Fig 2-5 (Robbins) Atrophy as seen in the brain.
A, Normal brain of a young adult.
B, Atrophy of the brain in an 82-year-old man with atherosclerotic cerebrovascular disease, resulting in reduced blood
supply. Note that loss of brain substance narrows the gyri and widens the sulci.
The meninges have been stripped from the right half of each specimen to reveal the surface of the brain.
Normal
Normal pectoral muscle bird (top) compared to marked
bilateral pectoral muscle atrophy (bottom) due to
malnutrition / starvation, ie muscle proteins broken down
and used for basic energy requirements
Horse with atrophy of the muscles of the left upper
hindlimb; could be due to nerve damage or disuse
secondary to a local injury
Great horned owl, unilateral atrophy of pectoral
muscles.
Illustration showing what the pectoral muscles in this
bird would look like in cross-section; note "shrinkage" of
the birds right pectoral muscle indicating atrophy
Great horned owl, further dissection shows cause of the
unilateral pectoral muscle atrophy; ie tearing / damage
(avulsion) of right brachial plexus (see arrow) resulting
in denervation atrophy.
Great horned owl, atrophic
muscle on left of screen,
normal muscle on right
Close-up of atrophic muscle (cross-section), showing
reduced diameter of most myocytes.
Bovine, normal solid epicardial fat in coronary
sulcus (coronary groove) and interventricular
grooves.
Ovine, serous atrophy of
epicardial fat.
Bovine, perirenal fat – normal control
animal (left); serous atrophy of perirenal fat
from emaciated animal (right)
Control animal showing normal marrow fat (top).
Serous atrophy of marrow fat from an emaciated
sheep (bottom), which appears gelatinous /
transparent.
HYPERTROPHY
• definition: adaptive response by which organs are increased in size due to an
increase in cell size
Etiology of Hypertrophy
• a response to increased work load:
physiological - eg, with exercise see increase in muscle cell size
pathological - eg, heart failure see enlargement of cardiac myocytes
• a response to trophic signals:
physiologic hypertrophy (& hyperplasia)
eg: uterus and mammary gland in pregnancy, lactation
pathological hypertrophy
eg: myocardial hypertrophy in hyperthyroid cats
Mechanisms & Biochemistry of Hypertrophy
Fig 2-4 (Robbins) Biochemical mechanisms of myocardial hypertrophy. The major known signaling pathways and their functional effects
are shown. Mechanical sensors appear to be the major triggers for physiologic hypertrophy, and agonists and growth factors may be
more important in pathologic states. ANF, Atrial natriuretic factor; GATA4, transcription factor that binds to DNA sequence GATA; IGF1,
insulin-like growth factor; NFAT, nuclear factor activated T cells; MEF2, myocardial enhancing factor 2.
Mechanisms & Biochemistry of Hypertrophy
• anabolic processes > catabolic ones.
• increase in organelles / cellular proteins: eg, mitochondria, ER, myofibrils
Gross Appearance of Hypertrophy
• tissue/organ is increased in size
Microscopy of Hypertrophy
• cells are larger than normal
Marked muscle hypertrophy due to
increased work load (weight lifting) and
probable hormonal stimulation (ie injecting
anabolic steroids - just a wild guess!)
HYPERTROPHY
Canine, normal heart
Canine, left ventricular hypertrophy (in this case
due to hypertension)
Canine, normal myocardium
Canine, left ventricle, cardiac myocyte hypertrophy;
(same magnification as normal slide to left) note
enlargement of individual myocytes
Hyperplasia
• increased organ/tissue mass caused by an increase in the number of constituent cells
• hypertrophy and hyperplasia occur together in many tissues
Canine, functional pituitary adenoma secreting
excess ACTH causing marked diffuse bilateral
adrenal cortical hyperplasia (& hypertrophy).
Canine, normal adrenals, note
ratio of cortex to medulla.