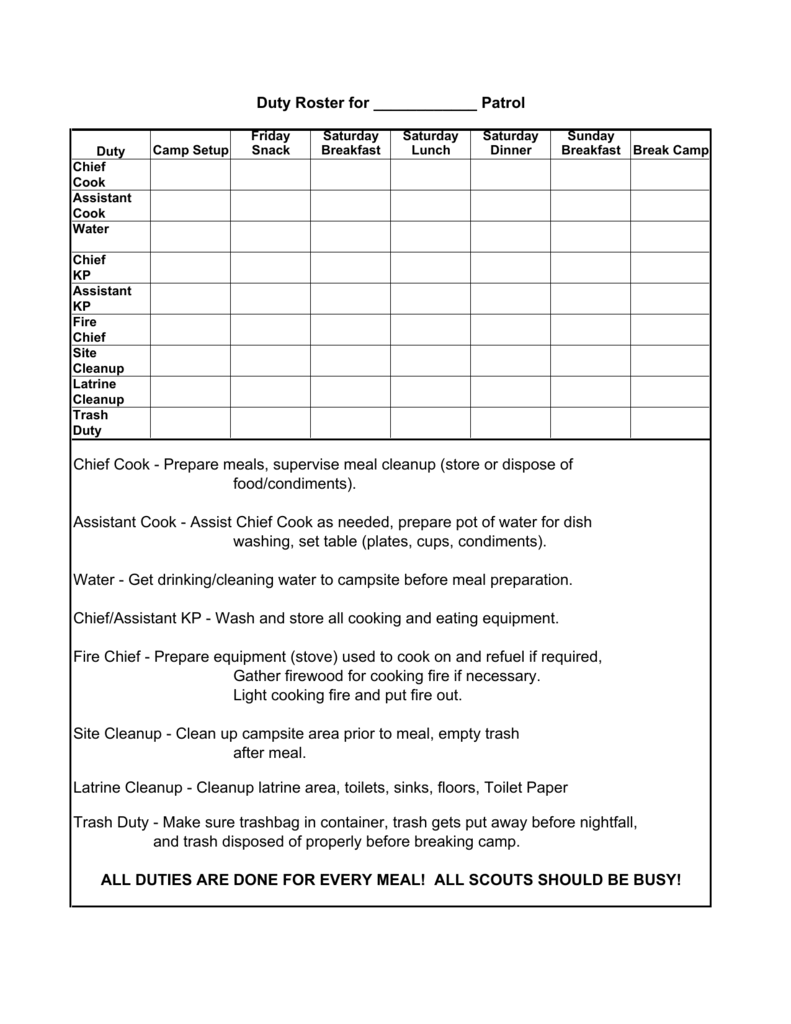 Duty Roster for ____________ Patrol
Duty
Chief
Cook
Assistant
Cook
Water
Camp Setup
Friday
Snack
Saturday
Breakfast
Saturday
Lunch
Saturday
Dinner
Sunday
Breakfast Break Camp
Chief
KP
Assistant
KP
Fire
Chief
Site
Cleanup
Latrine
Cleanup
Trash
Duty
Chief Cook - Prepare meals, supervise meal cleanup (store or dispose of
food/condiments).
Assistant Cook - Assist Chief Cook as needed, prepare pot of water for dish
washing, set table (plates, cups, condiments).
Water - Get drinking/cleaning water to campsite before meal preparation.
Chief/Assistant KP - Wash and store all cooking and eating equipment.
Fire Chief - Prepare equipment (stove) used to cook on and refuel if required,
Gather firewood for cooking fire if necessary.
Light cooking fire and put fire out.
Site Cleanup - Clean up campsite area prior to meal, empty trash
after meal.
Latrine Cleanup - Cleanup latrine area, toilets, sinks, floors, Toilet Paper
Trash Duty - Make sure trashbag in container, trash gets put away before nightfall,
and trash disposed of properly before breaking camp.
ALL DUTIES ARE DONE FOR EVERY MEAL! ALL SCOUTS SHOULD BE BUSY!