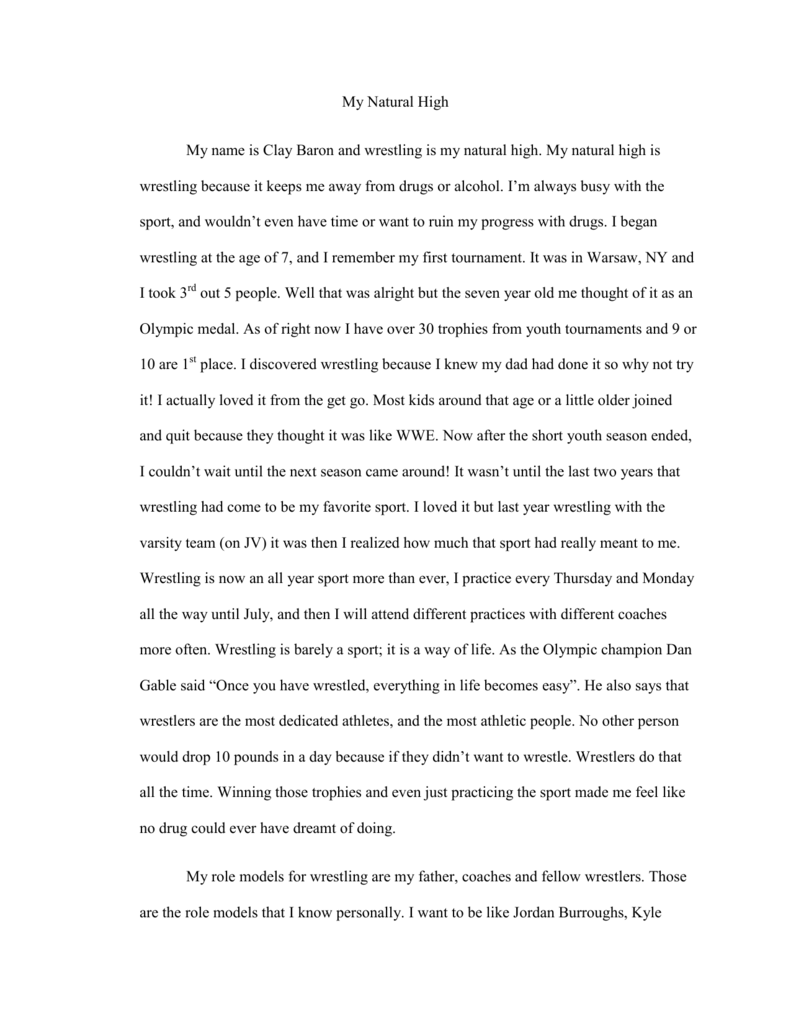 My Natural High
My name is Clay Baron and wrestling is my natural high. My natural high is
wrestling because it keeps me away from drugs or alcohol. I'm always busy with the
sport, and wouldn't even have time or want to ruin my progress with drugs. I began
wrestling at the age of 7, and I remember my first tournament. It was in Warsaw, NY and
I took 3rd out 5 people. Well that was alright but the seven year old me thought of it as an
Olympic medal. As of right now I have over 30 trophies from youth tournaments and 9 or
10 are 1st place. I discovered wrestling because I knew my dad had done it so why not try
it! I actually loved it from the get go. Most kids around that age or a little older joined
and quit because they thought it was like WWE. Now after the short youth season ended,
I couldn't wait until the next season came around! It wasn't until the last two years that
wrestling had come to be my favorite sport. I loved it but last year wrestling with the
varsity team (on JV) it was then I realized how much that sport had really meant to me.
Wrestling is now an all year sport more than ever, I practice every Thursday and Monday
all the way until July, and then I will attend different practices with different coaches
more often. Wrestling is barely a sport; it is a way of life. As the Olympic champion Dan
Gable said "Once you have wrestled, everything in life becomes easy". He also says that
wrestlers are the most dedicated athletes, and the most athletic people. No other person
would drop 10 pounds in a day because if they didn't want to wrestle. Wrestlers do that
all the time. Winning those trophies and even just practicing the sport made me feel like
no drug could ever have dreamt of doing.
My role models for wrestling are my father, coaches and fellow wrestlers. Those
are the role models that I know personally. I want to be like Jordan Burroughs, Kyle
Dake, Dan Gable and David Taylor. They're the best wrestlers possibly ever known.
These amazing wrestlers are the role models of almost any wrestler. My father and other
wrestlers that I know are the positive influences that keep me going every practice and
match to remind me to try as hard as I can to be the best I can. They are my motivation.
My goal that I have set for the next 3 years is basically a 3 year plan with checkpoints
and progression. I will work out every day through high school and by sophomore year I
will place top 4 at the state qualifier. Keep working out and then get top place at state
qualifier and place at the state tournament. The next year I hope to win states, that is my
"3 year plan".
My natural high makes me feel like no one can touch me. In my eyes there is no
better feeling than shooting a blast double, lifting that person up and returning them to the
mat! Better yet is him slapping the mat and getting your hand raised. The rush you get
when your hand gets raised in front of a bunch of people you know is better than any
drug! There s also the feeling of "what did I do wrong" when you lose, you feel like
everything is lost for a minute or so, then you feel motivated to get better and with the
next time, that feeling of motivation after loss is unlike any other sporty and is a natural
high in itself. You will never see any other athlete with the determination and motivation
of a wrestler. Wrestling gives you a rush that couldn't be touched by the highs of the
drugs that people use. It makes you feel more complete, and without wrestling, I
definitely would not be the same person that I am today. Wrestling and winning makes
you feel unbelievable.
I choose to live naturally high because all of the artificial highs come with severe
consequences and risks that I am unwilling to take. Living naturally high with wrestling
is definitely a much more healthy choice for anybody who is even thinking about using
drugs. Wrestling itself keeps me away from these harmful drugs because I know that
these drugs would alter my inclined path of success to ultimate failure. That in itself is
enough to keep me away from drugs. I recommend wrestling to anyone and everyone,
especially if you may be involved or around drugs. Once you succeed you will realize
how much better it is to be naturally high. It is also much healthier!