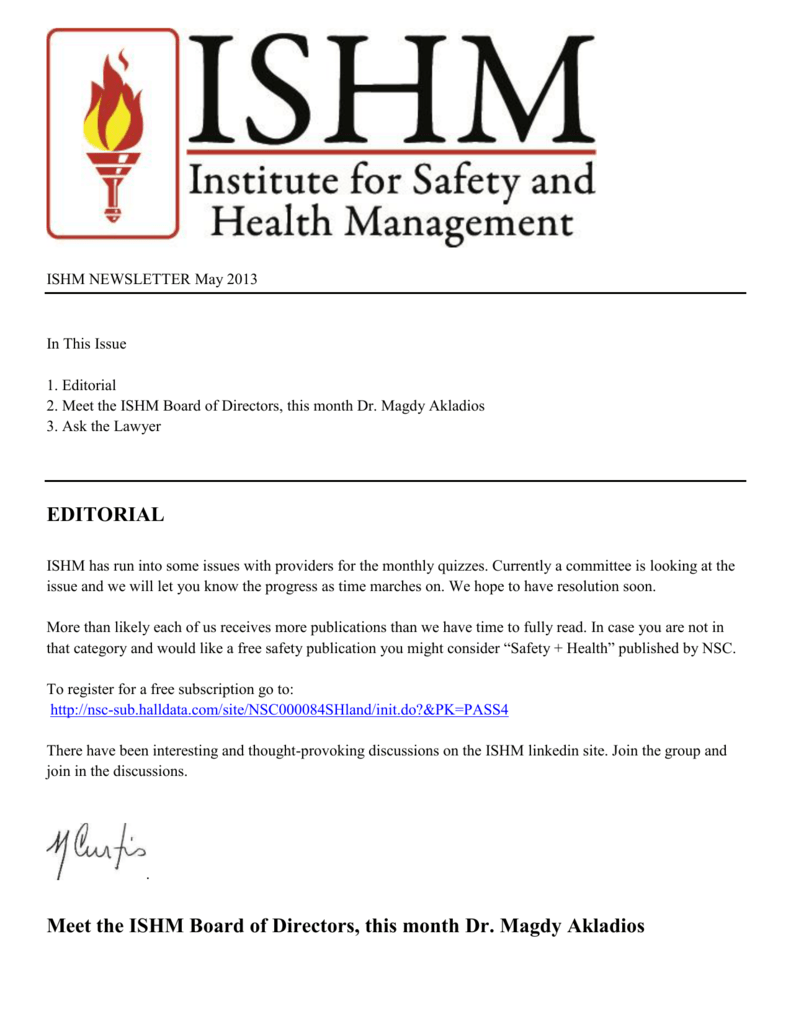 ISHM NEWSLETTER May 2013
In This Issue
1. Editorial
2. Meet the ISHM Board of Directors, this month Dr. Magdy Akladios
3. Ask the Lawyer
EDITORIAL
ISHM has run into some issues with providers for the monthly quizzes. Currently a committee is looking at the
issue and we will let you know the progress as time marches on. We hope to have resolution soon.
More than likely each of us receives more publications than we have time to fully read. In case you are not in
that category and would like a free safety publication you might consider "Safety + Health" published by NSC.
To register for a free subscription go to:
http://nsc-sub.halldata.com/site/NSC000084SHland/init.do?&PK=PASS4
There have been interesting and thought-provoking discussions on the ISHM linkedin site. Join the group and
join in the discussions.
.
Meet the ISHM Board of Directors, this month Dr. Magdy Akladios
Magdy Akladios, PhD, PE, CSP, CPE, CSHM:
Dr. Akladios is a Tenured Associate Professor at the University of HoustonClear Lake (2011-present), before which, he was an Assistant Professor at
UHCL (2005-2011). Prior to coming to UHCL, he was an Assistant Professor,
then Associate Professor at West Virginia University (1996-2005). Dr. Akladios'
education includes a PhD in Industrial Engineering, a Master's degree in
Industrial Engineering, a Master's degree in Occupational Health & Safety
(Industrial Hygiene), an MBA, and a BS degree in Mechanical Engineering. In
addition, he is also a Board-Certified Safety Professional (CSP), a Professional
Engineer (PE), a Certified Professional Ergonomist (CPE), a Certified Safety &
Health Manager (CSHM), and a Certified Member of the Egyptian Syndicate for
Mechanical Engineers. He is also a member of the Industrial Engineers'
Honorary Society (Alpha-Pi-Mu), a member of the Human Factors &
Ergonomics Society (HFES), and a Senior member of the Institute of Industrial
Engineers (IIE).
Dr. Akladios is an experienced researcher, a capable educator, and an effective
trainer with specific knowledge concerning a wide variety of programs, including occupational safety and health
in general and construction industries, ergonomics, and human factors. He has acted as PI or Co-PI for a
number of grants and projects. He has also been involved in curriculum development, authoring book
chapters, professional journal articles, an editor on professional journals, and a variety of other publications.
He served on PhD and Master's Thesis/Dissertation committees and advised students in the fields of his
expertise. In addition, he is also an ABET-Program Evaluator (PEV), and a Team Chair, also with ABET.
Dr. Akladios is also involved with non-academic credit and continuing-Ed training centers such as College of
the Mainland (COM), and have served as a consultant for a number local oil companies such as ExxonMobil,
ConocoPhillips, and Transcanada, in the field of office ergonomics.
___________________________________________________________________
Ask the Lawyer
Question: The topic of distracted driving has been in the news lately. Can OSHA
issue citations to employers based on distracted driving?
Answer: Distracted driving is a safety concern that has received greater attention in
recent years, particularly with the increased use of text messaging. In 2010, OSHA
issued a Guidance Document in which it strongly cautioned against driving while
using a cell phone or texting. While this Guidance does not rise to the level of an
enforceable standard, OSHA emphasized that it would issue General Duty Clause
citations to employers who encourage cell phone usage and texting while driving.
Furthermore, many states and municipalities have passed their own laws banning
distracted driving. To date, at least ten states ban cell phone use and 39 states ban text messaging while driving.
These numbers are growing.
Given the OSHA Guidance Document and these state and local laws, employers are advised to either ban cell
phone usage entirely or require hands-free cell phone usage while driving. Employers that allow their
employees to use cell phones while driving are at risk for receiving a citation under the General Duty Clause.
For more information, see the OSHA Guidance at http://www.osha.gov/distracted-driving/index.html and the
Governor's Highway Safety Ass'n page at http://www.ghsa.org/html/stateinfo/laws/cellphone_laws.html.
Darren may be contacted at [email protected], or at 312-447-2818.