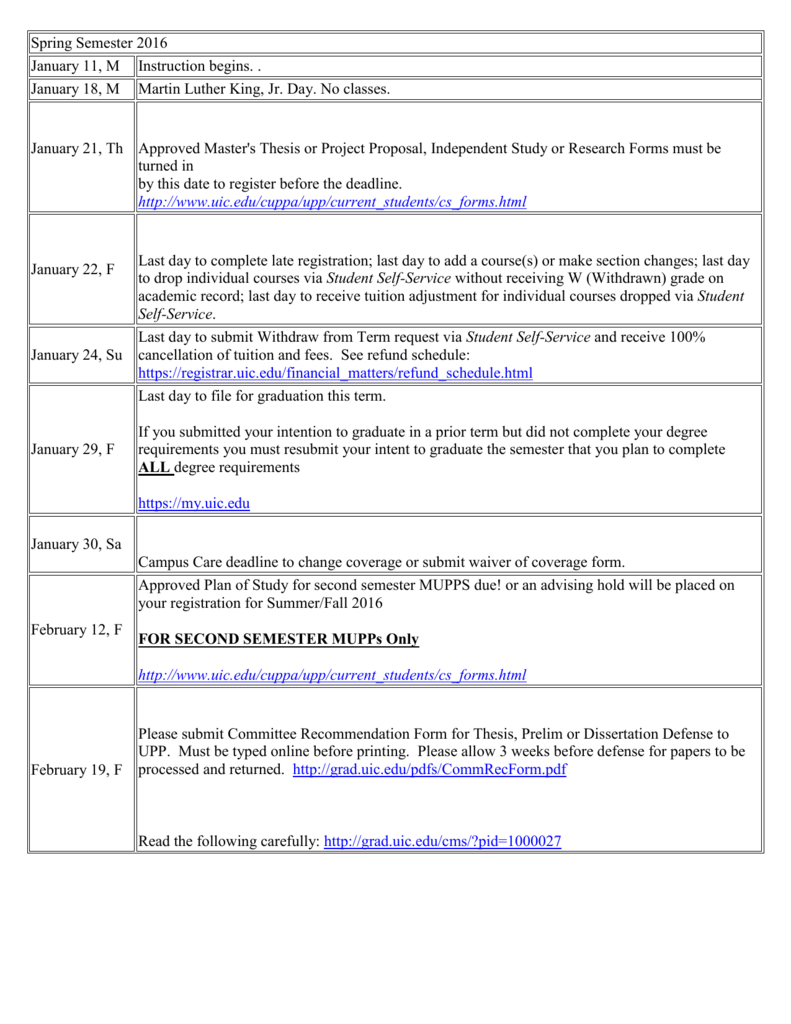 Spring Semester 2016
January 11, M Instruction begins. .
January 18, M Martin Luther King, Jr. Day. No classes.
January 21, Th Approved Master's Thesis or Project Proposal, Independent Study or Research Forms must be
turned in
by this date to register before the deadline.
http://www.uic.edu/cuppa/upp/current_students/cs_forms.html
January 22, F
January 24, Su
January 29, F
Last day to complete late registration; last day to add a course(s) or make section changes; last day
to drop individual courses via Student Self-Service without receiving W (Withdrawn) grade on
academic record; last day to receive tuition adjustment for individual courses dropped via Student
Self-Service.
Last day to submit Withdraw from Term request via Student Self-Service and receive 100%
cancellation of tuition and fees. See refund schedule:
https://registrar.uic.edu/financial_matters/refund_schedule.html
Last day to file for graduation this term.
If you submitted your intention to graduate in a prior term but did not complete your degree
requirements you must resubmit your intent to graduate the semester that you plan to complete
ALL degree requirements
https://my.uic.edu
January 30, Sa
Campus Care deadline to change coverage or submit waiver of coverage form.
Approved Plan of Study for second semester MUPPS due! or an advising hold will be placed on
your registration for Summer/Fall 2016
February 12, F
FOR SECOND SEMESTER MUPPs Only
http://www.uic.edu/cuppa/upp/current_students/cs_forms.html
February 19, F
Please submit Committee Recommendation Form for Thesis, Prelim or Dissertation Defense to
UPP. Must be typed online before printing. Please allow 3 weeks before defense for papers to be
processed and returned. http://grad.uic.edu/pdfs/CommRecForm.pdf
Read the following carefully: http://grad.uic.edu/cms/?pid=1000027
March 18, F
Last day to submit approved thesis/dissertation to Graduate College for graduation this term.
Instructions for Electronic Submission: http://grad.uic.edu/cms/?pid=1000916
March 21-25,
M-F
Spring vacation. No classes.
Last day for Urban Planning to receive approved master's project with certificate of approval signed
by advisor for graduation this term.
April 1,
http://grad.uic.edu/pdfs/CertificateofApprovalMAproject.pdf
F
All projects must have a signed project approval form attached to them.
I cannot accept the project without the signature of the project advisor!
One hard copy of the project and one electronic copy. Thanks.
Instruction ends.
April 29, F
Final Examinations.
May 2-6, M-F
May 6, F
May 7, Sa
CUPPA COMMENCEMENT CEREMONY FOR Sum 2015, Fall 2015 and Spring 2016
Graduates: DETAILS WILL COME UNDER SEPARATE EMAIL DIRECTLY FROM CUPPA
DEAN'S OFFICE STAFF.
Semester ends.