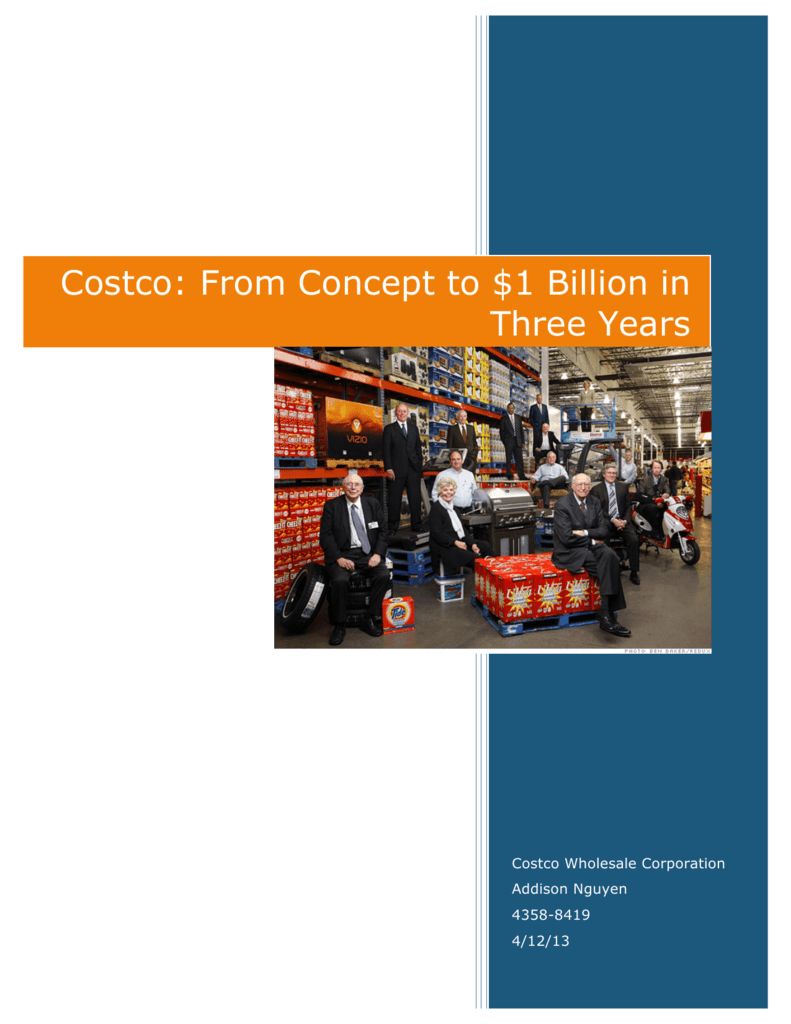 Costco: From Concept to $1 Billion in
Three Years
Costco Wholesale Corporation
Addison Nguyen
4358-8419
4/12/13
Abstract
Costco Wholesale Corporation is a major warehouse merchant that
sells a wide selection of products. To understand this company, the
relationships with its key publics, its culture and goals were researched.
Costco is an internationally traded company and owned by shareholders. It
is concluded that Costco's members, employees and shareholders are most
important to the company. Costco's business practices revolve around
treating its employees well, which in turn benefits customers and
shareholders. Costco's mission statement is to provide members with quality
goods and services. However, the Waste Diversion Program is largely
unknown to members because of lack of publicity. In response, the proposed
solution is to increase awareness about the program. Store managers would
consider placing in-store recycling posters, fliers and notices in more visible
places.
Introduction
Costco Wholesale Corporation is the largest membership based
warehouse store chain in the United States. Its business model revolves
around providing a wide range of products such as office supplies, groceries,
electronics and furniture in one convenient location and with bulk pricing.
The purpose of this report is to understand the practices of Costco. Since its
official beginnings in 1983, Costco Wholesale has achieved remarkable
success such as being the first company to grow from zero to $3 billion in
sales in fewer than six years. This report will discuss Costco as a company.
Its organizational philosophy and business practices will be explored. A
communication problem will be determined.
Background
Early History
The company was first conceptualized by founders Jim Sinegal and
Jefferey H. Brotman, who were looking for a way to combine a discount
supermarket and a department store together in order to provide ultimate
convenience to customers (Chu). Brotman had seen similar practices in
European "hypermarkets," where selling a large variety of products in one
location attracted customers. Funded by credit cards, friends and family, the
first location opened in Seattle, Washington, in 1983. Sales from the first
location had a growth rate of 25% per week. By the end of ten weeks, $1.4
million in sales were being made, putting Costco on track to expand to
twelve more stores with $80 million in sales per store (Chu).
In 1993 Costco underwent a merger with The Price Company, another
warehouse market chain. The combined company, named PriceCostco,
doubled the size of each company. This move led to 206 locations
generating $16 billion in annual sales (Company Profile). Then in 1994, the
merger was broken because of disagreements regarding company direction.
The name PriceCostco continued until 1997, when the company changed its
name to Costco Wholesale, which exists today. The next section will cover
the company's current state of operation.
The Company Today
Costco is the largest warehouse club chain and the fifth largest retailer
in the United States today (Annual Report 212). The company is currently
operating 626 stores in the United States and around the world. The reason
for this success lends its self to business practices of the company. Costco
sells a wide variety of products ranging from furniture to groceries. In
contrast to major supermarkets, Costco charges an annual membership fee
for the ability to shop at its stores. Costco requires its customers to buy
wholesale quantities of products. Founder Jim Sinegal explained:
Costco is able to offer lower prices and better values by
eliminating virtually all the frills and costs historically associated
with conventional wholesalers and retailers, including
salespeople, fancy buildings, delivery, billing and accounts
receivable. (Company Profile)
Prices can discounted through wholesale and low store maintenance, a
characteristic of warehouse stores. Costco is especially attractive to small
businesses that need to buy bulk products to resell later. Costco's previous
target customer base consisted only of business owners, but the company's
direction was shifted to be more accommodating to ordinary families as well.
Costco is a membership based warehouse club. Customers pay an
annual fee of $55 to shop at Costco. Only members and their guests may
shop regularly at Costco, though non-members may purchase items with a
5% surcharge. Costco believes this reinforces customer loyalty. Membership
levels include a Gold Star membership for individuals and a business
membership. In addition to shopping at Costco locations, members can
receive other services such as car repair, gasoline, pharmacy and eye care.
Costco accommodates business memberships by allowing card holders to
enter and make purchases well before store opening times.
Costco sells an extensive range of products to members. The company
previously only sold nonperishable products straight from factory bulk
packaging. Gradually, Costco began to sell perishable and difficult-to-handle
products such as meat, dairy, baked goods, jewelry and fine wine. Services
now include pharmacies, hearing centers, optometrists and photodevelopment stations. In addition to selling products from various
companies, Costco has its own in-house brand named Kirkland Signature. It
is trademarked by the company and claims to provide brand-name quality at
discounted prices.
Subsidiaries
Costco Travel is a subsidiary of Costco and offers travel services for
members. Costco Travel employs more than 300 travel professionals, all of
which work for Costco Wholesale Corporation (About Costco Travel). Costco
Travel is a service exclusively for Costco members and works to use Costco's
buying authority to negotiate a better deal in the travel marketplace. In
addition to vacation packages, cruises, rental cars, theme park trips and
hotels are offered to Costco members.
Costco offers food service to its members in the form of a food court
located within the warehouse (Wight). The food court is run by food-service
professionals working for Costco, where members can purchase hot dogs,
soft drinks, and pizza. According to Costco founder Jim Sinegal, Costco's
food court adds a demonstrable value to having a membership. Costco's
food service offers large meals for fewer than four dollars, a price much
more competitive than outside food services.
Numbers and Types of Key Publics
Costco members, employees and shareholders are Costco's key
publics. Costco currently has over 67.4 million members in the United States
and internationally. Most customers are middle-aged, at 35-44. Costco
attracts affluent customers. The average income of a Costco member ranges
from $50,000 to $100,000 a year (Annual Report 2012). The majority of
members are business owners. The company caters to business owners by
focusing on supplying products in bulk and at low prices. Office supplies and
resale goods are especially available in Costco stores. The general public is
not allowed to shop freely at Costco without a membership.
Costco currently employs 160,292 employees worldwide (Annual
Report 2012). The average pay for a Costco employee is $17 an hour.
Employees have above-average benefits compared to similar warehouse
stores.
Costco is a publicly traded company owned by shareholders. Currently,
stock shares now trade around $103. While ultimately most important,
Costco places members and employees before shareholders. The company
has been criticized by shareholders for paying employees too well and selling
merchandise at dramatically low prices in order to ensure customer loyalty.
Geographic Areas of Operation
Costco is an international company. Currently there are 449 locations
around the United States and Puerto Rico (Company Profile). Costco has 85
locations in nine Canadian provinces. Around the world, there are locations
in United Kingdom, Taiwan, Korea, Japan, Australia and Mexico. The next
section will cover the organization philosophy of Costco.
Organizational Philosophy
How the organization views its role in society
Jim Sinegal has repeatedly stated that Costco serves as an example of
putting employees before shareholders, a practice not seen in Wall Street
(Greenhouse). The average pay of the company is 42 percent higher than its
rival Sam's Club. Employees are paid well above the national average and
have extremely low employee turnover and theft. Costco workers pay only
eight percent of their healthcare costs, while the national average is 25
percent. As a business practice it is expected that by treating employees,
well the employees will in turn treat customers well. This differs dramatically
from competitors who have much lower average wages. This leads to very
high employee satisfaction and extremely low employee theft. Sinegal has
been a supporter of raising the national minimum wage and employee
benefits. While shareholders are dissatisfied with this practice, Costco's stock
prices have always sold for more value than Walmart and other competitors.
Mission Statement
Costco's mission statement is providing members with quality goods
and services at the lowest prices possible. This is accomplished by selling
products at the best prices in the market and in high volume. All products
are sold with a 100 percent satisfaction guarantee and are eligible for a
refund. Costco limits its price markups on products to a maximum of 15
percent. This leads to small profit margins compared to competitors who
may mark up by more than 25 percent. Second to members, Costco's goal is
to care for employees through competitive wages and excellent benefits.
Through providing for members and employees, Costco achieves its ultimate
goal of rewarding shareholders with profits.
Organizational Culture
The organizational culture of Costco is unique in that they place
members and employees first. This includes treating employees with aboveaverage wage and benefits. In turn, employees are expected to treat
customers well and work efficiently. This is further explained by an
interviewed employee of Costco:
Costco holds a view that if the employees are well taken care of,
they will work harder for the company, which benefits
customers, who then continue to come back. The company is
great to their employees and many have been working here for
years. (Maloy)
This emphasis on members and employees is expected to keep customer
satisfaction high and in turn reward shareholders with profits. Costco does
not advertise or have a public relations department, instead relies on word
of mouth.
Aspirations and Goals
Costco plans to have 1,000 warehouses by 2025. This means almost
doubling the current number of warehouses. According to business analysis,
Costco has seen a steady growth rate. Since 2008, 110 new Costco locations
have opened (2012 Annual Report). Founder Sinegal has stated that he will
continue to build employee and membership loyalty:
We're in the business of building an organization, an institution
that we hope will be here 50 years from now. And paying good
wages and keeping your people working with you is very good
business. (Goldberg and Ritter)
Costco aspires to continue its growth and remain profitable.
Communication Problem
Problem
Waste management at Costco is an important issue. Because of the
large volume of products being sold daily, waste is created in the form of
plastic packaging, pallets, cardboard boxes and expired groceries. Sinegal
has stated that Costco is expanding its efforts to reduce its environmental
impact (Daane). At many Costco locations in the United States, there are
special recycling bins for Costco's Waste Diversion Program for customers to
dispose of recyclable materials obtained from shopping (Witt). However,
because of Costco's lack of a public relations department and very limited
publicity sent to members, these bins get rarely used because members
simply are not informed of the opportunity of recycling at Costco. Recycling
at Costco locations can increase through better communication to members.
By communicating this program to members more efficiently, Costco can its
reduce environmental impact further.
Target Audience
The target audience is Costco members. There are 67.4 million
members that shop at Costco. Over 10.1 million members are business
owners. The majority of members are affluent with incomes ranging from
$50,000 to $100,000 a year (Annual Report 2102). Each member generates
waste from packaging of the products they purchase at Costco. Members can
become more aware of recycling at Costco through more efficient
communication.
Key Publics
Costco members are most involved with the communication problem.
Through better communication, Costco members can be aware of the
recycling opportunities at Costco. Members can then bring in recyclable
waste generated from their businesses to Costco locations for recycling.
Shareholders are also affected by a change in communication. The change
can lead to costs or may bring in more customers satisfied with Costco's
environmental practices.
Background
Costco's Waste Diversion Program was put in place for the company
and its members to become more environmentally friendly. Previously, as
much as 1.5 tons of waste per week was generated by a single Costco
warehouse (Daane). The Costco Waste Diversion Program was one of the
programs created to help reduce environmental impact. Bins are placed at
Costco locations for recycling (Witt). Costco then pays composting and
recycling companies to pick it up.
Costco publicizes the Waste Diversion Program with signs within the
store and in a monthly magazine sent to members. However, store
managers often place recycling publicity in obscure locations in favor of
product and price signs (Maloy). Magazine advertisements for the recycling
program are overshadowed by other advertisements.
Cause of Problem and Facts
Costco lacks a public relations department and sends no publicity out
to the public. This is done to further reduce costs and pass savings to
customers. The only form of publicity is an optional monthly magazine sent
to members detailing company stories and limited advertisements. The
Waste Diversion Program is largely unknown to members who shop at
Costco. The recycling bins for the program are located in out of sight
locations at Costco due to their smell, making it difficult for shoppers to be
aware of the program. Without publicity to the public and communication to
members only in the form of a monthly magazine, the location of the bins
and the program is not well known.
Duration of the Situation
The situation will continue as long as members are uninformed about
the recycling program. The beginning of the program was largely publicized
to members. Shortly after, however, communication about it largely became
nonexistent. If this trend continues, then the program will likely become
abandoned.
Significance to the Organization
The lack of awareness of the recycling program makes the program
inefficient. Every week Costco pays a fee for companies to come and pick up
the recyclable waste, regardless of whether there is little use of the bins.
Increasing awareness of the Waste Diversion Program can lead to more
efficient use of the bins. Costco customers can then, by word of mouth,
spread that the company is becoming more environmentally friendly. This
has potential to gain the favor of new environmentally-minded customers.
Impediments to a Solution
It can be expected that some shareholders would be against
expanding environmentally friendly practices, including increased
communication. All solutions have costs associated with them, and
environmental actions do not increase profits as greatly other actions do.
Members could also simply not care to recycle at Costco locations, despite
being aware of it. Costco's lack of publicity makes it difficult for the program
to reach members.
Succinct Problem Statement
Costco's Waste Diversion Program is a service for members to recycle
their waste. Due to simple lack of awareness, members do not use this
service to their benefit. Costco wastes money on maintaining the unused
recycling bins. In response to the problem, publicity about the recycling
program can be increased in order make members aware. Store members
can consider making in-store recycling advertisements more visible.
Bibliography
"About Costco Travel." Costco Travel: Vacation Packages, Cruises, Rental
Cars. Costco Wholesale Corporation, n.d. Web. 11 Apr. 2013.
<http://www.costcotravel.com/Info/aboutCostcoTravel>.
Annual Report 2012. Rep. Costco Wholesale Corporation, 12 Dec. 2012.
Web.
Chu, Lenora. "Priced to Grow: How Costco Got Started." CNNMoney. Cable
News Network, 19 Aug. 2009. Web. 11 Apr. 2013.
<http://money.cnn.com/2009/08/14/smallbusiness/how_costco_got_s
tarted.fsb/>.
"Company Profile." Investor Relations. Costco Wholesale Corporation, n.d.
Web.
Daane, Beau. "Recycling Efforts at Costco." Casemindspring. N.p., 13 Oct.
2010. Web. 12 Apr. 2013.
Goldberg, Alan B., and Bill Ritter. "Costco CEO Finds Pro-Worker Means
Profitability." ABC News. ABC News Network, 02 Aug. 2006. Web. 12
Apr. 2013.
<http://abcnews.go.com/2020/Business/story?id=1362779>.
Greenhouse, Steven. "How Costco Became the Anti-Wal-Mart." The New
York Times. N.p., 17 July 2005. Web.
Maloy, Alexander. "Working at Costco." Telephone interview. 31 Mar. 2013.
Wight, David. "Order in the Court." The Costco Connection. Costco
Wholesale Corporation, Mar. 2009. Web.
Witt, Cody. "Costco Example: Food Waste Diversion through Composting."
Real Deal Compost. N.p., 25 Feb. 2011. Web. 12 Apr. 2013.