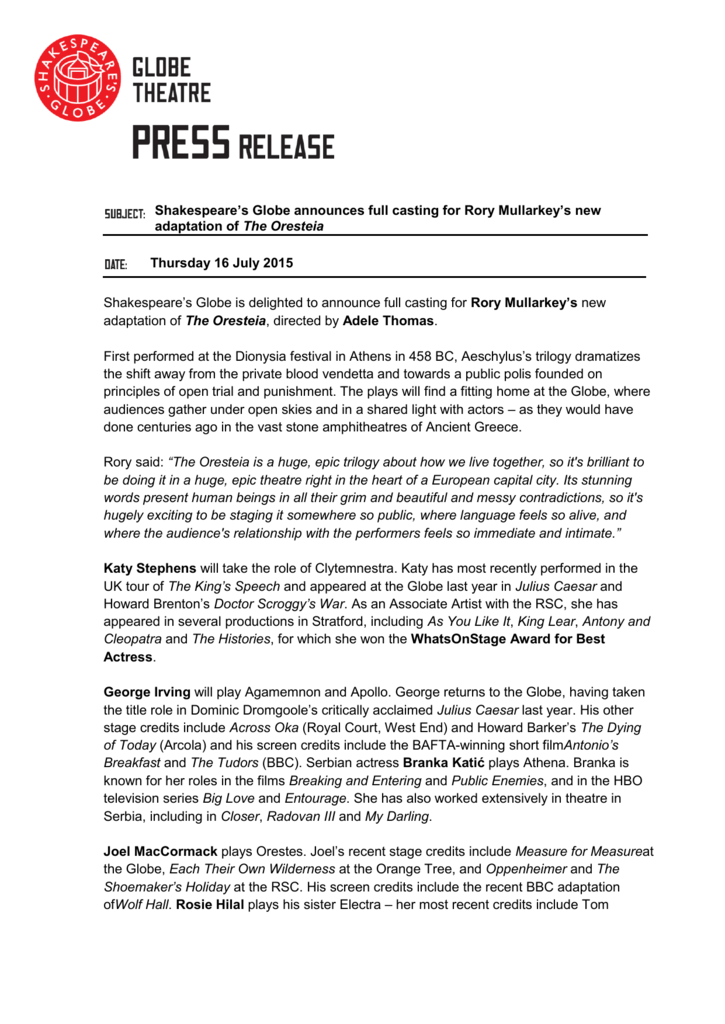 Shakespeare's Globe announces full casting for Rory Mullarkey's new
adaptation of The Oresteia
Thursday 16 July 2015
Shakespeare's Globe is delighted to announce full casting for Rory Mullarkey's new
adaptation of The Oresteia, directed by Adele Thomas.
First performed at the Dionysia festival in Athens in 458 BC, Aeschylus's trilogy dramatizes
the shift away from the private blood vendetta and towards a public polis founded on
principles of open trial and punishment. The plays will find a fitting home at the Globe, where
audiences gather under open skies and in a shared light with actors – as they would have
done centuries ago in the vast stone amphitheatres of Ancient Greece.
Rory said: "The Oresteia is a huge, epic trilogy about how we live together, so it's brilliant to
be doing it in a huge, epic theatre right in the heart of a European capital city. Its stunning
words present human beings in all their grim and beautiful and messy contradictions, so it's
hugely exciting to be staging it somewhere so public, where language feels so alive, and
where the audience's relationship with the performers feels so immediate and intimate."
Katy Stephens will take the role of Clytemnestra. Katy has most recently performed in the
UK tour of The King's Speech and appeared at the Globe last year in Julius Caesar and
Howard Brenton's Doctor Scroggy's War. As an Associate Artist with the RSC, she has
appeared in several productions in Stratford, including As You Like It, King Lear, Antony and
Cleopatra and The Histories, for which she won the WhatsOnStage Award for Best
Actress.
George Irving will play Agamemnon and Apollo. George returns to the Globe, having taken
the title role in Dominic Dromgoole's critically acclaimed Julius Caesar last year. His other
stage credits include Across Oka (Royal Court, West End) and Howard Barker's The Dying
of Today (Arcola) and his screen credits include the BAFTA-winning short filmAntonio's
Breakfast and The Tudors (BBC). Serbian actress Branka Katić plays Athena. Branka is
known for her roles in the films Breaking and Entering and Public Enemies, and in the HBO
television series Big Love and Entourage. She has also worked extensively in theatre in
Serbia, including in Closer, Radovan III and My Darling.
Joel MacCormack plays Orestes. Joel's recent stage credits include Measure for Measureat
the Globe, Each Their Own Wilderness at the Orange Tree, and Oppenheimer and The
Shoemaker's Holiday at the RSC. His screen credits include the recent BBC adaptation
ofWolf Hall. Rosie Hilal plays his sister Electra – her most recent credits include Tom
Stoppard's The Hard Problem (National Theatre) and her screen debut in the film adaptation
of London Road. Naana Agyei-Ampadu plays Cassandra. Naana's recent stage credits
include Made in Dagenham with Gemma Arterton (West End), The Amen Corner (National
Theatre) and Feast (Young Vic).
ENDS
EDITORS' NOTES
Shakespeare's Globe
Booking:
Phone
+44 (0) 20 7401 9919
In person
Mon-Sat 10am-6pm (8pm on performance days)
Sundays
10am-5pm (7pm on performance days)
Online
www.shakespearesglobe.com
Tickets
£5 - £43 (Globe Theatre) £10 - £60 (Sam Wanamaker Playhouse)
For more information please contact Emma Draper or Claudia Conway on +44 (0) 207
902 1491 / 1492 or email [email protected]
/ [email protected]
Patrons who are members of the free access scheme are eligible for adjusted ticket prices.
The Oresteia
Adapted by Rory Mullarkey
From the original by Aeschylus
Directed by Adele Thomas
Designed by Hannah Clark
Saturday 29 August – Friday 16 October
Press night: Thursday 3 September


Sam Wanamaker Playhouse: The candlelit Jacobean theatre at Shakespeare's Globe
opened in January 2014. The Playhouse hosts concerts and other events throughout the
summer, with the main indoor theatre season running October to April.
Globe Education: One of the largest arts education departments in the UK; each year,
over 100,000 people of all ages and nationalities participate in its public events,
workshops and courses. Globe Education also runs extensive outreach programmes for
students and teachers in the Southwark community, nationally and internationally.







Globe Exhibition & Tour: Open to the public all year round, the Globe Exhibition and
Tour explores the life of Shakespeare, the London where he lived, and the theatre for
which he wrote.
Globe Theatre On Tour: The Globe's productions tour extensively in the UK and
internationally. Current and forthcoming tours include: Much Ado About Nothing, Romeo
& Juliet, King John and a production of Hamlet that is travelling to every country in the
world.
Globe Player: A brand new online platform offering full-length HD films of over 50
Shakespeare productions at the Globe to rent or buy.
Globe On Screen: Shakespeare's Globe on Screen returns to cinemas in 2016, bringing
highlights from the 2015 theatre season to cinemas worldwide. Globe on Screen 2016
will feature The Merchant of Venice, Richard II and Measure for Measure, all captured in
'live' high definition. For more information contact [email protected]
Globe Shop: Stocks a variety of products, including theatre season-specific
merchandise. All profits go towards supporting our educational mission.
The Swan Bar and Restaurant and the Foyer Café Bar: Open all year round, for
reservations and more information please call 020 7928 9444 or visit loveswan.co.uk
The Shakespeare Globe Trust: Registered UK charity No. 266916. Shakespeare's
Globe receives no regular public subsidy.