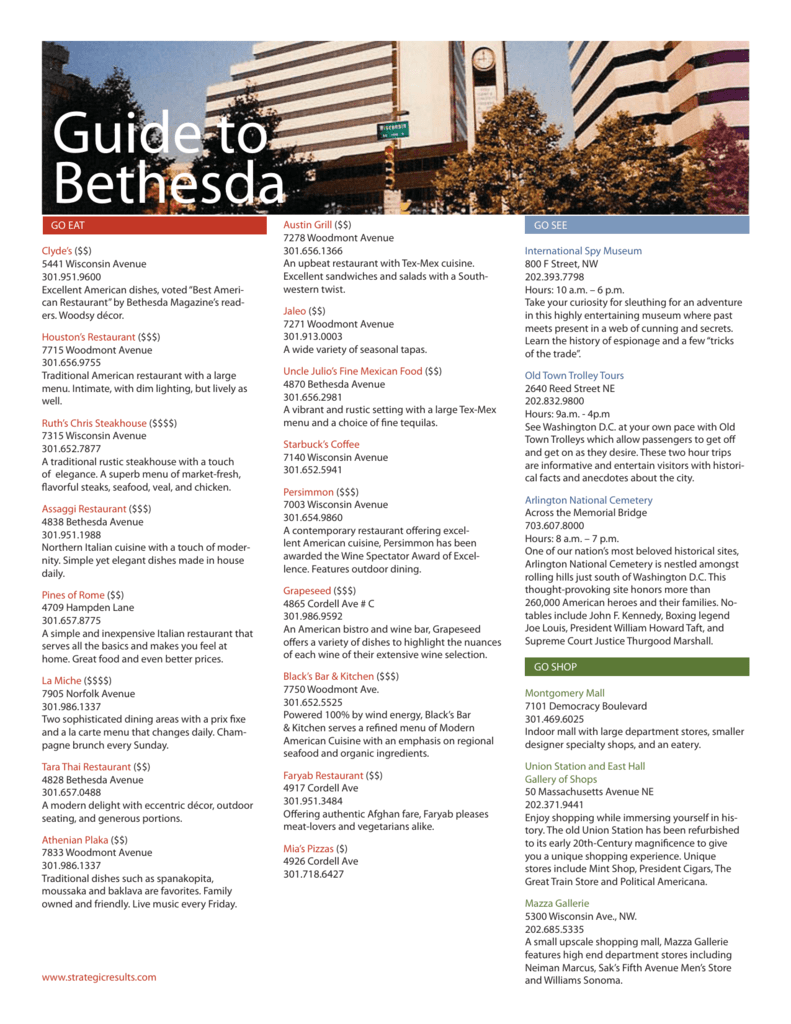 Guide to
Bethesda
GO EAT
Clyde's ($$)
5441 Wisconsin Avenue
301.951.9600
Excellent American dishes, voted "Best American Restaurant" by Bethesda Magazine's readers. Woodsy décor.
Houston's Restaurant ($$$)
7715 Woodmont Avenue
301.656.9755
Traditional American restaurant with a large
menu. Intimate, with dim lighting, but lively as
well.
Ruth's Chris Steakhouse ($$$$)
7315 Wisconsin Avenue
301.652.7877
A traditional rustic steakhouse with a touch
of elegance. A superb menu of market-fresh,
flavorful steaks, seafood, veal, and chicken.
Austin Grill ($$)
7278 Woodmont Avenue
301.656.1366
An upbeat restaurant with Tex-Mex cuisine.
Excellent sandwiches and salads with a Southwestern twist.
Jaleo ($$)
7271 Woodmont Avenue
301.913.0003
A wide variety of seasonal tapas.
Uncle Julio's Fine Mexican Food ($$)
4870 Bethesda Avenue
301.656.2981
A vibrant and rustic setting with a large Tex-Mex
menu and a choice of fine tequilas.
Starbuck's Coffee
7140 Wisconsin Avenue
301.652.5941
Assaggi Restaurant ($$$)
4838 Bethesda Avenue
301.951.1988
Northern Italian cuisine with a touch of modernity. Simple yet elegant dishes made in house
daily.
Persimmon ($$$)
7003 Wisconsin Avenue
301.654.9860
A contemporary restaurant offering excellent American cuisine, Persimmon has been
awarded the Wine Spectator Award of Excellence. Features outdoor dining.
Pines of Rome ($$)
4709 Hampden Lane
301.657.8775
A simple and inexpensive Italian restaurant that
serves all the basics and makes you feel at
home. Great food and even better prices.
Grapeseed ($$$)
4865 Cordell Ave # C
301.986.9592
An American bistro and wine bar, Grapeseed
offers a variety of dishes to highlight the nuances
of each wine of their extensive wine selection.
La Miche ($$$$)
7905 Norfolk Avenue
301.986.1337
Two sophisticated dining areas with a prix fixe
and a la carte menu that changes daily. Champagne brunch every Sunday.
Black's Bar & Kitchen ($$$)
7750 Woodmont Ave.
301.652.5525
Powered 100% by wind energy, Black's Bar
& Kitchen serves a refined menu of Modern
American Cuisine with an emphasis on regional
seafood and organic ingredients.
Tara Thai Restaurant ($$)
4828 Bethesda Avenue
301.657.0488
A modern delight with eccentric décor, outdoor
seating, and generous portions.
Athenian Plaka ($$)
7833 Woodmont Avenue
301.986.1337
Traditional dishes such as spanakopita,
moussaka and baklava are favorites. Family
owned and friendly. Live music every Friday.
www.strategicresults.com
Faryab Restaurant ($$)
4917 Cordell Ave
301.951.3484
Offering authentic Afghan fare, Faryab pleases
meat-lovers and vegetarians alike.
Mia's Pizzas ($)
4926 Cordell Ave
301.718.6427
GO SEE
International Spy Museum
800 F Street, NW
202.393.7798
Hours: 10 a.m. – 6 p.m.
Take your curiosity for sleuthing for an adventure
in this highly entertaining museum where past
meets present in a web of cunning and secrets.
Learn the history of espionage and a few "tricks
of the trade".
Old Town Trolley Tours
2640 Reed Street NE
202.832.9800
Hours: 9a.m. - 4p.m
See Washington D.C. at your own pace with Old
Town Trolleys which allow passengers to get off
and get on as they desire. These two hour trips
are informative and entertain visitors with historical facts and anecdotes about the city.
Arlington National Cemetery
Across the Memorial Bridge
703.607.8000
Hours: 8 a.m. – 7 p.m.
One of our nation's most beloved historical sites,
Arlington National Cemetery is nestled amongst
rolling hills just south of Washington D.C. This
thought-provoking site honors more than
260,000 American heroes and their families. Notables include John F. Kennedy, Boxing legend
Joe Louis, President William Howard Taft, and
Supreme Court Justice Thurgood Marshall.
GO SHOP
Montgomery Mall
7101 Democracy Boulevard
301.469.6025
Indoor mall with large department stores, smaller
designer specialty shops, and an eatery.
Union Station and East Hall
Gallery of Shops
50 Massachusetts Avenue NE
202.371.9441
Enjoy shopping while immersing yourself in history. The old Union Station has been refurbished
to its early 20th-Century magnificence to give
you a unique shopping experience. Unique
stores include Mint Shop, President Cigars, The
Great Train Store and Political Americana.
Mazza Gallerie
5300 Wisconsin Ave., NW.
202.685.5335
A small upscale shopping mall, Mazza Gallerie
features high end department stores including
Neiman Marcus, Sak's Fifth Avenue Men's Store
and Williams Sonoma.