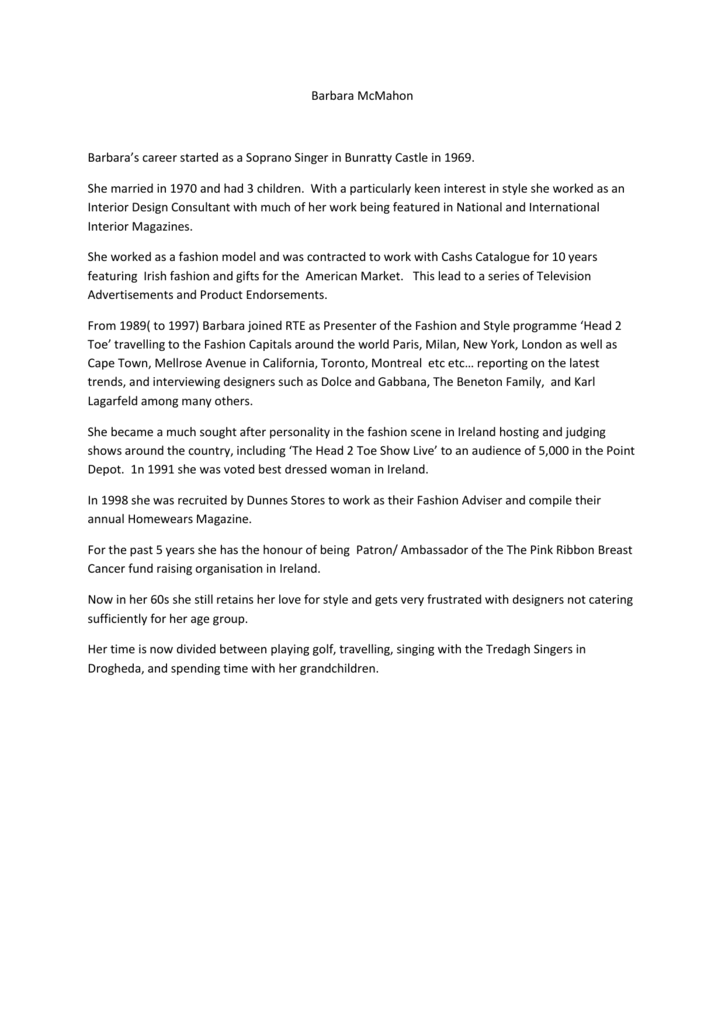 Barbara McMahon
Barbara's career started as a Soprano Singer in Bunratty Castle in 1969.
She married in 1970 and had 3 children. With a particularly keen interest in style she worked as an
Interior Design Consultant with much of her work being featured in National and International
Interior Magazines.
She worked as a fashion model and was contracted to work with Cashs Catalogue for 10 years
featuring Irish fashion and gifts for the American Market. This lead to a series of Television
Advertisements and Product Endorsements.
From 1989( to 1997) Barbara joined RTE as Presenter of the Fashion and Style programme 'Head 2
Toe' travelling to the Fashion Capitals around the world Paris, Milan, New York, London as well as
Cape Town, Mellrose Avenue in California, Toronto, Montreal etc etc… reporting on the latest
trends, and interviewing designers such as Dolce and Gabbana, The Beneton Family, and Karl
Lagarfeld among many others.
She became a much sought after personality in the fashion scene in Ireland hosting and judging
shows around the country, including 'The Head 2 Toe Show Live' to an audience of 5,000 in the Point
Depot. 1n 1991 she was voted best dressed woman in Ireland.
In 1998 she was recruited by Dunnes Stores to work as their Fashion Adviser and compile their
annual Homewears Magazine.
For the past 5 years she has the honour of being Patron/ Ambassador of the The Pink Ribbon Breast
Cancer fund raising organisation in Ireland.
Now in her 60s she still retains her love for style and gets very frustrated with designers not catering
sufficiently for her age group.
Her time is now divided between playing golf, travelling, singing with the Tredagh Singers in
Drogheda, and spending time with her grandchildren.