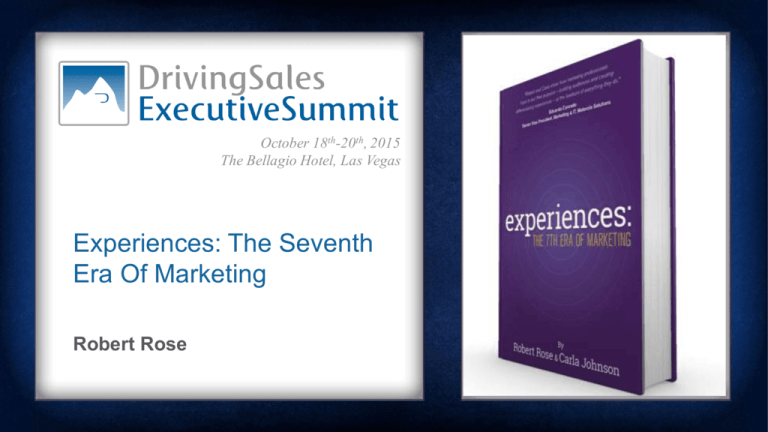 October 18th-20th, 2015
The Bellagio Hotel, Las Vegas
Experiences: The Seventh Era Of Marketing
Robert Rose
What do you really do?
Once Upon A Time,
20 Years Ago…
Is that really out of reach?
Because if you
thought the
last 5 years were
interesting…
Internet Population
2010 -­ 1.2 Billion
2020 -­ 5 Billion
Where does that leave our question?
What do you really do?
Let's go even further back…
The eras of marketing
1977
What Do You Really Do?
Consumers
Have Adapted.
We haven't.
"In the coming decade, marketing will
be re-­engineered from A to Z.
Marketers will need to rethink,
fundamentally, the processes by which
they identify, communicate and deliver
customer value."
Philip Kotler, 1999
Kotler on Marketing
What has changed for marketing?
1.
Evolution of
customer
relationship
2.
Democratization
of content &
experiences
3.
Marketing's
evolution in the
business
1. The relationship has evolved…
The disruption of digital…
"Relationship" expectations
have changed
Loyalty is to the approach -­
not the product
2. Democratization of content experiences
The slow death of "reach and frequency"
The ease of publishing fosters "small marketing"
It's the power AND the risk of maintaining a brand audience
3. Marketing's evolution in the business
Evolve beyond organizing by technology & channels
Marketing must be the strategic differentiator
We must adapt to create value, not just describe it
"The purpose of business is
to create a customer. The
business enterprise has two -­ and only two -­ basic
functions: marketing and
innovation.
Marketing and innovation
produce results;; all the rest
are costs. Marketing is the
distinguishing, unique
function of the business."
Peter Drucker, 1954
Content is what we are!
Marketing doesn't change content's purpose. Content changes marketing's purpose. We delight and build audiences as a means to evolve customers.
We not only describe value, we create it.
What Have We Learned?
Culture is still having breakfast. But lunch may be coming. Silos suck. But content-­as-­a-­
function can unify
9 out of 10 "do content" but 3 out of 10 feel good about it
Lack of strategy and a process is single biggest gap 60% vs. 7%
"If you can't describe what your
doing as a process, you don't know what you are doing."
-­ W. Edward Deming
What Do You Really Do?
Content
Creation
Management
Create
Organize
Manage
MEASURE
How Many Steps In Your Buyer's Journey?
It is infinite.
Stop mapping every step to content. You won't. And can't.
Instead, be remarkable at a
few strategic touch points.
Simplify.
X100
2,800 km
X50
3,400 km
The Buyer's Journey Is Not A Guided Tour
Awareness Experiences
(Feed interests and passions)
Nurturing Experiences
(Build trust and change beliefs)
Loyalty Experiences
(Illuminate shared values)
What Do You Really Do?
I Create Remarkable Experiences
October 18th-20th, 2015
The Bellagio Hotel, Las Vegas
Thank You!
Robert Rose
Chief Strategy Officer
Content Marketing Institute
www.7thEraOfMarketing.com
www.robertrose.net
Please take a moment to rate my presentation in the DSES mobile app!