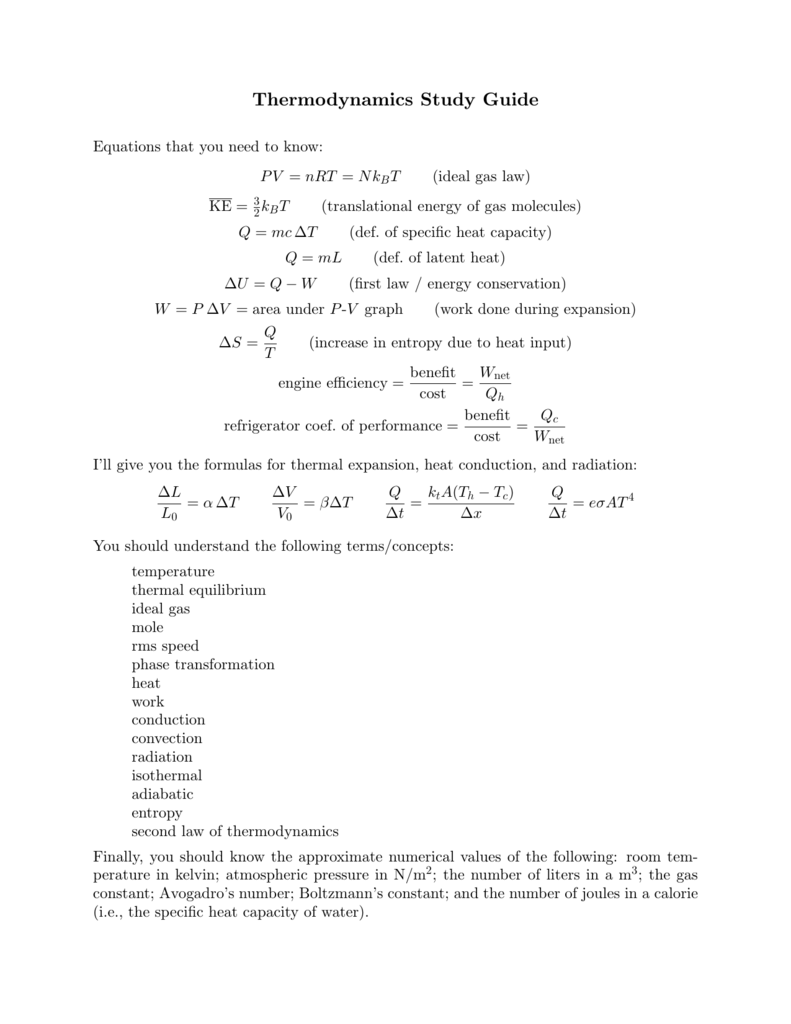 Thermodynamics Study Guide
Equations that you need to know:
P V = nRT = N kB T
KE = 32 kB T
(ideal gas law)
(translational energy of gas molecules)
Q = mc ∆T
(def. of specific heat capacity)
Q = mL
∆U = Q − W
(def. of latent heat)
(first law / energy conservation)
W = P ∆V = area under P -V graph
(work done during expansion)
Q
∆S =
(increase in entropy due to heat input)
T
Wnet
benefit
=
engine efficiency =
cost
Qh
benefit
Qc
refrigerator coef. of performance =
=
cost
Wnet
I'll give you the formulas for thermal expansion, heat conduction, and radiation:
∆L
= α ∆T
L0
∆V
= β∆T
V0
Q
kt A(Th − Tc )
=
∆t
∆x
Q
= eσAT 4
∆t
You should understand the following terms/concepts:
temperature
thermal equilibrium
ideal gas
mole
rms speed
phase transformation
heat
work
conduction
convection
radiation
isothermal
adiabatic
entropy
second law of thermodynamics
Finally, you should know the approximate numerical values of the following: room temperature in kelvin; atmospheric pressure in N/m2 ; the number of liters in a m3 ; the gas
constant; Avogadro's number; Boltzmann's constant; and the number of joules in a calorie
(i.e., the specific heat capacity of water).