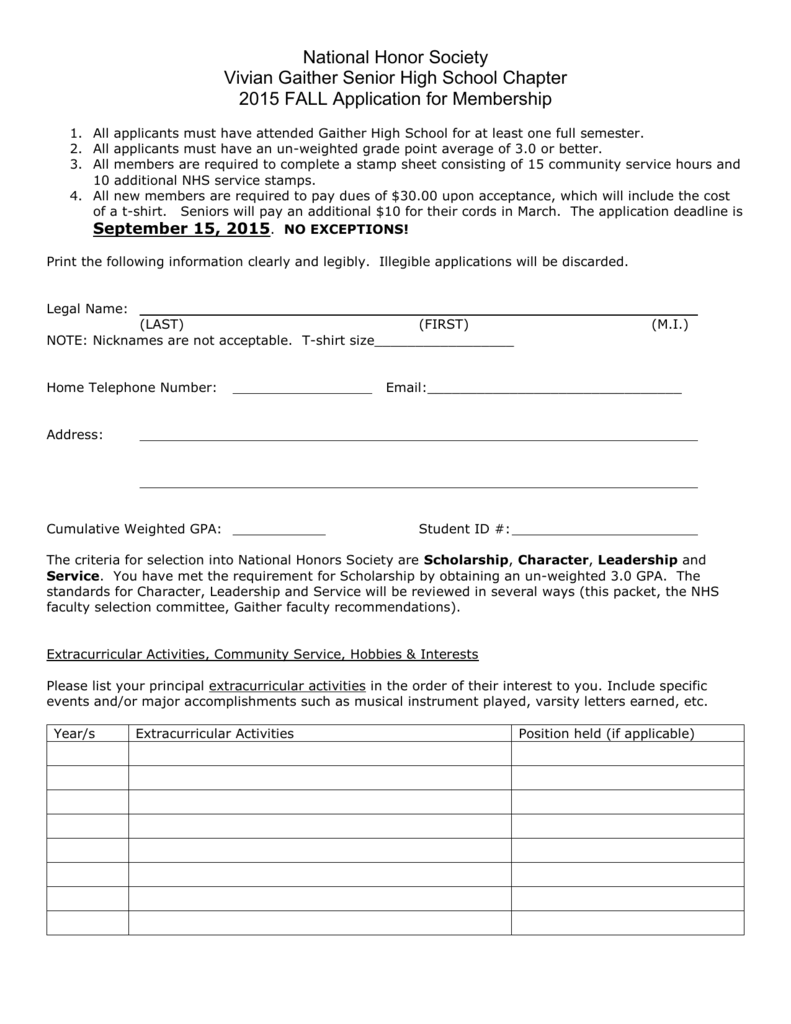 National Honor Society
Vivian Gaither Senior High School Chapter
2015 FALL Application for Membership
1. All applicants must have attended Gaither High School for at least one full semester.
2. All applicants must have an un-weighted grade point average of 3.0 or better.
3. All members are required to complete a stamp sheet consisting of 15 community service hours and
10 additional NHS service stamps.
4. All new members are required to pay dues of $30.00 upon acceptance, which will include the cost
of a t-shirt. Seniors will pay an additional $10 for their cords in March. The application deadline is
September 15, 2015. NO EXCEPTIONS!
Print the following information clearly and legibly. Illegible applications will be discarded.
Legal Name:
(LAST)
(FIRST)
NOTE: Nicknames are not acceptable. T-shirt size_________________
Home Telephone Number:
(M.I.)
Email:_______________________________
Address:
Cumulative Weighted GPA:
Student ID #:
The criteria for selection into National Honors Society are Scholarship, Character, Leadership and
Service. You have met the requirement for Scholarship by obtaining an un-weighted 3.0 GPA. The
standards for Character, Leadership and Service will be reviewed in several ways (this packet, the NHS
faculty selection committee, Gaither faculty recommendations).
Extracurricular Activities, Community Service, Hobbies & Interests
Please list your principal extracurricular activities in the order of their interest to you. Include specific
events and/or major accomplishments such as musical instrument played, varsity letters earned, etc.
Year/s
Extracurricular Activities
Position held (if applicable)
Please list any community service activities completed in the past three years.
Year/s
Community Service
Approximate hours
Please list any other Activities, Hobbies or Interests in the order of their interest to you.
Activities, Hobbies or Interests
The essay is a very important part of this application. It will help the NHS faculty selection committee
become acquainted with you in ways different from courses, grades, test scores, and other objective data.
The essay will allow you to demonstrate your ability to organize thoughts and express yourself. Only
essays that are TYPED will be accepted. The essay should also be spell-checked, grammatically
correct, organized and in good standard written English. It should represent your best written
work!
Please pick from ONE of the following topics to write about:
Essay 1: Explain why you would like to join NHS and how you will contribute to the
organization, the school and the community as a member.
Essay 2: Explain what academic integrity means to you. Explain how you exemplify
honor in academics.
Turn in to Ms. McQuay in Guidance by September 15, 2015 . NO LATE APPLICATIONS!