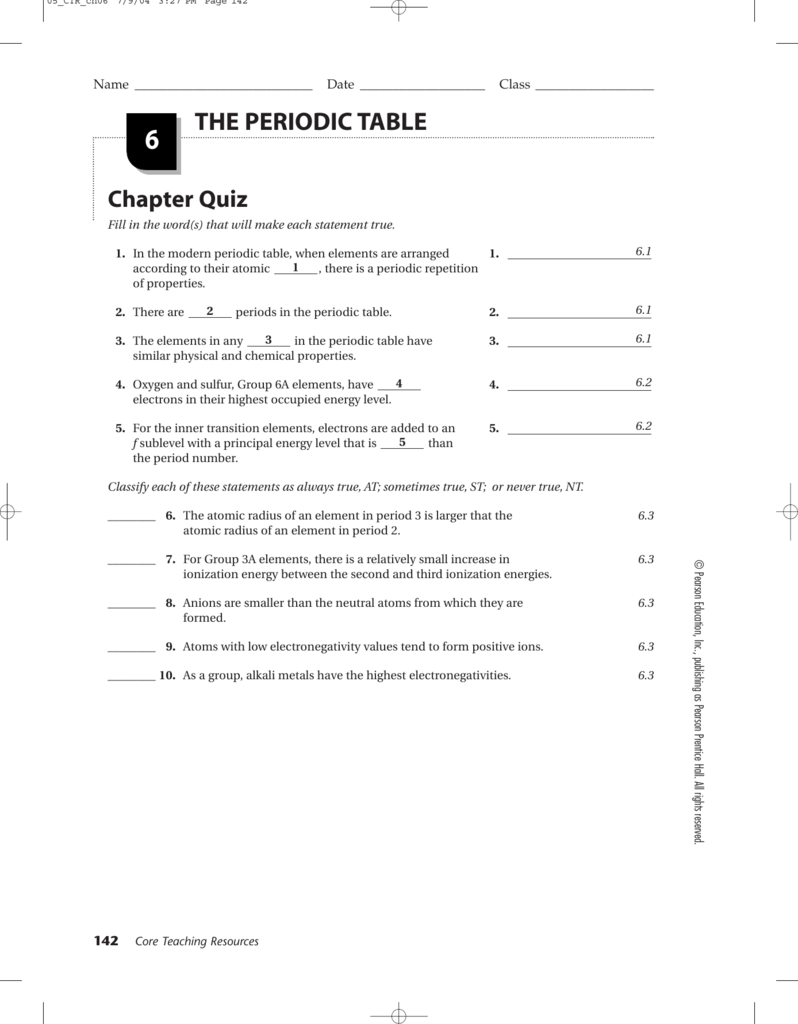 05_CTR_ch06 7/9/04 3:27 PM Page 142
Name ___________________________
6
Date ___________________
Class __________________
THE PERIODIC TABLE
Chapter Quiz
Fill in the word(s) that will make each statement true.
1. In the modern periodic table, when elements are arranged
1.
1
according to their atomic
, there is a periodic repetition
of properties.
6.1
2.
6.1
3
3. The elements in any
in the periodic table have
similar physical and chemical properties.
3.
6.1
4
4. Oxygen and sulfur, Group 6A elements, have
electrons in their highest occupied energy level.
4.
6.2
5. For the inner transition elements, electrons are added to an
5
f sublevel with a principal energy level that is
than
the period number.
5.
6.2
2. There are
2
periods in the periodic table.
Classify each of these statements as always true, AT; sometimes true, ST; or never true, NT.
6.3
________ 7. For Group 3A elements, there is a relatively small increase in
ionization energy between the second and third ionization energies.
6.3
________ 8. Anions are smaller than the neutral atoms from which they are
formed.
6.3
________ 9. Atoms with low electronegativity values tend to form positive ions.
6.3
________ 10. As a group, alkali metals have the highest electronegativities.
6.3
142
Core Teaching Resources
© Pearson Education, Inc., publishing as Pearson Prentice Hall. All rights reserved.
________ 6. The atomic radius of an element in period 3 is larger that the
atomic radius of an element in period 2.