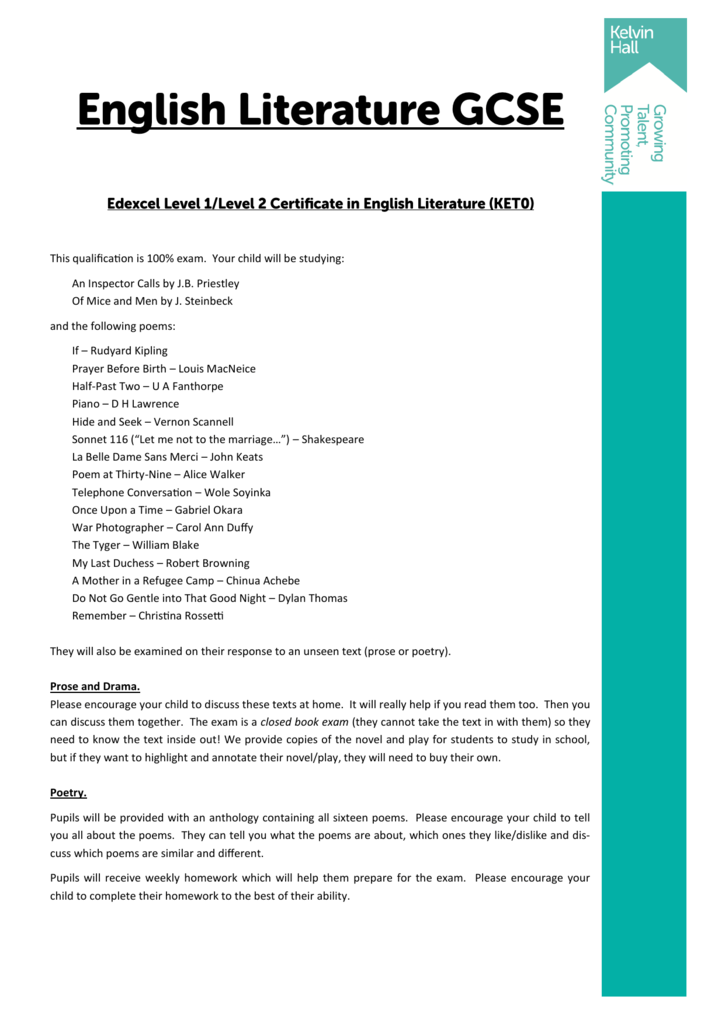 This qualification is 100% exam. Your child will be studying:
An Inspector Calls by J.B. Priestley
Of Mice and Men by J. Steinbeck
and the following poems:
If – Rudyard Kipling
Prayer Before Birth – Louis MacNeice
Half-Past Two – U A Fanthorpe
Piano – D H Lawrence
Hide and Seek – Vernon Scannell
Sonnet 116 ("Let me not to the marriage…") – Shakespeare
La Belle Dame Sans Merci – John Keats
Poem at Thirty-Nine – Alice Walker
Telephone Conversation – Wole Soyinka
Once Upon a Time – Gabriel Okara
War Photographer – Carol Ann Duffy
The Tyger – William Blake
My Last Duchess – Robert Browning
A Mother in a Refugee Camp – Chinua Achebe
Do Not Go Gentle into That Good Night – Dylan Thomas
Remember – Christina Rossetti
They will also be examined on their response to an unseen text (prose or poetry).
Prose and Drama.
Please encourage your child to discuss these texts at home. It will really help if you read them too. Then you
can discuss them together. The exam is a closed book exam (they cannot take the text in with them) so they
need to know the text inside out! We provide copies of the novel and play for students to study in school,
but if they want to highlight and annotate their novel/play, they will need to buy their own.
Poetry.
Pupils will be provided with an anthology containing all sixteen poems. Please encourage your child to tell
you all about the poems. They can tell you what the poems are about, which ones they like/dislike and discuss which poems are similar and different.
Pupils will receive weekly homework which will help them prepare for the exam. Please encourage your
child to complete their homework to the best of their ability.