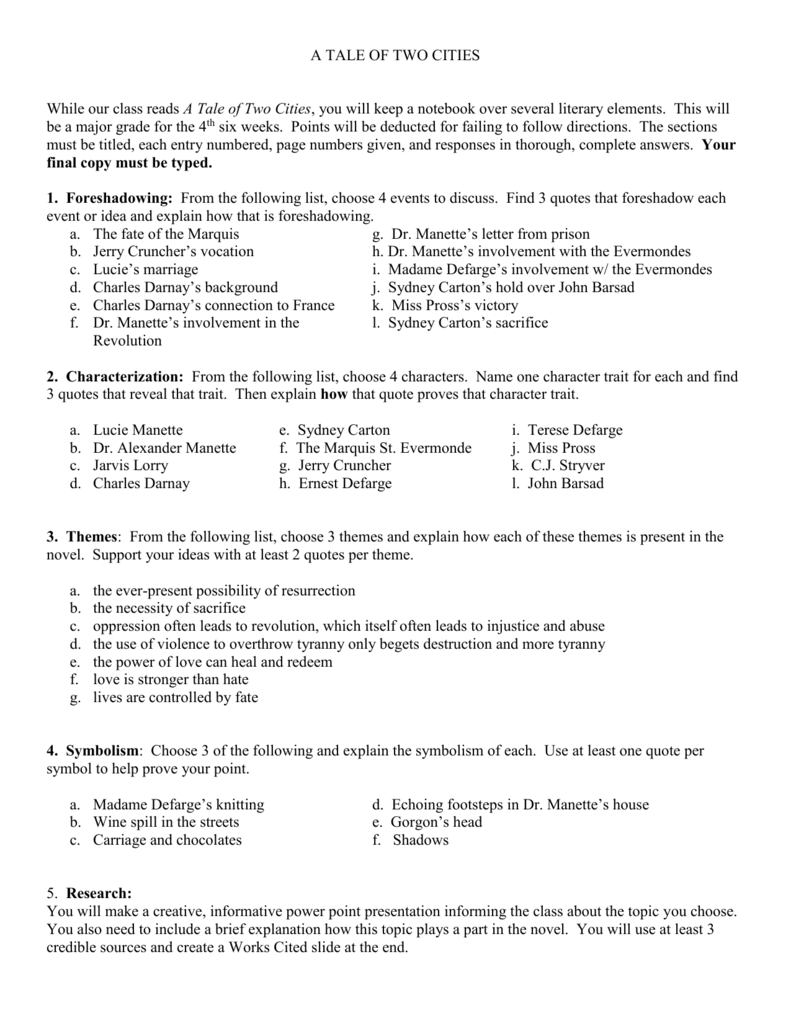 A TALE OF TWO CITIES
While our class reads A Tale of Two Cities, you will keep a notebook over several literary elements. This will
be a major grade for the 4th six weeks. Points will be deducted for failing to follow directions. The sections
must be titled, each entry numbered, page numbers given, and responses in thorough, complete answers. Your
final copy must be typed.
1. Foreshadowing: From the following list, choose 4 events to discuss. Find 3 quotes that foreshadow each
event or idea and explain how that is foreshadowing.
a. The fate of the Marquis
g. Dr. Manette's letter from prison
b. Jerry Cruncher's vocation
h. Dr. Manette's involvement with the Evermondes
c. Lucie's marriage
i. Madame Defarge's involvement w/ the Evermondes
d. Charles Darnay's background
j. Sydney Carton's hold over John Barsad
e. Charles Darnay's connection to France
k. Miss Pross's victory
f. Dr. Manette's involvement in the
l. Sydney Carton's sacrifice
Revolution
2. Characterization: From the following list, choose 4 characters. Name one character trait for each and find
3 quotes that reveal that trait. Then explain how that quote proves that character trait.
a.
b.
c.
d.
Lucie Manette
Dr. Alexander Manette
Jarvis Lorry
Charles Darnay
e.
f.
g.
h.
Sydney Carton
The Marquis St. Evermonde
Jerry Cruncher
Ernest Defarge
i. Terese Defarge
j. Miss Pross
k. C.J. Stryver
l. John Barsad
3. Themes: From the following list, choose 3 themes and explain how each of these themes is present in the
novel. Support your ideas with at least 2 quotes per theme.
a.
b.
c.
d.
e.
f.
g.
the ever-present possibility of resurrection
the necessity of sacrifice
oppression often leads to revolution, which itself often leads to injustice and abuse
the use of violence to overthrow tyranny only begets destruction and more tyranny
the power of love can heal and redeem
love is stronger than hate
lives are controlled by fate
4. Symbolism: Choose 3 of the following and explain the symbolism of each. Use at least one quote per
symbol to help prove your point.
a. Madame Defarge's knitting
b. Wine spill in the streets
c. Carriage and chocolates
d. Echoing footsteps in Dr. Manette's house
e. Gorgon's head
f. Shadows
5. Research:
You will make a creative, informative power point presentation informing the class about the topic you choose.
You also need to include a brief explanation how this topic plays a part in the novel. You will use at least 3
credible sources and create a Works Cited slide at the end.