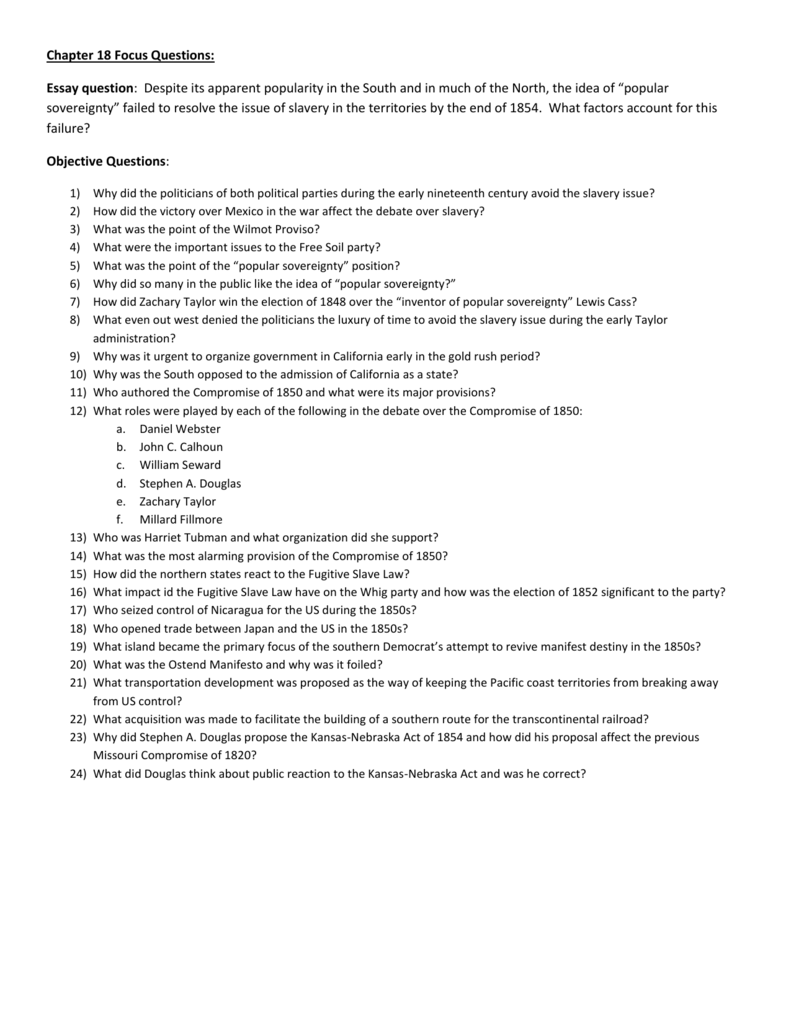 Chapter 18 Focus Questions:
Essay question: Despite its apparent popularity in the South and in much of the North, the idea of "popular
sovereignty" failed to resolve the issue of slavery in the territories by the end of 1854. What factors account for this
failure?
Objective Questions:
1)
2)
3)
4)
5)
6)
7)
8)
9)
10)
11)
12)
13)
14)
15)
16)
17)
18)
19)
20)
21)
22)
23)
24)
Why did the politicians of both political parties during the early nineteenth century avoid the slavery issue?
How did the victory over Mexico in the war affect the debate over slavery?
What was the point of the Wilmot Proviso?
What were the important issues to the Free Soil party?
What was the point of the "popular sovereignty" position?
Why did so many in the public like the idea of "popular sovereignty?"
How did Zachary Taylor win the election of 1848 over the "inventor of popular sovereignty" Lewis Cass?
What even out west denied the politicians the luxury of time to avoid the slavery issue during the early Taylor
administration?
Why was it urgent to organize government in California early in the gold rush period?
Why was the South opposed to the admission of California as a state?
Who authored the Compromise of 1850 and what were its major provisions?
What roles were played by each of the following in the debate over the Compromise of 1850:
a. Daniel Webster
b. John C. Calhoun
c. William Seward
d. Stephen A. Douglas
e. Zachary Taylor
f. Millard Fillmore
Who was Harriet Tubman and what organization did she support?
What was the most alarming provision of the Compromise of 1850?
How did the northern states react to the Fugitive Slave Law?
What impact id the Fugitive Slave Law have on the Whig party and how was the election of 1852 significant to the party?
Who seized control of Nicaragua for the US during the 1850s?
Who opened trade between Japan and the US in the 1850s?
What island became the primary focus of the southern Democrat's attempt to revive manifest destiny in the 1850s?
What was the Ostend Manifesto and why was it foiled?
What transportation development was proposed as the way of keeping the Pacific coast territories from breaking away
from US control?
What acquisition was made to facilitate the building of a southern route for the transcontinental railroad?
Why did Stephen A. Douglas propose the Kansas-Nebraska Act of 1854 and how did his proposal affect the previous
Missouri Compromise of 1820?
What did Douglas think about public reaction to the Kansas-Nebraska Act and was he correct?