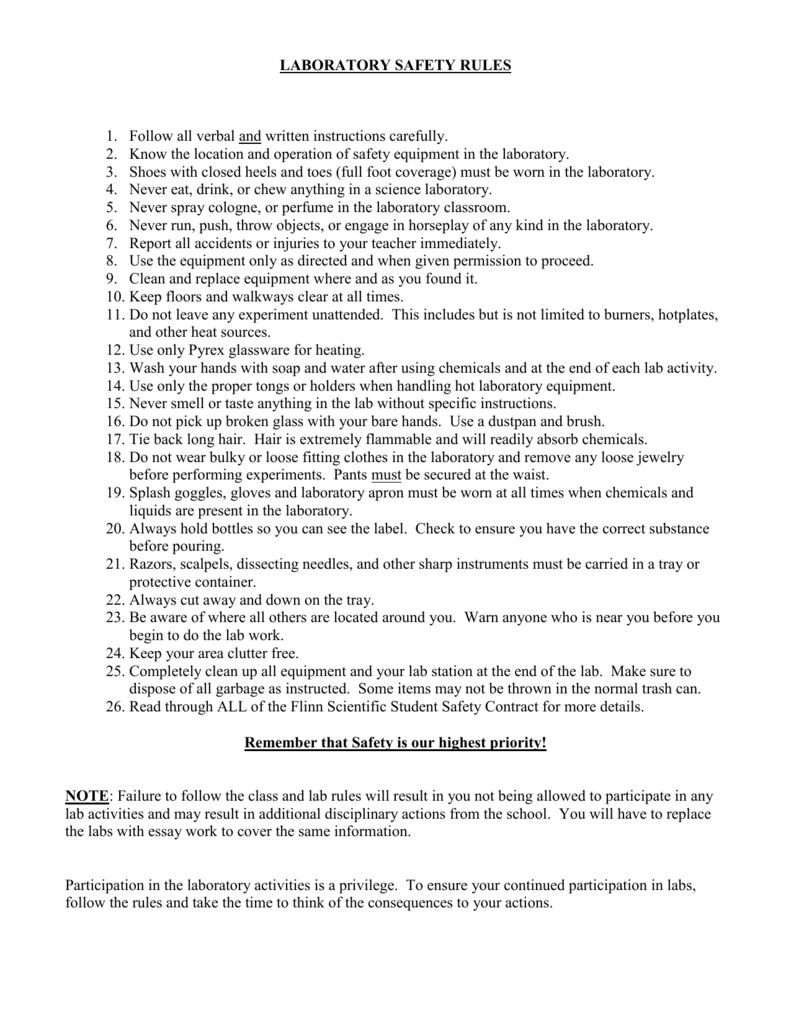 LABORATORY SAFETY RULES
1. Follow all verbal and written instructions carefully.
2. Know the location and operation of safety equipment in the laboratory.
3. Shoes with closed heels and toes (full foot coverage) must be worn in the laboratory.
4. Never eat, drink, or chew anything in a science laboratory.
5. Never spray cologne, or perfume in the laboratory classroom.
6. Never run, push, throw objects, or engage in horseplay of any kind in the laboratory.
7. Report all accidents or injuries to your teacher immediately.
8. Use the equipment only as directed and when given permission to proceed.
9. Clean and replace equipment where and as you found it.
10. Keep floors and walkways clear at all times.
11. Do not leave any experiment unattended. This includes but is not limited to burners, hotplates,
and other heat sources.
12. Use only Pyrex glassware for heating.
13. Wash your hands with soap and water after using chemicals and at the end of each lab activity.
14. Use only the proper tongs or holders when handling hot laboratory equipment.
15. Never smell or taste anything in the lab without specific instructions.
16. Do not pick up broken glass with your bare hands. Use a dustpan and brush.
17. Tie back long hair. Hair is extremely flammable and will readily absorb chemicals.
18. Do not wear bulky or loose fitting clothes in the laboratory and remove any loose jewelry
before performing experiments. Pants must be secured at the waist.
19. Splash goggles, gloves and laboratory apron must be worn at all times when chemicals and
liquids are present in the laboratory.
20. Always hold bottles so you can see the label. Check to ensure you have the correct substance
before pouring.
21. Razors, scalpels, dissecting needles, and other sharp instruments must be carried in a tray or
protective container.
22. Always cut away and down on the tray.
23. Be aware of where all others are located around you. Warn anyone who is near you before you
begin to do the lab work.
24. Keep your area clutter free.
25. Completely clean up all equipment and your lab station at the end of the lab. Make sure to
dispose of all garbage as instructed. Some items may not be thrown in the normal trash can.
26. Read through ALL of the Flinn Scientific Student Safety Contract for more details.
Remember that Safety is our highest priority!
NOTE: Failure to follow the class and lab rules will result in you not being allowed to participate in any
lab activities and may result in additional disciplinary actions from the school. You will have to replace
the labs with essay work to cover the same information.
Participation in the laboratory activities is a privilege. To ensure your continued participation in labs,
follow the rules and take the time to think of the consequences to your actions.