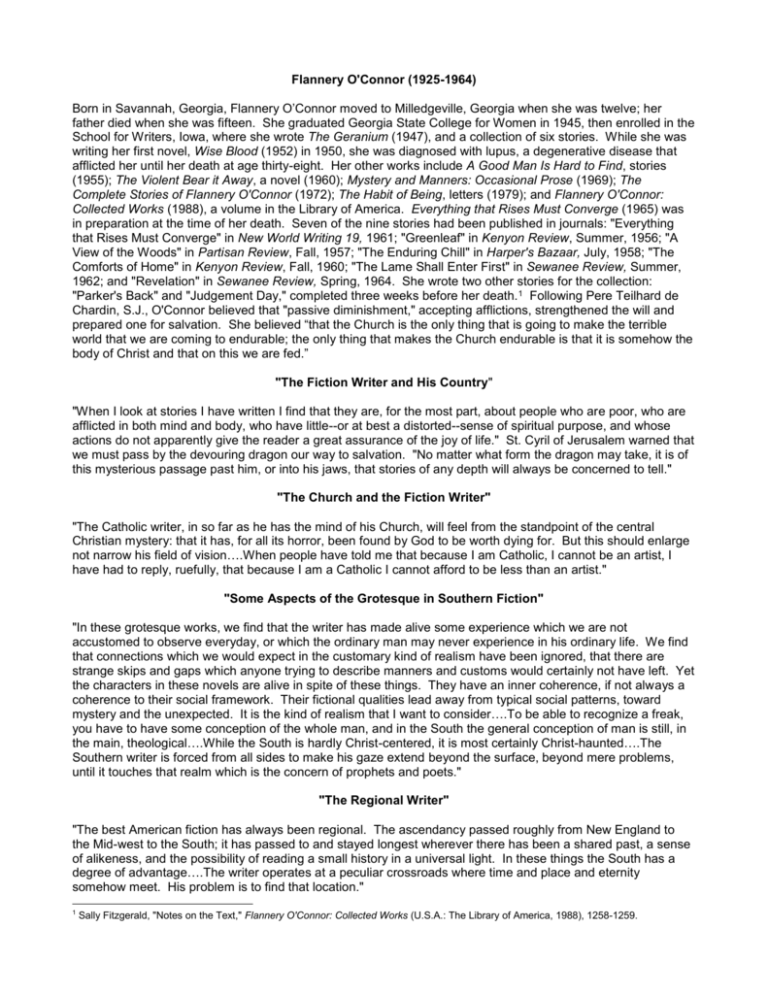 Flannery O'Connor (1925-1964)
Born in Savannah, Georgia, Flannery O'Connor moved to Milledgeville, Georgia when she was twelve; her
father died when she was fifteen. She graduated Georgia State College for Women in 1945, then enrolled in the
School for Writers, Iowa, where she wrote The Geranium (1947), and a collection of six stories. While she was
writing her first novel, Wise Blood (1952) in 1950, she was diagnosed with lupus, a degenerative disease that
afflicted her until her death at age thirty-eight. Her other works include A Good Man Is Hard to Find, stories
(1955); The Violent Bear it Away, a novel (1960); Mystery and Manners: Occasional Prose (1969); The
Complete Stories of Flannery O'Connor (1972); The Habit of Being, letters (1979); and Flannery O'Connor:
Collected Works (1988), a volume in the Library of America. Everything that Rises Must Converge (1965) was
in preparation at the time of her death. Seven of the nine stories had been published in journals: "Everything
that Rises Must Converge" in New World Writing 19, 1961; "Greenleaf" in Kenyon Review, Summer, 1956; "A
View of the Woods" in Partisan Review, Fall, 1957; "The Enduring Chill" in Harper's Bazaar, July, 1958; "The
Comforts of Home" in Kenyon Review, Fall, 1960; "The Lame Shall Enter First" in Sewanee Review, Summer,
1962; and "Revelation" in Sewanee Review, Spring, 1964. She wrote two other stories for the collection:
"Parker's Back" and "Judgement Day," completed three weeks before her death. 1 Following Pere Teilhard de
Chardin, S.J., O'Connor believed that "passive diminishment," accepting afflictions, strengthened the will and
prepared one for salvation. She believed "that the Church is the only thing that is going to make the terrible
world that we are coming to endurable; the only thing that makes the Church endurable is that it is somehow the
body of Christ and that on this we are fed."
"The Fiction Writer and His Country"
"When I look at stories I have written I find that they are, for the most part, about people who are poor, who are
afflicted in both mind and body, who have little--or at best a distorted--sense of spiritual purpose, and whose
actions do not apparently give the reader a great assurance of the joy of life." St. Cyril of Jerusalem warned that
we must pass by the devouring dragon our way to salvation. "No matter what form the dragon may take, it is of
this mysterious passage past him, or into his jaws, that stories of any depth will always be concerned to tell."
"The Church and the Fiction Writer"
"The Catholic writer, in so far as he has the mind of his Church, will feel from the standpoint of the central
Christian mystery: that it has, for all its horror, been found by God to be worth dying for. But this should enlarge
not narrow his field of vision….When people have told me that because I am Catholic, I cannot be an artist, I
have had to reply, ruefully, that because I am a Catholic I cannot afford to be less than an artist."
"Some Aspects of the Grotesque in Southern Fiction"
"In these grotesque works, we find that the writer has made alive some experience which we are not
accustomed to observe everyday, or which the ordinary man may never experience in his ordinary life. We find
that connections which we would expect in the customary kind of realism have been ignored, that there are
strange skips and gaps which anyone trying to describe manners and customs would certainly not have left. Yet
the characters in these novels are alive in spite of these things. They have an inner coherence, if not always a
coherence to their social framework. Their fictional qualities lead away from typical social patterns, toward
mystery and the unexpected. It is the kind of realism that I want to consider….To be able to recognize a freak,
you have to have some conception of the whole man, and in the South the general conception of man is still, in
the main, theological….While the South is hardly Christ-centered, it is most certainly Christ-haunted….The
Southern writer is forced from all sides to make his gaze extend beyond the surface, beyond mere problems,
until it touches that realm which is the concern of prophets and poets."
"The Regional Writer"
"The best American fiction has always been regional. The ascendancy passed roughly from New England to
the Mid-west to the South; it has passed to and stayed longest wherever there has been a shared past, a sense
of alikeness, and the possibility of reading a small history in a universal light. In these things the South has a
degree of advantage….The writer operates at a peculiar crossroads where time and place and eternity
somehow meet. His problem is to find that location."
1
Sally Fitzgerald, "Notes on the Text," Flannery O'Connor: Collected Works (U.S.A.: The Library of America, 1988), 1258-1259.