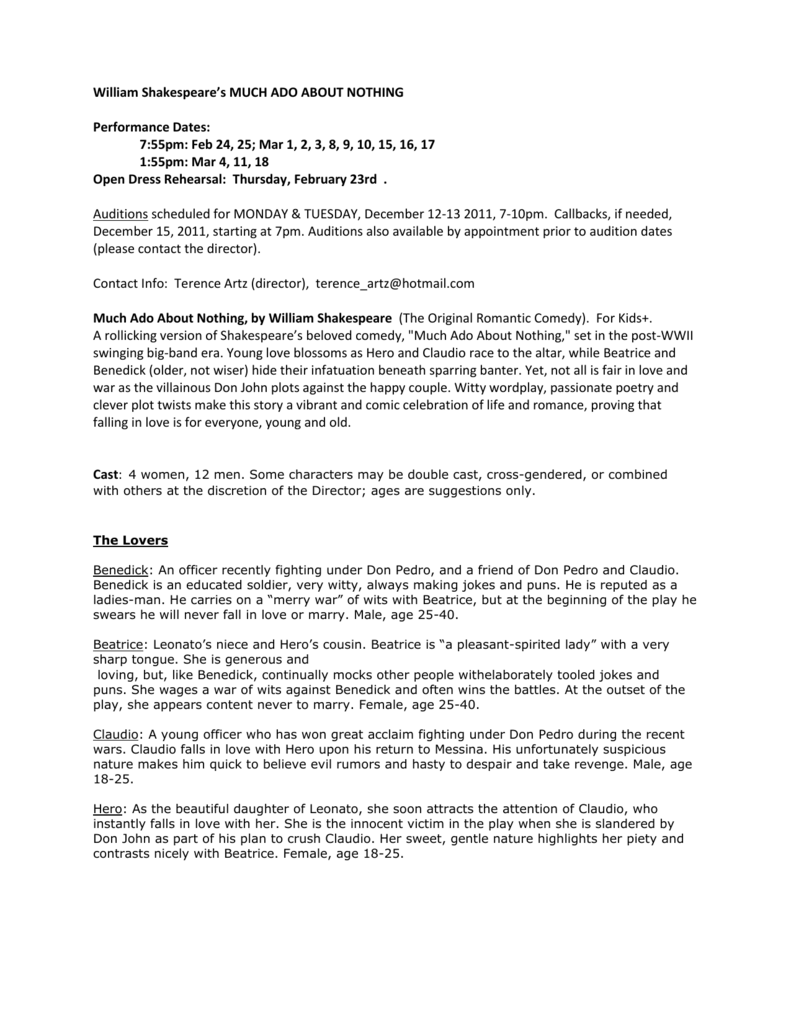 William Shakespeare's MUCH ADO ABOUT NOTHING
Performance Dates:
7:55pm: Feb 24, 25; Mar 1, 2, 3, 8, 9, 10, 15, 16, 17
1:55pm: Mar 4, 11, 18
Open Dress Rehearsal: Thursday, February 23rd .
Auditions scheduled for MONDAY & TUESDAY, December 12-13 2011, 7-10pm. Callbacks, if needed,
December 15, 2011, starting at 7pm. Auditions also available by appointment prior to audition dates
(please contact the director).
Contact Info: Terence Artz (director), [email protected]
Much Ado About Nothing, by William Shakespeare (The Original Romantic Comedy). For Kids+.
A rollicking version of Shakespeare's beloved comedy, "Much Ado About Nothing," set in the post-WWII
swinging big-band era. Young love blossoms as Hero and Claudio race to the altar, while Beatrice and
Benedick (older, not wiser) hide their infatuation beneath sparring banter. Yet, not all is fair in love and
war as the villainous Don John plots against the happy couple. Witty wordplay, passionate poetry and
clever plot twists make this story a vibrant and comic celebration of life and romance, proving that
falling in love is for everyone, young and old.
Cast: 4 women, 12 men. Some characters may be double cast, cross-gendered, or combined
with others at the discretion of the Director; ages are suggestions only.
The Lovers
Benedick: An officer recently fighting under Don Pedro, and a friend of Don Pedro and Claudio.
Benedick is an educated soldier, very witty, always making jokes and puns. He is reputed as a
ladies-man. He carries on a "merry war" of wits with Beatrice, but at the beginning of the play he
swears he will never fall in love or marry. Male, age 25-40.
Beatrice: Leonato's niece and Hero's cousin. Beatrice is "a pleasant-spirited lady" with a very
sharp tongue. She is generous and
loving, but, like Benedick, continually mocks other people withelaborately tooled jokes and
puns. She wages a war of wits against Benedick and often wins the battles. At the outset of the
play, she appears content never to marry. Female, age 25-40.
Claudio: A young officer who has won great acclaim fighting under Don Pedro during the recent
wars. Claudio falls in love with Hero upon his return to Messina. His unfortunately suspicious
nature makes him quick to believe evil rumors and hasty to despair and take revenge. Male, age
18-25.
Hero: As the beautiful daughter of Leonato, she soon attracts the attention of Claudio, who
instantly falls in love with her. She is the innocent victim in the play when she is slandered by
Don John as part of his plan to crush Claudio. Her sweet, gentle nature highlights her piety and
contrasts nicely with Beatrice. Female, age 18-25.
The Brothers
Don Pedro: An important and politically connected military leader, sometimes referred to as
"Prince." Don Pedro is a longtime friend of Leonato, Hero's father, and is also close to the
soldiers who have been fighting under him—the younger Benedick and the very young Claudio.
Don Pedro is generous, courteous, intelligent, and loving to his friends, but he is also quick to
believe evil of others and hasty to take revenge. He may be the most politically and socially
powerful character in the play. Male, age 30-45.
Don John: The illegitimate brother of Don Pedro; sometimes called "the Bastard." Regarded as
the villain of the play, Don John is economically and socially shunned as not-being part of Don
Pedro's family, as "trash," with all that implies in the segregated south. He is resentful of
his brother's social status, which he has no opportunity to attain. He resents Don Pedro and his
cadre of decorated officers, and creates a hateful scheme against Hero and Claudio. Male, age
30-45.
Leonato: A respected, well-to-do, elderly businessman at whose home/business, in Messina,
Alabama, the action is set. Leonato is the father of Hero and the uncle of Beatrice. The honor of
his family is very important to him, and he suffers greatly when Don John's plan damages it.
Male, age 40-60.
Antonio: Leonato's brother and father figure to Beatrice. Although elderly, he is loyal to his
brother no matter what the cost. Male, age 40-60.
Supporting Characters
Margaret: Hero's serving woman, who unwittingly helps Borachio and Don John deceive Claudio
into thinking that Hero is unfaithful. Unlike Ursula, Hero's other lady-in-waiting, Margaret
is working class. Though she is honest, she does have some dealings with the villainous
world of Don John: her lover is the mistrustful and easily bribed Borachio. Also unlike Ursula,
Margaret loves to break decorum, especially with bawdy jokes and teases. Female, 18-40.
Ursula: Hero's other attendant. Female, 18-40.
Balthasar: A musician employed by Leonato. Balthasar flirts with Margaret at the masked party
and helps Leonato, Claudio, and Don Pedro trick Benedick into falling in love with Beatrice. Male
or Female, 18-40.
Borachio: A henchman of Don John. Borachio is the lover of Margaret, Hero's serving woman. He
conspires with Don John to trick Claudio and Don Pedro into thinking that Hero is unfaithful to
Claudio. Male, 18-40.
Conrad: One of Don John's more intimate cohorts, entirely devoted to Don John. Male or Female,
18-40.
Francis Friar: Preacher/Reverend. Devises the plan to redeem Hero's reputation. Male, 40-60.
Dogberry: The Sheriff of Messina. Dogberry is very sincere and takes his job seriously, but he
has a hilarious habit of mangling his words. But is his buffoonery all an act? Male, 40-60.
Verges: Dogberry's Deputy.The Deputy likely carries one bullet each- in his shirt pocket.
Male/Female, 18-40.
The Watch: They overhear Borachio and Conrad and discover Don John's plot. Male/Female, 1840.
The Sexton: Leads the trial against Borachio and Conrad. Male/Female, 40-60.