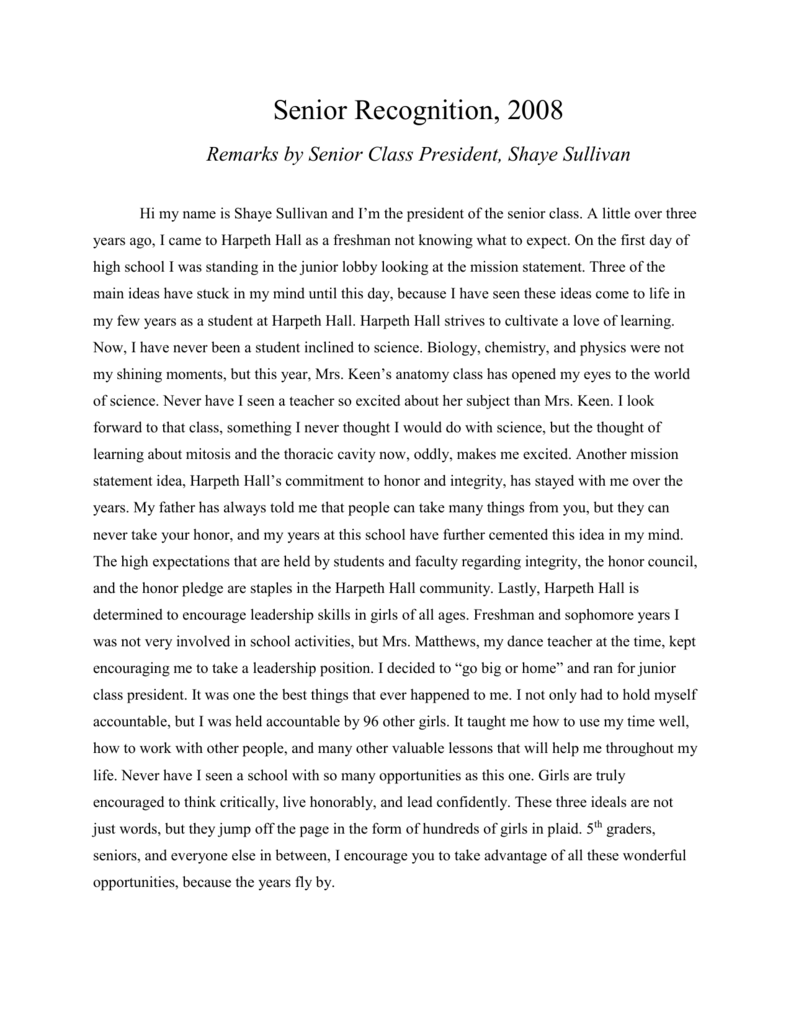 Senior Recognition, 2008
Remarks by Senior Class President, Shaye Sullivan
Hi my name is Shaye Sullivan and I'm the president of the senior class. A little over three
years ago, I came to Harpeth Hall as a freshman not knowing what to expect. On the first day of
high school I was standing in the junior lobby looking at the mission statement. Three of the
main ideas have stuck in my mind until this day, because I have seen these ideas come to life in
my few years as a student at Harpeth Hall. Harpeth Hall strives to cultivate a love of learning.
Now, I have never been a student inclined to science. Biology, chemistry, and physics were not
my shining moments, but this year, Mrs. Keen's anatomy class has opened my eyes to the world
of science. Never have I seen a teacher so excited about her subject than Mrs. Keen. I look
forward to that class, something I never thought I would do with science, but the thought of
learning about mitosis and the thoracic cavity now, oddly, makes me excited. Another mission
statement idea, Harpeth Hall's commitment to honor and integrity, has stayed with me over the
years. My father has always told me that people can take many things from you, but they can
never take your honor, and my years at this school have further cemented this idea in my mind.
The high expectations that are held by students and faculty regarding integrity, the honor council,
and the honor pledge are staples in the Harpeth Hall community. Lastly, Harpeth Hall is
determined to encourage leadership skills in girls of all ages. Freshman and sophomore years I
was not very involved in school activities, but Mrs. Matthews, my dance teacher at the time, kept
encouraging me to take a leadership position. I decided to "go big or home" and ran for junior
class president. It was one the best things that ever happened to me. I not only had to hold myself
accountable, but I was held accountable by 96 other girls. It taught me how to use my time well,
how to work with other people, and many other valuable lessons that will help me throughout my
life. Never have I seen a school with so many opportunities as this one. Girls are truly
encouraged to think critically, live honorably, and lead confidently. These three ideals are not
just words, but they jump off the page in the form of hundreds of girls in plaid. 5th graders,
seniors, and everyone else in between, I encourage you to take advantage of all these wonderful
opportunities, because the years fly by.
On a lighter note, no I am not a hippie, so you're probably wondering why our theme is
Peace Sign '09. This theme of sunshine, peace, and happiness encompasses the Class of 2009.
Many speakers use famous people for models, but I have to look no further than the girls on this
stage. A couple days ago, I polled the grade, asking for interesting quirky facts about each girl in
the senior that class that most people wouldn't know. I got some amazing feedback. I don't have
enough time in this speech to recount all the details, but I will hit the highlights. Kathleen
Fletcher used to have a fear of buttons. She had to buy pants with snaps and zippers only.
Camille Bentz learned how to play the song "Clocks" on the piano from a YouTube video. Anne
Jacobs got punched in the face during powder puff practice last year. She had a black eye to
prove it. Margaret Factor's nickname is Petalz (spelled with a Z). Lauren Bounds is a vampire
who doesn't like to wear shoes. Elizabeth McClemore plays hand bells at her church. Ann
Francis has a father who thinks he is a rapper named Half Dolla, which stems from the rapper
name 50 cent. Ashley Hayden is obsessed with dancing. Sara Stengel is a competitive
cheerleader. Arianna Burkhardt is a mermaid, and she is currently writing a book about
mermaids that she hopes to one day get published. Kara Earthman wants to solve the mysteries
of Big Foot and the Loch Ness monster. Rachel Wachs cannot run in a straight line, presenting a
problem for her career in track. Kara Brown has run the Country Music Marathon six times.
Sabin Nettles used to have six toes, haha just kidding.
So now you KNOW the senior class, although I have only scratched the surface. Full of
mermaids, champions, cheerleaders, basketball players, girls with rapper fathers, and many other
personalities that make the Class of 2009 the unique class that it is. But we are only one part of
this community that we are all so lucky to come to 7 hours a day 5 days a week. Years from now
you will think back on your high school year and won't you want to know all of your classmates
and know you have taken advantage of all the opportunities? 5th graders, 6th graders, 7th graders,
8th graders, freshmen, sophomores, juniors, and seniors, I challenge you to think critically, live
honorably, lead confidently, and get to know the people around you because you never know
what you might find.