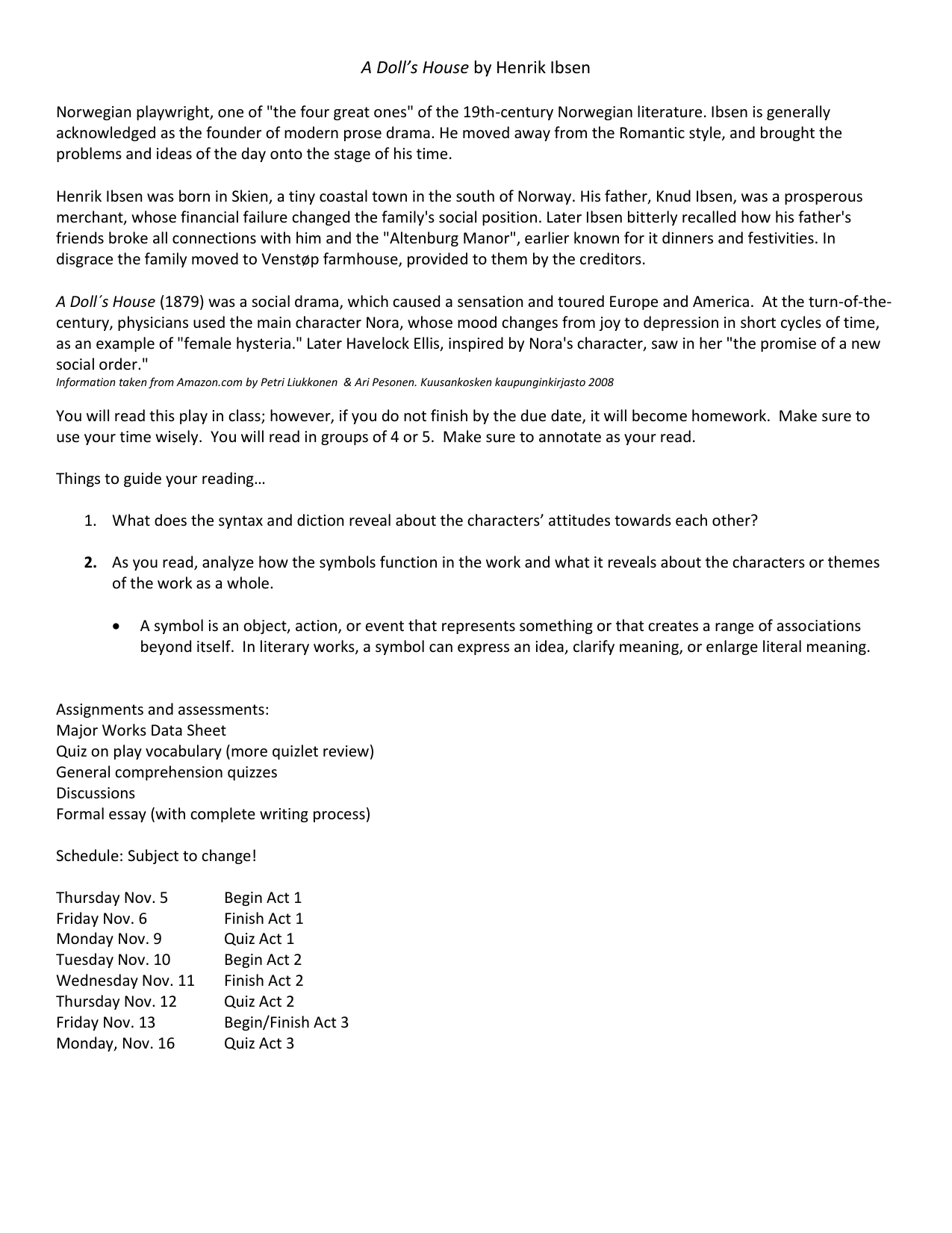 A Doll's House by Henrik Ibsen
problems and ideas of the day onto the stage of his time. Norwegian playwright, one of "the four great ones" of the 19th-century Norwegian literature. Ibsen is generally acknowledged as the founder of modern prose drama. He moved away from the Romantic style, and brought the Henrik Ibsen was born in Skien, a tiny coastal town in the south of Norway. His father, Knud Ibsen, was a prosperous merchant, whose financial failure changed the family's social position. Later Ibsen bitterly recalled how his father's friends broke all connections with him and the "Altenburg Manor", earlier known for it dinners and festivities. In disgrace the family moved to Venstøp farmhouse, provided to them by the creditors. A Doll´s House (1879) was a social drama, which caused a sensation and toured Europe and America. At the turn-of-the century, physicians used the main character Nora, whose mood changes from joy to depression in short cycles of time, as an example of "female hysteria." Later Havelock Ellis, inspired by Nora's character, saw in her "the promise of a new social order."
Information taken from Amazon.com by Petri Liukkonen & Ari Pesonen. Kuusankosken kaupunginkirjasto 2008
You will read this play in class; however, if you do not finish by the due date, it will become homework. Make sure to use your time wisely. You will read in groups of 4 or 5. Make sure to annotate as your read. Things to guide your reading… 1.
What does the syntax and diction reveal about the characters' attitudes towards each other?
2.
As you read, analyze how the symbols function in the work and what it reveals about the characters or themes of the work as a whole.  A symbol is an object, action, or event that represents something or that creates a range of associations beyond itself. In literary works, a symbol can express an idea, clarify meaning, or enlarge literal meaning. Assignments and assessments: Major Works Data Sheet Quiz on play vocabulary (more quizlet review) General comprehension quizzes Discussions Formal essay (with complete writing process) Schedule: Subject to change! Thursday Nov. 5 Friday Nov. 6 Monday Nov. 9 Begin Act 1 Finish Act 1 Quiz Act 1 Tuesday Nov. 10 Wednesday Nov. 11 Thursday Nov. 12 Friday Nov. 13 Monday, Nov. 16 Begin Act 2 Finish Act 2 Quiz Act 2 Begin/Finish Act 3 Quiz Act 3