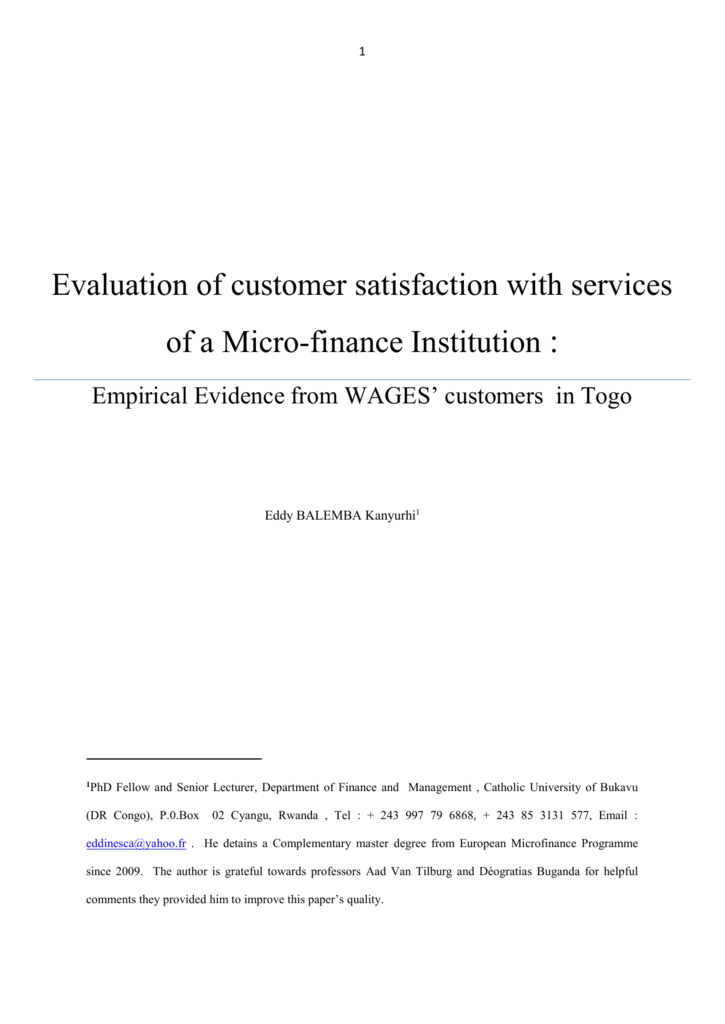 1
Evaluation of customer satisfaction with services
of a Micro-finance Institution :
Empirical Evidence from WAGES' customers in Togo
Eddy BALEMBA Kanyurhi1
1
PhD Fellow and Senior Lecturer, Department of Finance and Management , Catholic University of Bukavu
(DR Congo), P.0.Box
02 Cyangu, Rwanda , Tel : + 243 997 79 6868, + 243 85 3131 577, Email :
[email protected] . He detains a Complementary master degree from European Microfinance Programme
since 2009. The author is grateful towards professors Aad Van Tilburg and Déogratias Buganda for helpful
comments they provided him to improve this paper's quality.
2
Abstract.
Nowadays, Micro-finance industry is affected by competition leading to customers' switching
across MFIS. Thus, MFIs are concerned about customer satisfaction and have to pay attention
to understand their customers' preferences to survive in a competitive environment. Using
data from 353 Women and Association for Gain both Economic and Social (WAGES)'s
customers in Togo, this study aimed to : (1) determine the main dimensions of financial
services of Microfinance institution (2) determine the customer satisfaction level and (3)
assess to what extent customer satisfaction is influenced by customers' characteristics.
Resorting to Factorial analysis, Customer Satisfaction Index and ANOVA, we found that
responsiveness remains the most important dimension in micro-finance sector. Results reveal
that customer's branch, customer's revenue and number of services accessed by customers
strongly influence customer's satisfaction. Results also indicate that the current customer
satisfaction is equals to 71.2%.
Key words:
Micro-finance customers' satisfaction dimensions, customer's satisfaction
Index, customer' characteristics influence.
3
1. Introduction
Microfinance industry is now affected by strong competition : " commercial banks have
begun to target MFIs' traditional customers , new MFIs have continued to be created in
microfinance industry, the microfinance
clientele
is becoming
more sophisticated
concerning the quality of service they require or expect"( Daubert 2002) . These factors may
negatively affect the MFIs. In fact, the microfinance industry is losing customers because of
both the aggressive competition and MFIs' weakness to satisfy their clients (Urguizo 2006).
This simple description shows why MFIs are concerned about customer satisfaction and
retention. It justifies also why they must "pay attention to understand their customers'
preferences and priorities" (IFAD 2007) to survive in a competitive environment. The
microfinance industry is quite slowly in becoming more "market oriented" and it seems that
customer satisfaction is one of the important tools to run a business and to achieve the mission
statement (on sustainability and outreach) in this sector.
Customer satisfaction is an evaluative process, it is defined as "… a judgment that a product
of service feature, or the product or service itself, provided (or is providing) a pleasurable
level of consumption related fulfillment, including levels of under or over fulfillment" (Oliver
1997, 13) cited by ( Swaid 2007; Hom 2002). Customer satisfaction is "captured as positive
feeling (satisfaction), indifference or negative feelings (dissatisfaction)" (Bhattacherjee, 2001)
cited by (Swaid 2007). It is a short-term attitude that can readily change given a constellation
of circumstances. Therefore, satisfaction is not a static idea and it changes as soon as a client
finds a better deal that meets his expectations. In this perspective, firms must focus on
customer satisfaction, studying and determining as soon as possible the customer satisfaction
level, to adjust the product to customer needs.
Indeed, customer satisfaction has great
significance for the future of an institution and it is seen as a basis for securing market
position and achieving other objectives of the institution (Koraus , 2002).
This study focuses on customer satisfaction with respect to the services of Micro-finance
institutions in Togo. Data have been extracted from one MFI (the Women Association and
Gain for both Economic and Social: WAGES) for two reasons: (1) WAGES is the second
biggest MFI in Togo; launched in 1994, it grew rapidly serving nowadays more than 64.710
4
clients divided in eight branches located in the Togolese' biggest towns. Thus, studying
WAGES' case will provide an exhaustive insight on MFI'customer satisfaction issue in Togo.
(2) WAGES is one of the "market oriented" MFIs with a well established marketing
department aiming to develop new products on clients' needs and competitors' strategic
actions basis. Thus, it was easy to access to WAGES' database and installations what was
impossible for other institutions mainly characterized by opaque structures.
Togolese'MFI sector experienced big competition since 2007; active MFIs increased in
number reaching 167 institutions (Togolese's MFI network Report, 2007). The multiplication
of financial institutions (MFIs and commercial banks), a weak diversification of products and
the lack of entrance barriers (MFI sector) are among elements explaining hard competition in
the sector. While many MFIs have been concerned by competition, WAGES has been highly
affected losing almost 5 % of active clients. WAGES' marketing department positively
reacted by conducting a customer satisfaction survey in June 2008 aiming to indentify clients'
needs and complaints for defining management implications for operational and strategic
actions. Using WAGES' survey outcome, this study aims to determine MFIs' customer
satisfaction level in Togo. The objective is to determine the current customer satisfaction
level, to understand the main dimensions of service from the customer point of view and, at
the end, to assess if the customer satisfaction is influenced by some characteristics of
customers like: number of services obtained, the location of customer, the age, the sex
(gender), the school level and number of years spent as customer in the MFI.
Customer satisfaction is a subject with a lot of interest in both the marketing and finance
literature. The great emphasis on customer satisfaction has given birth to multiple studies and
innovative methodologies to assess and to understand customer behavior. Parasuraman et
al.1985, 1988) are among the most well-known researchers who assessed customer
satisfaction using service quality (ServQuality) model. Today, ServQuality model is used,
with few adaptations, in multiple sectors to assess both service perceptions and expectations
"across a range of different service characteristics" (European Commission, 2008). The
original model is adapted in function of the researchers' needs and "moved" from the non
financial sector to the financial sector. Therefore, it is feasible to assess customer satisfaction
also in the financial sector. Thus, "the BANKSERV model was developed in Australia to
measure service quality in retail banking as perceived by customers. It was adapted from
SERVQUAL to specifically suit the Australian banking industry"(Pont and McQuilken 2002).
5
The CARTER model "was conceptualized as a proposed framework for measuring quality of
services in Islamic banks (Othman and Owen 2001), etc. Innovative, structured and formal
models to assess customer satisfaction in Microfinance are still rare. However, some studies
tried to formalize the main items of satisfaction that can be measured in this particular field.
Murray (2001) investigated MFI customer's value through a comparative analysis from three
continents. His results show that "MFI customers will continually push for higher loan
amounts, faster turnaround times, lower loan requirements and lower prices".
This study takes inspiration from previous studies and tries to adapt the ServQual model to the
micro-finance field. It uses a sample of 353 respondents from WAGES by a stratified and
reasoning sample choice. Data were obtained by a survey in three stages: the first stage is a
focus group. The objective assigned to it is to gather the most important dimensions of service
from the customer's point of view and these dimensions will be introduced in the
questionnaire to be able to use a quantitative methodology. The second stage was a presurvey. In this case, the questionnaire has been proportionally submitted to 30 customers in
function of number of customers by branch (Giannelloni and Vernette 2001). The third stage
is the proper survey. A questionnaire, inspired by previous studies and customer answers, has
been used to gather expectations and perceived service by customers. Data processing has
been done by resorting to factorial analysis, Anova test and customer satisfaction Index.
This study is divided in five sections. The first section presents the literature review. We
define customer satisfaction, discuss the importance of customer satisfaction in relation of
retention and loyalty, present a short review of measurement tools of customer satisfaction
and provide some results related to previous studies. The second section focuses on
methodology and hypothesis. Some techniques related to information gathering and
processing are presented (focus group, pre-survey and sampling, survey, factorial analysis,
Anova test, customer satisfaction Index). The third section presents data. Data relate to
customers' characteristics, different items constituting the customer satisfaction and WAGES'
financial products. The fourth section discusses results providing main dimensions of
customer satisfaction, the current customer satisfaction level and assesses if customer
satisfaction is related to their characteristics. The fifth section raises limitations, implications
and future research from this study. Following section presents literature review.
6
2. Literature review
We review customer satisfaction theories and provide some empirical results related to
customer satisfaction in Micro-finance and Finance sectors (2).
2.1. Theoretical review.
We define customer satisfaction, discuss the importance of customer satisfaction in
relationship with retention and loyalty and present a short review of measurement tools of
customer satisfaction.
2.1.1. Definition of customer satisfaction.
According to existing definitions and approaches, customer satisfaction can be analyzed as a
general/overall judgment that a customer makes after consuming a product or a service.
Customer satisfaction is perceived as "psychological state (feeling) appearing after buying
and consuming a product or service …" (Lendrevie and Lindon 1997) cited by (Merouane
2008/2009). Thus, customer satisfaction reflects "a pleasure resulting to product's
consumption, including under or over fulfilment level" (Oliver 1997, 13) cited by (Hom,
2002). According to Olivier's argument , customer satisfaction does not mean only positive
feeling, it could also lead to a negative or neutral feeling withdrew from consuming a product
or a service. Briefly, "customer satisfaction is captured as positive feeling (satisfaction),
indifference (neutral), or negative feelings (dissatisfaction)" (Bhattacherjee 2001) cited by
(Swaid and Wigand 2007, Hom 2002).
When approaching customer satisfaction as a feeling, it is important to note that it is mostly
influenced by the customer's experience with the firm and product. In this perspective,
customer satisfaction is conceived as "the emotional state that occurs as a result of a
customer's interactions with the firm over time" (Anderson et al. 1994) Cited by Verhoef
(2003, 32). In fact, customers are usually comparing the product received from the firm to
their own expectations over time. If the product fulfils and performs the customer's
expectations, customer seems satisfied. Briefly, customer's satisfaction is analyzed as a
confirmation or not of customer expectations (Conchon et al. 2006).
7
Clearly, it seems that customer satisfaction is composed by "two components: client
expectations and the perceived quality. Thus, a proper measure of satisfaction would include
a separate assessment of both client expectations and the quality of provided service" (Office
of the Comptroller General Evaluation and Audit Branch 1991). Parassuraman et al .1985,
1988, 1991) approached customer satisfaction in the same way by demonstrating that
customer satisfaction is a function of "the difference scores or gaps between expectations and
perceptions (P – E)". According to them, customer satisfaction is only achieved "if actual
perceived quality surpasses the consumer's expectations".
Even if the Parasuraman et al. 1985 customer definition seems to be more dominant, it is now
more criticized because of practical problems related to the gap "performance minus
expectations" (Teas 1994, 132). Thus, an alternative measurement of customer satisfaction
has been proposed estimating that customer satisfaction would be only obtained by focusing
on actual perceived satisfaction (Corin and Taylor 1992; Teas 1994). In this perspective and
contrary to Parasuraman et al's approach, "Customer satisfaction is defined as customer's
overall evaluation of the performance of an offering to date (Jonhnson and Fornell 1991)
cited by (Gustafsson et al.2005, 210).
2.1.2. Importance of customer satisfaction in firms: retention and loyalty.
Loyalty and retention are often analyzed as direct consequences of customer satisfaction. The
two terms express "the attachment a customer feels for a company's people, products, and
services. A loyal customer is someone who makes regular purchases, purchases across
product and service lines, refers others, demonstrates an immunity to the pull of the
competition" Griffin (1995) cited by ( Churchill 2002) . Financial and marketing studies
have supposed that satisfied customers constitute an important asset of firm. Even if there is
not much empirical evidence, it seems that customer satisfaction will enhance both customer
loyalty and retention through repeated purchases, less price sensitivity and costs reduction.
In fact, when customers are satisfied , they become more loyal and will increase their level
of purchasing from the firm over time ( Anderson and Sullivan 1993, Reichheld 1996) cited
by (Verhoef 2003, 33) directly, they will also recommend other customers to consume the
firm's products and services . Thus, "the positive word of mouth that satisfied customers
generate influences other consumers' future purchases" (Anderson 1996) cited by ( Gruca
8
and Lopo 2005, 116). Satisfied customers are also expected to be "less likely to defect to
competing products as a result of lower prices" (Fornell et al. 1996). For this reason,
"greater customer satisfaction may enable firm to charge higher prices or at least to better
resist downward pressure on prices" (Anderson 1996 , Narayandas 1998) . Briefly , " a
satisfied customer reacts less sensitively to price changes and is prepared to pay a higher price
for a service that corresponds to their requirements and conceived ideas" ( Korauš 2002,
Anderson et al .2004 , 172).
Customer satisfaction will also exert a positive impact on firm's costs through retention.
Indeed, by satisfying customers, firms and MFIs will lower their actual costs avoiding gaining
new clients and making extra marketing expenses. This argument is more important in
microfinance sector where clients and the MFI are supposed to act for a long-term
relationship. In fact, " with client retention, institutional costs decrease as the institution
needs to do less marketing, less new client orientation, and fewer new client background
checks, staff productivity increases because loan officers work with established clients whom
they know well, clients income increases as loan sizes generally increase with experienced
clients" ( Waterfield 2006; Korauš 2002).
Brief, by satisfying their customers, "firms and MFIs will generate benefit for themselves
beyond the present transaction and the current moment. These benefits will arise from the
positive shaping of the satisfied customer's future behaviour" (Anderson 1996) cited by
(Gruca and Lopo 2005, 116). It means that if firms and MFIs in particular, "are able to meet
customers' needs successfully, then, household stability will increase. Customer household
stability will in turn contribute to organization's financial sustainability" (Asian Institute of
Management 2005).
1.1.3. Evolution of customer satisfaction measurement
There are many techniques and methods for measuring customer satisfaction. We will not
review all existing methods. We will limit our attention to representative methods like
ServQual, ServPerf and some adapted methods resulting to ServQual model.
a) Service quality model: The ServQual model is considered as the pioneer model
in customer satisfaction measurement. Developed by Parasuraman et al.1985, the
model has been recognized as the most representative tool in approaching
9
customer satisfaction issues. The central idea is that service quality is " a function
of the difference scores or gaps between expectations and perceptions (P – E)".
"SERVQUAL contains 22 pairs Likert scale statements structured around five
service quality dimensions in order to measure service quality (Cronin and Taylor
1992) : Reliability, Responsiveness, Assurance , Empathy , Tangibles )" (Bloemer
, Ruyter et al. 1999). In this perspective, customer satisfaction is analyzed as
multidimensional concept resulting from a comparative approach between
customer's expectations and perceived quality delivered by the firm (cf.
Parasuraman et al. 1985). Thus, "a positive gap score implies that expectation have
been met or exceeded and a negative score implies that expectations are not being
met" (Parasuraman at al. 1988) cited by (Safakli, nd, Barnes 2005, Parasuraman,
et al.1985). Now, ServQual model is analyzed and modified by some authors
seeking to adapt it or to correct some mistakes it may be perceived to contain.
Rethinking ServQuality has given birth to multiple others models among them
ServPerf which we analyze below.
b) The SERVPERF model: This model had been developed by Cronin and Taylor 1992
from ServQual model basis. The fundamental criticism launched to ServQual
model by Cronin, Taylor and other authors like Teas concerns the gap scores (PE). In fact, those authors estimated that "there are serious problems in
conceptualizing service quality as a difference score …." (Cronin and Taylor 1992,
26). Thus , ServPerf model suggests " that customer satisfaction with service is
based only on "performance" rather than a gap between performance and
expectations, with the performance-only scale termed SERVPERF" (Cronin &
Taylor 1992, 1994) cited by ( Lowndes 2001). However, SERVPERF model is
composed of the same 22 perception items included in SERVQUAL. "It excludes
any consideration of expectation, which makes SERVPERF a more efficient
measure in comparison to SERVQUAL (Lee, Lee and Yoo 2000; Buttle, 1996)"
cited by (ANZMAC Conference Proceedings 2002).
Empirical studies have
confirmed a relative superiority of ServPerf to ServQual models. Thus, PZB 1994
argued that "ServPerf has greater construct validity and that ServPerf measures
also exhibit convergent and discriminant validity" (Cronin and Taylor 1992).
c) Adapted models from ServQual model: Today, ServQual model is adapted from
marketing to finance sector. The principal ServQual model has been changed in
10
function of authors' research and interest. Many modifications are have been done
by diminishing or adding some items or dimensions to the original model. Thus,
for example , the PAKSERV1 model is using " SERVQUAL dimensions of
tangibility, reliability and assurance but replaced the responsiveness and empathy
dimensions with three new dimensions: Sincerity( consumer's evaluation of the
genuineness of the service personnel), Formality( consumer's evaluation of social
distance, form of address and ritual) and Personalization( consumer's evaluation
of individualize and individualized attention)" ( Saunders nd) . The BANKSERV2
model adopts a 'perception-expectation' approach to the measurement of service
quality. "The model contains 17 items regrouped in four main factors: staff
conduct, credibility, communication, access to Teller Services" (Pont and
McQuilken 2002) for assessing customer satisfaction in bank sector in Australia .
The CARTER model was been developed to adapt ServQual to Muslim culture
enabling it to measure customer satisfaction in Islamic banks. "The model makes
assumption that the cultural and religious influences were significantly rated and
placed in the front by Islamic banks customers. CARTER model includes 6
dimensions with 34 items. It includes in addition to the compliance with Islamic
law and principles all SERVQUAL five dimensions" (Othman et al. 2001).
2.1.
Some empirical studies.
IFAD (2007) studied customer satisfaction in rural micro-finance institutions in Uganda,
Kenya and Tanzania. Combining qualitative (14 focus group of 71 clients) and quantitative
approaches (209 interviews), this study assessed the determinants of customer satisfaction for
rural customers accessing both credit and savings facilities. Results revealed that " customers
prefer unlimited access to their savings while on credit facilities, customers want to have
access to loan amounts they actually apply for at a 'reasonable' price and on flexible
repayment term conditions" . The study suggested also that surveyed customers were all
satisfied exhibiting a Customer Satisfaction Index of 81%. The study concluded that
"financial services should be delivered by courteous staffs that preferably are not being
'changed /swapped".
11
Murray (2001) concentrated his study on customer satisfaction levels using data from four
MFIs affiliated to Women's World Banking in three countries: Colombia (America),
Bangladesh (Asia) and Uganda (Africa) with a total sample of 3,000 clients. Using Likert's
scale, the author took into account expectations and perceptions items plotting results on a
two-axis grid. Results proved that customers are more satisfied by accessing higher loan
amounts, faster turnaround times, lower loan requirements and lower prices. However, it
seemed that customers preferring to develop a long-term relationship with the MFI want to be
given preferential treatment while all customers are demanding increasing levels of customer
service.
Othman and Owen (2001) conducted a study about customer satisfaction in Islamic Banks by
using the service quality model. Their study used a survey of 360 customers selected by
Systematic Random Sampling. Using CARTER model scale, their results suggested that
customer satisfaction in Islamic banks "should be measured through the proposed 34 items
instead of reducing it into the original number of SERVQUAL's five dimensions and their 22
items". Their results indicated that in Islamic banks, managers and practitioners should be
aware of cultural or religious dimension.
Alhemound (2007) investigated customer satisfaction in the banking sector in Kuwait. His
study used a sample of 605 randomly selected retail customers. Using descriptive statistics,
Correlation and ANOVA tests, his results showed that, in general, customers in Kuwait are
satisfied with services provided by retail banks. In this regard, customer satisfaction is mainly
driven by: "availability of ATM in several locations, safety of funds, easy to use ATM and the
quality of services provided…."
Table n°1: Summary of results from empirical studies
N°
1
Authors
Sampling and Data
Main results
Ifad ( 2007) 280 customers from Uganda, Tanzania 81 % of customers are satisfied by services.
and Kenya using qualitative (focus Unlimited access to savings, access to loan
groups) and quantitative interviewers, amounts at a 'reasonable' price and on
recurring to Customer satisfaction Index flexible repayment term conditions are
(CSI) .
significant
dimensions
of
customer
satisfaction.
12
2
Murray (2001) A total of 3000 customers were been Customers are more satisfied by : higher
selected
from
three
countries: loan amount, faster turnaround times , lower
Colombia, Bangladesh and Uganda. loan requirements and lower prices
The author used graphic analysis for
results processing.
3
Othman and A sample of 360 customers selected by Customer satisfaction in Islamic banks is
Owen (2001) the Systematic Random Sampling (SRS) defined towards proposed 34 items among
system Was used while CARTER model cultural / religious dimensions are more
was been used for data processing important.
through factorial analysis.
4
Alhemound
(2007)
A sample of 605 retail customers Generally, customers are satisfied. Customer
randomly selected. Statistics descriptive satisfaction is more influenced by the
(Mean, Standard Deviation) and customer's locations (Kuwaiti and non
statistics
tests
used
Correlation,
ANOVA)
processing.
(Person's Kuwaiti).
for
data
Source: Built by ourselves from empirical studies material.
3. Methodology and hypotheses definition.
We successively analyze techniques used to gather and process data.
3.1. Data collection techniques: focus groups, sample and survey.
We firstly conducted 11 focus groups with 118 participants from eight branches. The
objective was to gather representative attributes from the customers' point of view. Using
three guide questions and two criteria for meetings' synthesis, we obtained 15 attributes as
being the most important for clients (Netteret and Nigel Hill, 2005). We secondly conducted a
pre-survey on 30 clients for sampling definition and questionnaire testing purpose. Clients
have been proportionally extracted from the 64.710 active WAGES clients. This (M= 3.88;
Standard deviation = 0.49) allowed us to determine the sample' size:
(0.49)
n= [(1.96)2x
2
] /(0.05)2 = 369 customers . Through a pre-survey, we also modified the questionnaire by
canceling ambiguous questions and changing the syntax of badly formulated questions for
ensuring best understanding by clients (Niraj et al., 2003). We resorted to a proportionally
13
stratified and reasoning sampling basis. The 369 clients have been extracted from 6 branches
focusing on both time spent as WAGES' clients (would be regular MFI's member one year
ago) and financial product (benefiting at least one of three financial products: loans, savings
and Roscas). Data have been collected by a team composed of 24 loans officers' during 21
days. From the 369 distributed surveys, 353 have been returned and were well completed,
representing a 96 % response rate.
Data have been collected through a questionnaire adapted from previous studies (Parasuraman
et al. (1988), European Union (2007); Wetzels (1997), existing questionnaire at WAGES and
focus interviews. The questionnaire contained three principal sections. The first section was
designed to gather information about both customers' expectations and perceptions. This
section includes 32 questions. Customers' expectations and perceptions have been gathered
using a five point Likert scale ranging from "strongly agree =5" to "strongly disagree = 1".
For this section, " the statements were administered to the respondents with the following
instructions: We would like you to put yourself in place of an MFI customer and then
respond to all of the following statements by checking the category which best reflects your
opinion" ( Yavas 2006). Second section has been concentrated on identification of customer
satisfaction level for WAGES' specific products like savings, loans, Roscas, transfer,
formation, etc. We used a performance Likert scale ranging from "Strongly satisfied=5" to
"strongly dissatisfied =1" for measuring 18 elements which have been identified with the
programme and marketing manager as the most important for the institution. The third section
was designed for customers' identification. Extracted variables were related to customers'
age, sex, location in terms of branch, number of years spent as customers, financial services
received from Wages, business status, enrolment status and customers' revenues.
3.
2. Data processing techniques.
Three main techniques have been used for processing data. We firstly resorted to factorial
analysis to "satisfy the need of identifying structure through data summarization and data
reduction" allowing us to define customer satisfaction dimensions. Using this technique, we
were able to "condense (summarize) the information contained in a number of original
variables (items) into a smaller set of new, composite dimensions or factors with a minimum
14
loss of information" (Hair, Anderson, Tatham, & Black, 1998 cited by Sarreal ,2008). We
used Parasuraman et al. (1988) scale measurement as reference . "The original scale had 22
item scales built on five dimensions. However, even if the " 22 items are inclusive enough to
cover the general service quality issues in various service businesses including bank service,
they may not be specific enough to understand the context of specific quality concerns and
their priorities in the minds of bank customers. Therefore, the blind use of the 22-item
SERVQUAL instrument may limit the accuracy in understanding service quality terms of
customers in a specific service business" (Lee, 2006) like MFIs.
We modified the original model to adapt it to MFI sector and African context. Verhoef (2003)
had proceeded in the same way by "adding four new items on Signh's (1990) scale to fit the
context of financial services". Adopting Verhoef's (2003) approach, referring to focus groups
results ( aiming to gather clients points of view) and the existing questionnaire, we developed
an embedded scale with 32 item-scales and six principal dimensions: Tangibles, comfort and
appearance of personal and material (6), Reliability or capacity to accomplish task (4),
Responsiveness, dynamism and willingness for helping customers (6), Insurance and
confidence (5), Empathy and attention to clients (5); Price, costs and conditions (6). Although
the five first dimensions are similar to the Parasuraman scale in terms of structure, the items'
content is deeply different form the original scale trying to incorporate and meet sector (MIFI)
and context (Africa) matter. Thus, the tangibles dimension give insight about particular items
related to loan officers' using motorcycle and badge as tangibles items facilitating loans
officers' mobility and identification on field. The sixth dimension is a new one added to the
original scale highlighting how do microfinance clients are strongly concerned by services
pricing. We captured both customers' expectations and performance but only performance
items have been submitted to factor analysis (Corin and Taylor, 1992; Teas, 1994, HarrisonWalker, 2000) using structural coefficients (.30) , communalities (equal or above .50) , eigen
values ( equal or above 1) , explained % of variance ( at least 60% ) , Cronbach's Alpha ( ≥
.70) for obtaining optimal solution (Malhotra et al 2007; ; Carricano and Poujol, 2008;
Ahmad and Sungip, 2008).
H 1: Responsiveness, Empathy, Price, conditions and costs are expected to exhibit high level
of extracted variance proving they are the most representative dimensions of customer
satisfaction for WAGES' clients.
15
We secondly resorted to customer satisfaction Index for determining WAGES'current
customer satisfaction level expressed "as a single number in percentage that tells the supplier
where he stands today…" (Bhave, 2002) using both customers' expectations and customers'
performance (Kumar and Mahaptra, 2006). We obtained WAGES' actual customers
satisfaction "using an importance weighting based on an average of 1" inspired from both
Bhave (2002), Netteret and Nigel Hill 2005 following three stages: First, "we calculated the
average of all the weightings given by the customer. Second, we divided the individual
weightings by this average to find the weighting on the basis of average of 1. Customer's
higher priorities are weighted more than 1 and lower priorities less than 1. The averages of the
Customers Importance Scores are calculated and each individual score is expressed as a factor
of that average" (Kumar and Mahaptra 2006). Third, we expressed the average in percentage
terms and obtained the actual customer satisfaction level.
H 2: WAGES' current customer satisfaction level is high , it also is a function of financial
services (saving and credit).
We thirty resorted to ANOVA test to assess whether one or a combination of customers'
qualitative characteristics (location, level of education, number of financial services accessed,
customer's revenue, etc) would have an effect on customer satisfaction measured as
quantitative variable from significant factors and items after scale purification. We processed
by preliminary test for ensuring ANOVA usage (Levene test ˃ .05 and Duncan test for
identifying the means that were significantly different") and chose significant variables by
examining their attached probabilities (p-value equal or less than .05 used as a thumb to judge
the relevance of statistics tests at five percent level of significant).
H3: WAGES' customers' satisfaction is positively influenced by customers' characteristics
such customers' branch, customer' revenue, the number of financial services accessed by
clients.
16
4. Data presentation.
We discuss customers' characteristics (1) and we provide insights related to customers'
expectations and perceptions (2).
4.1. Social, economical and demographical characteristics of the Sample.
The majority of surveyed clients are women representing 64% of the sample while men
constitute only 36 %. Surveyed customers are adults with an average age of 37 years.
Surveyed clients achieved at least primary school and secondary for 70 % of cases since 5%
have non graduated skills and trainings in various fields including sawed machine, joiner's
workshop, etc. 71 % of clients are active in a small business (food, clothes selling) whereas
25% own a small and informal firm producing mainly services like hair –cutting , restaurant ,
sewed units , etc . The importance of commercial and services activities can be explained by a
rapid rotation cycle enabling clients to invest and earn money in short period for affording
MFI's weekly or monthly payment. 82 % of surveyed clients contract an individual loan
whereas 18 % are member of a group lending. In average, surveyed customers are MFI's
clients since 3 years and four months. 60 % of clients earn monthly income above 43 Euro,
the SMIG defined by the Togolese's government. Only 10 % of Surveyed clients are poor in
the sense of the above criterion. This situation is mainly due to the fact that the MFI is now
mostly focused on individual clients. Is there a mission drift?
4.2. Customers' expectations and perceptions evaluations.
Data from customers' expectations prove that the average expectation score is 4.55 for all
customers. So, three principal dimensions appear to be of value for customers. These are: (1)
Tangibles, (2) Price, costs and conditions and (3) Insurance and confidence. All three
dimensions are given high average scores of 4.57 and 4.66, which are above 4.55 the total
average score for the all sample.
Customers weakly rated the three remained dimensions
comparing to total average notes. Thus, they attributed an average score of 4.52 to Reliability,
4.50 to Responsiveness and 4.47 average score to Empathy dimensions which are all below
17
the total average for all dimensions (4.55). Briefly, surveyed customers are likely to value
tangibles, Insurance and price dimensions; average importance to reliability and
responsiveness dimensions whereas they exhibit less importance for empathy dimension. The
insurance and confidence dimension seems to be the less important one on client's point of
view.
Data related to customers' perception exhibit an average perception score of 3.74. Three
dimensions are highly appreciated by the sample: Insurance and confidence (1), Tangibles (2)
and Responsiveness (3). In fact, the average perception attached to those dimensions exceeds
3.74, the total average perception rate for the total sample (4; 3.88 and 3.87 ˃ 3.74).
Customers weakly rated perception of three dimensions: Reliability (1), Empathy (2) and
Price, costs and conditions (3) attributing them average perception scores below than the total
perception average score for all dimensions (3.66; 3.49 and 3.52 ˂ 3. 74).
Connecting customers' expectations and perceptions, we noted that for all dimensions
perceptions average scores are below expectations average notes. There is then a gap between
customers' perceptions and expectations indicating that current services are not meeting
customers' expectations ( 1 .05 for price, costs and conditions dimension and 0.63 for
responsiveness dimension) . It is clear that we met rational and more demanding customers,
who are able to state clearly what they expect from an MFI.
5. Results and discussion
We present the main dimensions of customer's satisfaction (1); we highlight results related to
the current customer satisfaction level (2) and assess customers' characteristics influence on
customer's satisfaction (3).
5.1. Determination of customer's principal items and dimensions
Results from preliminary tests are strongly significant (KMO=.906, Bartlett = approx chisquare=2,262, df =190, sign =.000) allowing us to apply factor analysis. Using an iterative
approach, we obtained a factor structure with 20 items (Bressolles, 2006; Parasuraman et al,
1998, P 24). Table below summarizes the main results about factor structure.
18
Table 2: Factor structure with principal dimensions and items after rotation
N°
Significant items
Dimensions
Principal factors/Composantes
1
1
.587
willingness
Item 15
.749
.579
Item 16
.814
.728
Item 17
.707
.607
Item 18
.734
.694
Item 19.
.680
.608
Item 22
.677
.573
for
helping
and
Item 2
.676
.541
appearance of personal and
Item 3
.575
.509
material
Item 4
.764
.683
Item 5
.665
.630
α=.883
Item 8
.592
.581
Conditions
Item 27
.795
.675
Item 28
.615
.596
.612
.567
Tangibles,
comfort
Item 29
Costs and Price
Item 30
.669
.580
α=.890
Item 31
.614
.632
.762
.699
Item 32
5
5
.653
α=.886
4
4
Item 12
α=.882
3
3
Responsiveness, dynamism and
customers
2
2
Communalities
Empathy and attention to
clients
α=.889
Cronbach's Alpha=.890
Item 7
.664
.700
Item 25
.755
.648
Eigen Values
7.016
1.827
1.380
1.161
1.032
Explained
35.072
9.135
6.902
5.804
5.158
Percentage
variance
Source: Computations inspired from Bressolles (2006, p29).
Reliability and validity analysis showed that overall 20 remained items belong to the same
concept of customer satisfaction applied to MFI. In fact, the Cronbach's Alpha is high equal
to .890 ( > .70) indicating a very good reliability of scale measurement , attesting that our
scale is measuring what it was supposed to do, according to Parasuraman et al. ( 1988 , p
28) who state: " the scale items capture key facets of the unobersevable construct being
19
measured. The Cronbach's Alpha after item deletion is also high (>.80) proving that it is not
possible to remove one item for improving the final solution.
The 20 remaining items are regrouped in five dimensions showing that customer satisfaction
with service in an MFI is a multidimensional construct that allows explaining of 62. 1 % of
variance . This result does not confirm our first hypothesis which predicted a factor structure
with six principal factors corresponding to the basic scale model. This is due to the fact that a
number of factors from the original model have disappeared (Reliability) and corresponding
items have been integrated in other factors (tangibles and Empathy). Responsiveness and
insurance dimensions have been combined to form one dimension (Responsiveness) whereas
price, costs and conditions singular dimension engendered two separate dimensions
(Parasuraman et al, 1998, P 23).
The first factor is named "responsiveness, dynamism and willingness for helping customers"
combining responsiveness and insurance aspects. This factor is the most important and is
explaining 35.1 % of the total variability. This result confirms the importance of human
relationship in MFI'context where people strongly interact. In fact, as consumers "do not
clearly differentiate the interaction aspects of reliability, responsiveness and assurance …."
(Harrison –Walker, 2000, P45), they will judge and appreciate the MFI service quality
through the quality of the interaction they have with the MFI's employees. The more kind,
polite and competent will be the employees, the more customers will appreciate the service
they will receive reinforcing insurance and confidence they have in the MFI. Briefly, the
human interaction between customers and MFI's front off officers will impact more
customers' satisfaction and enhance loyalty and retention. In fact, experience has proved that
"banks customers' attitudes towards the human provision of services and subsequent level of
satisfaction will impact on bank switching" (Othman and Owen, 2001).
The second dimension refers to the appearance of MFI's employees, buildings and
equipments. This factor is explaining 9.1 % of the total variance. The appearance of this
dimension is a surprising result since Micro-finance institutions provide proximity services.
So, we could not expect customers to attach so much importance to such items as external
appearance of individuals, buildings and equipments. However, focus group interviews had
raised tangible aspects as important dimension on customers' point of view explaining that
20
customers are not receiving services on time because loans officers' logistic is very poor. In
fact, customers desire to be served by employees who have their owner's motorcycle, who
can clearly be distinguished by a badge or a pullover marked by MFI's signs. Motorcycles
enable loan officers to attend clients' house quickly for collecting savings and weekly
installments. It also enhances loan officers' mobility on field, increase their productivity and
indirectly reduce transactions costs (time and money saved) leading to great satisfaction level.
By well identifying the MFI's employees, the Badge is an authenticity's indicator improving
confidence and insurance mainly for new customers who do not know all employers of MFI.
Tangibles aspects reflect also the MFI's ability to respect time table given to client providing
them seats when they are waiting for service. Those two aspects are more important for
clients who are working daily to perform their business (time save) and who come from far
way the MFI.
The third factor is banking factor reflecting conditions to be fitted for accessing MFI's
financial services. It is appealed "Loan conditions" explaining 6.9 % of the total variance. The
appearance of this dimension highlights the importance that customers attach to the loan term,
loan amount and the grace period. These results indicate that MFI' customers will be more
satisfied with a credit with a long term maturity, with grace period and with loan amount
increasing for each loan cycle. Hence, the strategic dynamic incentives will enable clients to
undertake projects with great impact while allowing MFI to increase its revenues and
efficiency. In fact, when customers access to great loan amount and to other advantages such
as grace period, they are likely to be loyal and unlikely to switch to another institution
(Murray, 2001)
The fourth factor can be named "costs of financial services" from the MFI explaining 5.8 %
of the total variance. It is related to the importance that customers attach to guarantee, original
fees and transaction costs due to the limitation of amount customers can access (loan) or can
contribute in Rosca. This factor reveals that customers will be more satisfied if some costs or
conditions are released. For example, customers with growing business will be penalized
when they intend to develop a large business because they cannot withdraw an amount around
763 Euro without having a physical guarantee. The same statement would be done for poor
people who are acting in Rosca. As contribution amount is fixed and invariable, they cannot
contribute an amount below the standard. Consequently, as they are solicited by daily needs,
21
they will spend money for food putting them in contribution delay. This result suggests a
reexamination of costs procedure for both customers and MFI effectiveness.
The fifth factor is an empathy factor showing attention on clients in some particular situations
explaining 5.2 % of the total variance. Although its percentage of variance is low, it remains
significant for clients. Since focus on social impact of Micro-finance becomes more
important, MFI must develop loans and savings collection methods that valorize clients'
human rights. In this perspective, aggressive loans and savings collecting methods might not
produce expected effects in the long run as customers may switch to avoid being injured by
loans officers. Briefly, "why do punish customers when delay is due to illness? More
flexibility is required".
5.2. WAGES' customer current satisfaction level.
WAGES' customers' actual satisfaction has been obtained by the Customer Satisfaction Index
using both customers' expectations and perceptions on the 20 remaining items. Table below
give us more explanation.
Tableau n° 3 : Computing Customer Satisfaction Index
N°
Attributes
Importance
Perceived
weighting
weighting*score
(weighting )(a)
quality
(average
(Score)(b)
(c)=(a)/Average
of
1)
(d)= (c)*(b)
1
Responsiveness
4.58
3.92
1.05
4.11
2
Tangibles
4.53
3.77
1.03
3.88
3
Empathy
4.48
3.15
1.02
3.21
4
Conditions
4.25
3.55
0.97
3.44
5
Costs
3.96
3.53
0.90
3.17
Average= 4.36
average
CSI=3.56
=3.58
Source: computations Inspired from Bhave (2002), Netteret and Nigel Hill (2005).
We obtained a Customer satisfaction Index of 71. 2 % (3.56/5= 0.712*100). This result is in
line with our second hypothesis that predicted that WAGES' customers will be highly
satisfied. Results also indicate that customer satisfaction is a function of financial services. In
fact, customers are more satisfied by savings products than credit products. Thus, for all
22
kinds of savings, the average satisfaction scores are above 3 .56 (71 .2 %), the global
satisfaction rate for all services (3.9 ˃ 3.56). Results also prove that clients are more satisfied
by the cash deposit saving (F= 6.27, p=.000) than other kind of savings (4.06 ˃ to 3.76, 3.87
and 3.91 for term deposit, mandatory savings and Roscas savings).
Results show that for each category of savings, customers are more satisfied by the requested
documents for account opening than the minimum savings balance required to access savings
products. We observe a contrary behavior for credit products. In fact, for all kinds of loans,
the average satisfaction score is below the total average score, 3.56 ˃ to 3.12, 3.14 and 3.17
for direct credit, special credit and Rosca credit. However, customers appreciate Rosca credit
more than other kind of loans (3.17 ˃ 3.12 and 3.14 for direct credit and special credit). Three
conditions are almost critical for all kind of loans and less appreciated by customers: Risk on
loan, origination fees and guarantee (direct credit especially). In fact, the average satisfaction
score attached to those elements are below the total average satisfaction scores attributed to
each kind of loans (2.94, 2.91 and 3.11 ˂ 3.12 for direct credit; 2.91 and 2.97 ˂ 3.14 for
special credit; 2.88 and 2.90 ˂ 3.17 for Rosca credit). It seems that those conditions are badly
appreciated by clients and need to be adjusted for the future. Interest rate is apparently better
appreciated by clients (average satisfaction score attached to it is high than the total average
score attached to each kind of loans). This result confirms the theoretical hypothesis that
"poor people and entrepreneurs in developing countries will afford a high interest rate"
(Armandariz and Murdoch, 2005).
5.3. The influence of customers characteristics on customer's satisfaction
Primary tests attested that data fitted optimal conditions in which Anova test can be applied
and provide sound results. The Levene's test provided a significant result (0.47˃ 0.05, F=
1.032, df1=298, df2= 47) allowing to accept the hypothesis of variance's homogenous
intragroup. This result enabled us to apply ANOVA test on data basing the decision of the
significance of variables on Fischer Test. Table below presents the important results from
Anova test.
23
Table 4 : Results from Anova test
Source
Type III Sum
df
Mean Square
F
Sig.
35
,591
2,134
.000
of Squares
a
Corrected Model
20,671
Intercept
44,291
1
44,291
160,020
.000
School level
,975
4
,244
,881
.476
Number of services
6,280
6
1,047
3,781
.001
Type of credit
,556
2
,278
1,004
.368
Branch of customer
5,013
5
1,003
3,623
.003
Sex
,656
2
,328
1,185
.307
Business
,785
3
,262
,945
.419
Revenue
4,448
5
,890
3,214
.008
Age
,376
5
,075
,272
.928
Time spent as customer
,982
3
,327
1,182
.317
Error
85,804
310
,277
Total
4835,447
346
Corrected Total
106,474
345
a. R Squared = ,194
(Adjusted R Squared =
,103)
Source : Computed using SPSS
Results show that only three customers' characteristics significantly influence the customer
satisfaction level: the number of total services to which customers can access (F=3.78;
p=.000) (1), the customers' Branch (F=3.62; p=.003) (2) and the customer' estimated revenue
(F=3.21; p=.008) (3). Those three characteristics are explaining 19 % of variance. Results
reveal that the higher the number of products to which clients have accessed, the less is the
satisfaction level. Thus, when customers access to three services, the average satisfaction
score is 3.43, it decreases from 3.43 to 3.20 when customers access to all products offered by
the MFI. However, when customers access to only one product or at least to two products, the
average satisfaction score goes up attending values of 4.12; 3.71 and 3. 60 when customer
accesses only to savings, loan and Rosca credit only. Only combination of both credit and
savings gives a high average satisfaction scores (3.68) than other possible combinations.
24
Results from Duncan test prove that customers from Lomé are less satisfied than clients from
other branches exhibiting an average satisfaction rate below average satisfaction scores from
other branches (3.61 ˂ 3.94 for Tsvevie, 3. 93 for Agoe, 3.88 for Sokode, 3.81 Agodrafo and
3.72 for Adidogome ). These results suggest that there is a variance in quality of services
through branches conducting to different levels of satisfaction rate. Is there a problem of
general management or a missing of marketing plan in branches? Results from Duncan test
suggest also that average satisfaction scores are different from classes of revenues. Thus, very
poor customers are less satisfied by services (mean = 3.51) whereas middle and high income
customers are high satisfied by services (Mean = 3.77 for clients with a revenue range from
22 Euro to 60 euro and 3.63 for rich clients with revenue above 60 Euro). Do those results
suggest segmentation marketing for products and services to customers in terms of revenues
and branches?
6. Conclusions, implications, limitations and future research perspectives.
This study pursued three objectives: identification of WAGES' customer satisfaction principal
items and dimensions (1), determination of the current level of WAGES' customer
satisfaction (2), test if the customer satisfaction is influenced by customer's characteristics
(3) .
To achieve these objectives, factor analysis, Customer Satisfaction Index, and Anova test
have been applied.
Through an iterative process, we applied factorial analysis and we
obtained a refined scale with 20 items represented by five principal dimensions: a)
responsiveness, b) tangibles, c) conditions, d) costs and (e) empathy explaining 62% of the
total variance of customer satisfaction. Among the retained dimensions, 3 belong to the
standard scale whereas 2 are related to the conditions and costs of MFI services. The results
confirm that responsiveness remain the most important dimension in micro-finance sector.
Results from the Customer Satisfaction Index revealed that WAGES' customer satisfaction
level is high attending 71.2% and varying in function of specific financial services. In general,
customers are more satisfied with saving services than with loans products. Results from
Anova test revealed that customer's branch, customer's revenue and number of services
accessed by customers influence customer satisfaction.
25
So, customer satisfaction is mainly driven by responsiveness items indicating that performing
MFI will account more on their employees providing those desired skills enabling them to
deliver tailored services with more kindness to customers. That behavior will influence
customer satisfaction and enhance customer's retention and loyalty. As customer satisfaction
will vary with time, managers would periodically assess the current satisfaction level and
defining the most modifications to be brought to services to allow it to fulfill the customer's
needs. The variance of satisfaction level depending on the number of services, customers'
revenue and branches have practical and marketing implications. It means that MFI will focus
efforts to perform current services avoiding brutal diversification of products (consolidation
strategy) whereas the difference in customer satisfaction in relating to revenue and branches
suggests a segmentation strategy for lending methods and marketing implementation. It
suggests also a level of monitoring on the way customer care is handled among the different
groups.
Although this study provided sound results, it has some limitations which are sources for
future research. In fact, customers surveyed in this study are coming from one MFI. Thus,
results do not allow any comparison. So, the first improvement of results might be built on a
survey of two, three or more MFIs, test the variability of results and validity of the scale
measurement enabling to move towards a scale measurement for Micro-finance sector in
general. The second way is to conduct cluster analysis on branches and revenues to determine
marketing strategies to be implemented for satisfying clients in different branches and with
different revenue.
26
Bibliography
1. Ahmad, A., and Sungip , Z., (2008) , "An Assessment on Service Quality in Malaysia
Insurance Industry", 13 , Communications of the IBIMA, Volume 1, 2008.
2.
Anderson, E. , Fornell, C., et al (2004) , " customer satisfaction and shareholder value",
Journal of Marketing, 68 , 172-185.
3. Armendariz de Aghion, B., Morduch, J. (2005). The economics of microfinance, Boston:
MIT Press.
4. Asian Institute of Management (2005), "listening to customers: key to being effective
microfinance organizations", Copyright 2005.
5. Barnes,B.,(2005 ),
"Analysing Service Quality: The Case of Post-Graduate Chinese
Students", Leeds University Business School , 2.
6. Bhave, A., (2002), "Customer Satisfaction Measurement", Quality and productivity
Journal: February 2002 Issue, http: //WWW.Symphonytech.com.
7. Bloemer, J., Ko de Ruyter, et al (1999), " Linking perceived service quality and
service loyalty: a multi-dimensional perspective" , European Journal of Marketing, 33,
1082.
8. Bressolles, G ., « qualité de service électronique : [email protected] proposition d'une échelle de
mesure appliquée aux sites marchands et des effets modérateurs » ,
Recherche et
applications en Marketing , 21 , 21-45.
9. Carricano et Poujol (2008), Analyse des données avec SPSS, Collection Synthex ,
Pearson Education France.
27
10. Cassel , C ., (2006), " Measuring customer satisfaction , a methodological guidance",
State-of the Art Project
11. Chandra Shil, N., and Rashed Osman, A., (2007), "Quality Function Deployment for
Customer Satisfaction in Banking Services", Daffodil International University Journal
of Business and Economics, 2, 106-118.
12. Chong "Joanna" S.K. Lee(2006) , "customers' definition of bank service quality : an
exploratory analysis of
top-of-definition",
Proceedings of Fordham University
conference of the marketing of financial services , November 3rd and 4th , 2006, New
York .
13. Conchon ,F., Eleouet et al, .(2006), « La Satisfaction face à l'Information en MarketingCommunication: approche exploratoire dans le cadre des patients et des médicaments de
prescription » , Proposition de Communication au 5ème Congrès des Tendances du
Marketing en Europe, Venise 20-21, janvier 2006.
14. Cronin , J., and Talyor , S., (1994), "SERVPERF versus SERVQUAL: Reconciling
Performance –based and Perceptions –Minus-Expectations Measurement of Service
Quality" , Journal of Marketing , 58, 125-131.
15. Daubert (2002) , le Marketing au service des IMF , 6 , BIM.
16. Eighth Annual Conference PSM Users' Group (2004), "Measuring Customer
Satisfaction and Perceptions", Keystone, Colorado, 26-30 July 2004.
17. European Union (2008), European Primer on Customer satisfaction management,
European public administration network .
18. Forell, C., Mithas , S., et al (2005) , "Customer satisfaction and stock prices : high
returns , low risk", Journal of Marketing, 70 , 3-14.
28
19. Giannelloni et Vernette (2001), Etudes de marché, Paris : Vuibert .
20. Godquin,M.,(nd), « Crises des institutions de microfinance et attitudes de leurs clients »
, TEAM-CRNS Université Paris I Panthéon –Sorbonne .
21. Gruca, T., and Rego, L., (2005) ," Customer satisfaction, cash flow and shareholder
value", Journal of Marketing, 69 , 115-130.
22. Gustafsson , A., Johnson , M., et al ( 2005), " the effects of customer satisfaction ,
relationships commitment dimensions, and triggers on customers retention", Journal of
Marketing , 69, 210-218.
23. Harrison-Walker, J., (2000), " service quality in the Hair Salon Industry" , Journal of
Business Disciplines , 1527-151X/Vol .I , 38-52.
24. Hosver, B.,
and
Onut,S, (nd), " Customer Relationship Management in Banking
Sector and A Model Design for Banking" , Performance Enhancement, Yildiz Technical
and Masla University, Turkey.
25. IFAD(2007) , "Survey report on the relationship between customer satisfaction in rural
finance and technological innovation usage by rural finance institutions (RFIs)", A fourcountry study of selected RFIs in East and Southern Africa .
26. Korauš (2002), "Quality of services in the financial sector and types of client behavior" ,
BIATEC, Volume X.
29
27. Kumar, D., and. Mahaptra , D.M.,(2006) , "measuring client satisfaction : Developing
and Implementing Good Client Satisfaction Measurement and Monitoring Practices",
Office of the Comptroller General Evaluation and Audit Branch, April 2006.
28. Lowndes, M.,
(2001),
"Do distinct ServQual dimensions emerge from mystery
shopping data-a test of convergent validity" , Canadian Journal of Program Evaluation,
16, 41-53.
29. Malhotra , N . , Décaudin , J . et al (2007) . Etudes Marketing avec SPSS, Paris : Pearson
Eduction France .
30. Merouane , A., (2008/2009 ), « La fidélisation et la satisfaction des clients », Institut
d'Administration des entreprises –IAE, Université de France-Comte, Année universitaire
:2008/2009.
31. Morgan, A., Anderson et al (2005) , "Understanding firms : customer satisfaction
information use", Journal of Marketing, 69 , 115-130.
32. Murray (2001), "what do MFI customers Value? A comparative analysis from three
continents", the IVth Interamerican Conference on Microenterprise , Dominican
Republic, November 14th to 16th, 2001.
33. Netteret , O ., and Hill, N .,(2005) , « La Mesure de la Satisfaction Client (MSC) :
Comment aider votre entreprise à faire parfaitement ce qui compte le plus pour les
clients ».
34. Niraj, R., Foster, G., et al,(2003) ,
Implications of Satisfaction Program".
"Understanding Customer Level Profitability
30
35. Noor, N., and Muhamad, A., (2005), Individual Factors that Predict CustomerOrientation Behavior of Malaysian Life Insurance Agents, Journal Pengurusan , 24,
125-149.
36. Oksana, M., and Plepys, A.( 2003) , "Customer satisfaction: review of literature and
application to the product-service systems",
Final report to the Society for Non-
Traditional Technology, the international institute for industrial environmental
economics , Lund University Sweden .
37. Othman, A.,
and
Owen,L.(2001) , "The multi dimensionality of Carter model to
measure customer service quality (SQ) in Islamic banking industry : a study in Kuwait
finance House" , International Journal of Islamic Financial Services , 3 .
38. Parasuraman, Zeithaml, & Berry (1985), "A Conceptual Model of Service Quality and
Its Implications for Future Research", Journal of Marketing , 49 , 41-50.
39. Parasuraman, A.,
Zeithaml, et al (1988),
"Servqual : A multiple –Item scale for
measuring consumer perceptions of service quality" , Journal of retailing , 64, 12-40 .
40. Pont, M., and McQuilken, L. , (2005), "Testing the Fit of the BANKSERV Model to
BANKPERF Data", ANZMAC 2002 conference proceedings , 2, 861-867.
41. Safakli,O.,(nd), " Measuring service quality of commercial banks towards Smes in
Northern Cyprus" , Near East University, Department of Banking and Finance, Nicosia
– Northern Cyprus, Mersin 10 Turkey .
42. Sarreal, E, ( 2008) , Customer Satisfaction and Service Quality in High-Contact Service
Firm, Business & Economics Review, Volume 17 Number 1 January 2008, Business
Management Department, De La Salle University-Manila.
31
43. Saunders, S.,(nd), "Confirmatory Factor Analysis of the PAKSERV Service Quality
Construct in a Non- Western Cultural Context", Monash University.
44. Swaid, S., and Wigand, R., (2007), " Key Dimensions of E-commerce Service Quality
and Its Relationships to Satisfaction and Loyalty", 20th Bled Conference Mergence:
Merging and Emerging Technologies, Processes, and Institutions, June 4 - 6, 2007; Bled,
Slovenia.
45. Teas , K., (1994), "Expectations as a comparison standard in measuring service quality :
An assessment of a reassessment" , Journal of Marketing , 58, 132-139.
46. Tuli , K., Kotli, A , et al (2007), "Rethinking customer solutions : from product
bundless to relational processes", Journal of Marketing, 71 , 1-17.
47. Verhoef, P.,(2003), " Understanding the effect of customer relationship Management
efforts on customer retention and customer share development", Journal of Marketing ,
67 , 30-45.
48. Véronique, (nd) , « La Gestion de la Relation Client dans la banque », Cermatie de
Tours, Université de Tours .
49. Waterfield , C., (2008) , "The Challenges of Measuring Client Retention", The SEEP
Network.
50. Wetzels , M.,(1998), " Service quality in Customer –Employee relationships : an
Empirical study in the After –Sales Services context" , Maastricht : DATAWYSE.
51. Wright,G., Cracknell, D., et al (2003),
"Strategic Marketing for Micro- Finance
Institutions", MicroSave, market-led solutions for financial services .
32
52. Yavas , U.,(2006) , " How similar are frontline bank employees' perceptions of service
quality to their customers? A study of female customers and employees in Turkey",
Received (in revised form): 16th August, 2006.