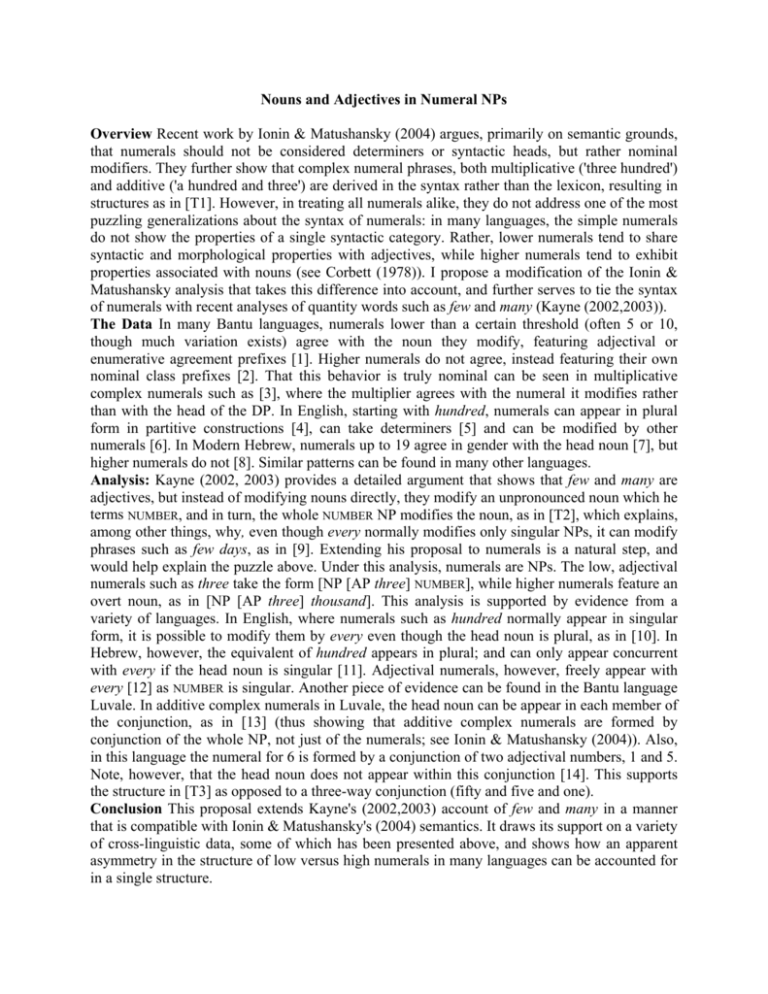 Nouns and Adjectives in Numeral NPs
Overview Recent work by Ionin & Matushansky (2004) argues, primarily on semantic grounds,
that numerals should not be considered determiners or syntactic heads, but rather nominal
modifiers. They further show that complex numeral phrases, both multiplicative ('three hundred')
and additive ('a hundred and three') are derived in the syntax rather than the lexicon, resulting in
structures as in [T1]. However, in treating all numerals alike, they do not address one of the most
puzzling generalizations about the syntax of numerals: in many languages, the simple numerals
do not show the properties of a single syntactic category. Rather, lower numerals tend to share
syntactic and morphological properties with adjectives, while higher numerals tend to exhibit
properties associated with nouns (see Corbett (1978)). I propose a modification of the Ionin &
Matushansky analysis that takes this difference into account, and further serves to tie the syntax
of numerals with recent analyses of quantity words such as few and many (Kayne (2002,2003)).
The Data In many Bantu languages, numerals lower than a certain threshold (often 5 or 10,
though much variation exists) agree with the noun they modify, featuring adjectival or
enumerative agreement prefixes [1]. Higher numerals do not agree, instead featuring their own
nominal class prefixes [2]. That this behavior is truly nominal can be seen in multiplicative
complex numerals such as [3], where the multiplier agrees with the numeral it modifies rather
than with the head of the DP. In English, starting with hundred, numerals can appear in plural
form in partitive constructions [4], can take determiners [5] and can be modified by other
numerals [6]. In Modern Hebrew, numerals up to 19 agree in gender with the head noun [7], but
higher numerals do not [8]. Similar patterns can be found in many other languages.
Analysis: Kayne (2002, 2003) provides a detailed argument that shows that few and many are
adjectives, but instead of modifying nouns directly, they modify an unpronounced noun which he
terms NUMBER, and in turn, the whole NUMBER NP modifies the noun, as in [T2], which explains,
among other things, why, even though every normally modifies only singular NPs, it can modify
phrases such as few days, as in [9]. Extending his proposal to numerals is a natural step, and
would help explain the puzzle above. Under this analysis, numerals are NPs. The low, adjectival
numerals such as three take the form [NP [AP three] NUMBER], while higher numerals feature an
overt noun, as in [NP [AP three] thousand]. This analysis is supported by evidence from a
variety of languages. In English, where numerals such as hundred normally appear in singular
form, it is possible to modify them by every even though the head noun is plural, as in [10]. In
Hebrew, however, the equivalent of hundred appears in plural; and can only appear concurrent
with every if the head noun is singular [11]. Adjectival numerals, however, freely appear with
every [12] as NUMBER is singular. Another piece of evidence can be found in the Bantu language
Luvale. In additive complex numerals in Luvale, the head noun can be appear in each member of
the conjunction, as in [13] (thus showing that additive complex numerals are formed by
conjunction of the whole NP, not just of the numerals; see Ionin & Matushansky (2004)). Also,
in this language the numeral for 6 is formed by a conjunction of two adjectival numbers, 1 and 5.
Note, however, that the head noun does not appear within this conjunction [14]. This supports
the structure in [T3] as opposed to a three-way conjunction (fifty and five and one).
Conclusion This proposal extends Kayne's (2002,2003) account of few and many in a manner
that is compatible with Ionin & Matushansky's (2004) semantics. It draws its support on a variety
of cross-linguistic data, some of which has been presented above, and shows how an apparent
asymmetry in the structure of low versus high numerals in many languages can be accounted for
in a single structure.
1.
2.
3.
4a.
b.
5a.
b.
6a.
b.
7.
8.
9.
10.
11.
12.
13.
14.
emi-dumu e-biri
MI-jug
AGRMI-two
'two jugs'
emi-dumu mu-sanvu
MI-jug
MU-seven
'seven jugs'
emi-dumu ama-kumi a-biri
MI-jug
MA-ten
AGRMA-two
'twenty jugs'
hundreds of boys
*threes of boys
a/several/hundred boys
*a/several three boys
four hundred boys
*four three boys
shlosha
yeladim /*yeladot
three-MASC boys/*girls
'three boys'
shloshim
yeladim/yeladot
thirty
boys/girls
'thirty boys/girls'
Every few days, John visits his mother.
For every hundred dollars I spend, I get ten back as a rebate.
kol shlosh meot
yom/*yamim...
every three hundreds day/*days
'every three hundred days'
kol shalosh *yom/yamim...
every three *day/days
'every three days'
Luganda
mikoko makumi atanu na-mikoko vatanu
sheep ten
five and-sheep five 'fifty five sheep'
mikoko makumi atanu na-mikoko vatanu naumwe
sheep ten
five and-sheep five and-one 'fifty six sheep'
Luvale
NP
T1.
T2.
NP
N
Two
N
hundred
NP
English
English
English
Modern Hebrew
Modern Hebrew
English
English
Modern Hebrew
Modern Hebrew
Luvale
NP
NP
Adj
few
N
NUMBER
dollars
NP
sheep
Luganda
NP
dollars
NP
T3.
NP
Luganda
Adj
atanu
NP
NP
NP
N
maku
na
NP
Adj
Adj
vatanu na umwe
sheep
N
maku
References:
Corbett, G.G. 1978. Universals in the Syntax of Cardinal Numerals. Lingua 46, 355-368.
Ionin, T. & Matushansky, O. 2004. A Healthy Twelve Patients. Paper presented at GURT 2004.
Kayne, R. 2002. On the Syntax of Quantity in English. NYU Ms.
Kayne, R. 2003. Silent Years, Silent Hours. NYU Ms.