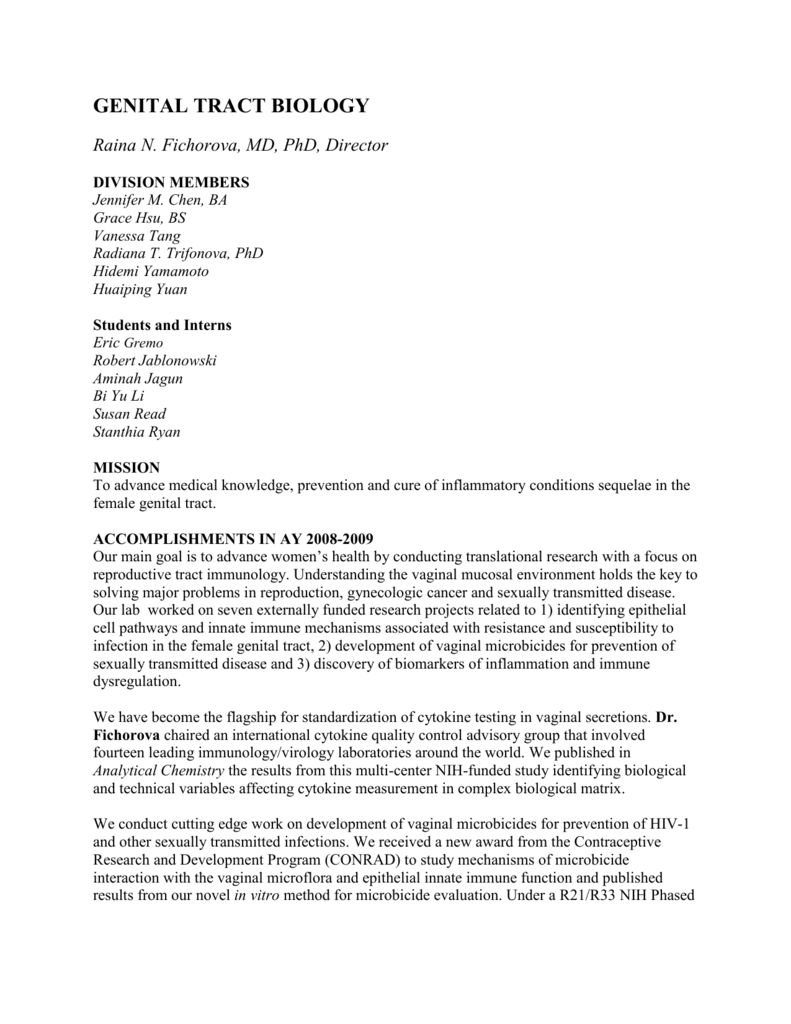 GENITAL TRACT BIOLOGY
Raina N. Fichorova, MD, PhD, Director
DIVISION MEMBERS
Jennifer M. Chen, BA
Grace Hsu, BS
Vanessa Tang
Radiana T. Trifonova, PhD
Hidemi Yamamoto
Huaiping Yuan
Students and Interns
Eric Gremo
Robert Jablonowski
Aminah Jagun
Bi Yu Li
Susan Read
Stanthia Ryan
MISSION
To advance medical knowledge, prevention and cure of inflammatory conditions sequelae in the
female genital tract.
ACCOMPLISHMENTS IN AY 2008-2009
Our main goal is to advance women's health by conducting translational research with a focus on
reproductive tract immunology. Understanding the vaginal mucosal environment holds the key to
solving major problems in reproduction, gynecologic cancer and sexually transmitted disease.
Our lab worked on seven externally funded research projects related to 1) identifying epithelial
cell pathways and innate immune mechanisms associated with resistance and susceptibility to
infection in the female genital tract, 2) development of vaginal microbicides for prevention of
sexually transmitted disease and 3) discovery of biomarkers of inflammation and immune
dysregulation.
We have become the flagship for standardization of cytokine testing in vaginal secretions. Dr.
Fichorova chaired an international cytokine quality control advisory group that involved
fourteen leading immunology/virology laboratories around the world. We published in
Analytical Chemistry the results from this multi-center NIH-funded study identifying biological
and technical variables affecting cytokine measurement in complex biological matrix.
We conduct cutting edge work on development of vaginal microbicides for prevention of HIV-1
and other sexually transmitted infections. We received a new award from the Contraceptive
Research and Development Program (CONRAD) to study mechanisms of microbicide
interaction with the vaginal microflora and epithelial innate immune function and published
results from our novel in vitro method for microbicide evaluation. Under a R21/R33 NIH Phased
Innovation Award we collaborated with Osel Inc., reaching important milestones in the
development of a novel live microbicide for women.
With NIH funding the lab is studying mechanisms of host innate immunity to T. vaginalis, the
most common non-viral sexually transmitted pathogen. Trichomoniasis affects annually over 180
million people world-wide, including 8-10 million Americans. It is linked to preterm delivery
(40%), low birth weight, particularly in the African-American community, infertility and cervical
cancer. It also predisposes women to HIV and other viral infections. We identified and
characterized the molecular domains of the major Trichomonas glycocnjugate that are
responsible for proinflammatory responses by the human vaginal epithelial cells, published in
Glyconjugate Journal.
Two projects aim at identifying early biomarkers of preterm labor and complications in
extremely low gestation age neonates (ELGAN). The Laboratory maintains the dry blood spot
repository for the nation-wide NIH-funded ELGAN study. We have successfully set up several
multiplex biomarker assays optimized for ELGAN blood spots and have cataloged and stored
nearly 15,000.
EDUCATION
We welcomed a new research assistant, Vanessa Tang, who is preparing to apply for residency in
OB/GYN. Estee Fleischman, who received a Rapaporte Foundation Summer Internship Grant
from the Women's and Gender Studies Program at Brandeis for her research project in our lab,
now works at the NIH/NIAID Laboratory of Immunoregulation. Hidemi Yamamoto, who was a
recipient of the Harvard University Extension School Faculty Aid Grant to do research in our
Laboratory, successfully graduated with BSA and is now a full-time research assistant with us.
Dr. Radiana Trifonova, a postdoctoral trainee since October 2004, first-authored a paper in 2008
and obtained her second postdoctoral position at Children's Hospital Boston.
Dr. Fichorova chaired the first of its kind wet workshop on preclinical evaluation of anti-HIV-1
microbicides in Pune, India. She tutored for the HMS Pathology, Microbiology and Immunology
Course and participated in the Objective Structured Clinical Examination (OSCE) for HMS
second year class in the Patient Doctor II course. She served as Laboratory Inspector for the
Commission for Laboratory Accreditation, College of American Pathologists and was reviewer
for Antimicrobial Agents and Chemotherapy, Analytical Chemistry, Journal of Virological
Methods, Parasitology, and Sexually Transmitted Diseases etc. She served as a grant reviewer
for NIH ARRA Challenge Grant applications and for the Department of Science and
Technology, Republic of South Africa.
PARTNERS TEAM PROJECTS
We continue collaborations with scientists from the BWH Department of Pathology and
OB/GYN Epidemiology Division, investigating biological mechanisms underlying risk of
ovarian cancer and study vaginal microflora-epithelial interactions with Dr. A. Onderdonk at
the Channing Laboratory.
GOALS FOR AY 2008-2009


Expand our basic research on vaginal mucosal immunity and continue performing
translational research toward validation of biochemical markers of vaginal inflammation and
immune dysfunction.
Continue offering educational experience to premedical students, HMS students and
OB/GYN residents and fellows.