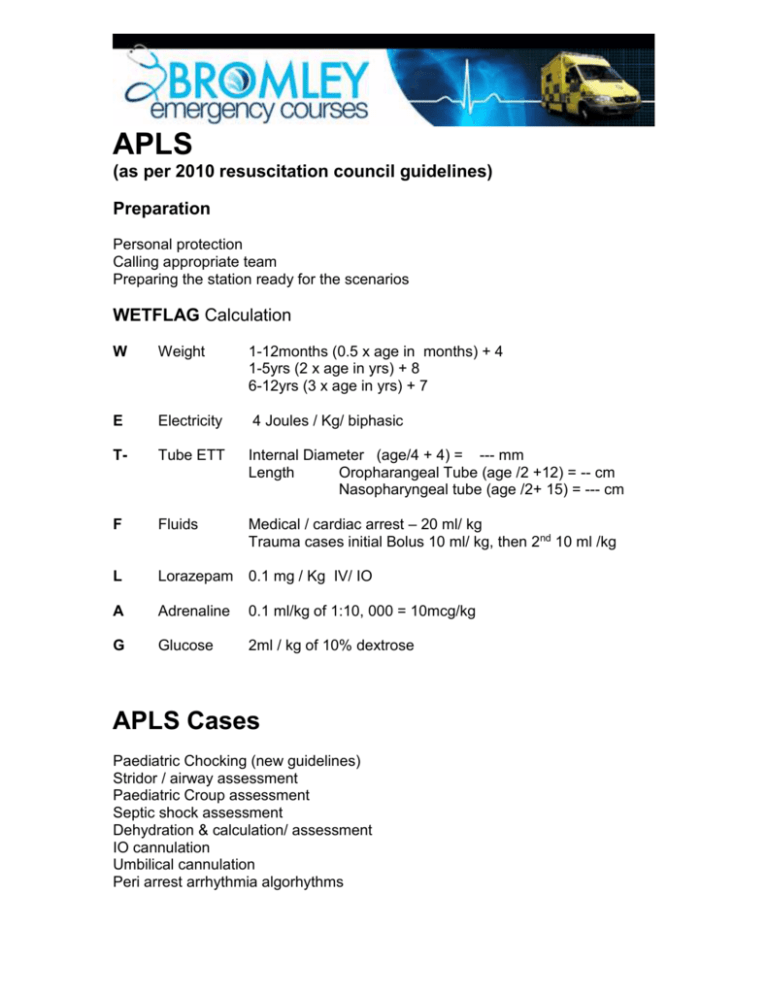 APLS
(as per 2010 resuscitation council guidelines)
Preparation
Personal protection
Calling appropriate team
Preparing the station ready for the scenarios
WETFLAG Calculation
W
Weight
1-12months (0.5 x age in months) + 4
1-5yrs (2 x age in yrs) + 8
6-12yrs (3 x age in yrs) + 7
E
Electricity
4 Joules / Kg/ biphasic
T-
Tube ETT
Internal Diameter (age/4 + 4) = --- mm
Length
Oropharangeal Tube (age /2 +12) = -- cm
Nasopharyngeal tube (age /2+ 15) = --- cm
F
Fluids
Medical / cardiac arrest – 20 ml/ kg
Trauma cases initial Bolus 10 ml/ kg, then 2nd 10 ml /kg
L
Lorazepam
0.1 mg / Kg IV/ IO
A
Adrenaline
0.1 ml/kg of 1:10, 000 = 10mcg/kg
G
Glucose
2ml / kg of 10% dextrose
APLS Cases
Paediatric Chocking (new guidelines)
Stridor / airway assessment
Paediatric Croup assessment
Septic shock assessment
Dehydration & calculation/ assessment
IO cannulation
Umbilical cannulation
Peri arrest arrhythmia algorhythms
Anaphylaxis – recognition and treatment
Status epilepticus management
APLS / ATLS Cases
Previous examples
Assess and manage a stabbed man with haemothorax. Included talking through
chest drain insertion.
Early airway management of a child who has choked on a grape and is in
respiratory arrest before anaesthetist arrives (not required to demonstrate
intubation on child).
Talk through your preparations (including equipment) for airway management
with a medical student before a 'blue call' airway case arrives in resus
10yr old girl thrown from horse. Unconscious and BIBA without C-spine collar.
Manage along ATLS principles. Had GCS <8. You have a nurse and SHO to
help.
46 yr old woman with stridor then respiratory arrest. No anaesthetist. Run
through airway drill using adjuncts then intubate mannequin. Had FB at back of
throat.
4yr month old boy. Drowsy mottled and with a rash. Anxious mother. Instructed
to assess and manage the circulation. IV cannulation fails and must demonstrate
intraosseous technique on a mannequin whilst reassuring mother it is required.
Examiner asked for contraindications I/O access.
6yr boy collapsed ETA 2 mins. Brief team for resuscitation. On arrival noisy
breathing corrected with guedel, prolonged cap refill and purpuric rash on trunk
when exposed. Manage circulation and antibiotics for meningitis. Handover to
paed reg.
5yr old boy fitting and now unconscious after PR diazepam. Manage airway with
guedel and bag and mask.