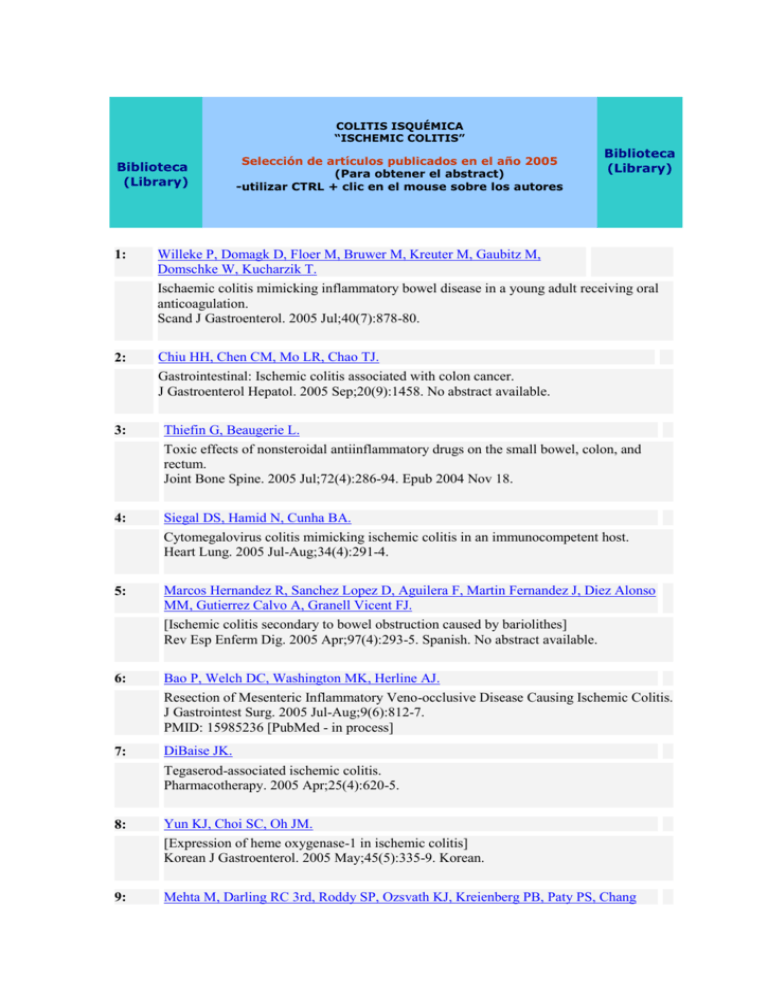 COLITIS ISQUÉMICA
"ISCHEMIC COLITIS"
Biblioteca
(Library)
Selección de artículos publicados en el año 2005
(Para obtener el abstract)
-utilizar CTRL + clic en el mouse sobre los autores
Biblioteca
(Library)
1:
Willeke P, Domagk D, Floer M, Bruwer M, Kreuter M, Gaubitz M,
Domschke W, Kucharzik T.
Ischaemic colitis mimicking inflammatory bowel disease in a young adult receiving oral
anticoagulation.
Scand J Gastroenterol. 2005 Jul;40(7):878-80.
2:
Chiu HH, Chen CM, Mo LR, Chao TJ.
Gastrointestinal: Ischemic colitis associated with colon cancer.
J Gastroenterol Hepatol. 2005 Sep;20(9):1458. No abstract available.
3:
Thiefin G, Beaugerie L.
Toxic effects of nonsteroidal antiinflammatory drugs on the small bowel, colon, and
rectum.
Joint Bone Spine. 2005 Jul;72(4):286-94. Epub 2004 Nov 18.
4:
Siegal DS, Hamid N, Cunha BA.
Cytomegalovirus colitis mimicking ischemic colitis in an immunocompetent host.
Heart Lung. 2005 Jul-Aug;34(4):291-4.
5:
Marcos Hernandez R, Sanchez Lopez D, Aguilera F, Martin Fernandez J, Diez Alonso
MM, Gutierrez Calvo A, Granell Vicent FJ.
[Ischemic colitis secondary to bowel obstruction caused by bariolithes]
Rev Esp Enferm Dig. 2005 Apr;97(4):293-5. Spanish. No abstract available.
6:
Bao P, Welch DC, Washington MK, Herline AJ.
Resection of Mesenteric Inflammatory Veno-occlusive Disease Causing Ischemic Colitis.
J Gastrointest Surg. 2005 Jul-Aug;9(6):812-7.
PMID: 15985236 [PubMed - in process]
7:
DiBaise JK.
Tegaserod-associated ischemic colitis.
Pharmacotherapy. 2005 Apr;25(4):620-5.
8:
Yun KJ, Choi SC, Oh JM.
[Expression of heme oxygenase-1 in ischemic colitis]
Korean J Gastroenterol. 2005 May;45(5):335-9. Korean.
9:
Mehta M, Darling RC 3rd, Roddy SP, Ozsvath KJ, Kreienberg PB, Paty PS, Chang
BB, Resnikoff M, Shah DM.
Outcome of concomitant renal artery reconstructions in patients with aortic aneurysm and
occlusive disease.
Vascular. 2004 Nov-Dec;12(6):381-6.
10:
Fatome A, Ollivier I, Even C, Divanon F, Saulnier H,
Dao T.
[Severe ischemic colitis after administration of Rhinadvil in a fifteen year old girl]
Gastroenterol Clin Biol. 2005 Mar;29(3):305-6. French. No abstract available.
11:
Jang MK, Lee JY, Kim KH, Park JY, Lee JH, Kim HY, Yoo JY.
Images of interest. Gastrointestinal: bleeding from ischemic colitis.
J Gastroenterol Hepatol. 2005 May;20(5):789. No abstract available.
12:
Bailey JA, Jacobs DL, Bahadursingh A, Longo WE.
Endovascular treatment of segmental ischemic colitis.
Dig Dis Sci. 2005 Apr;50(4):774-9. No abstract available.
13:
Radaelli F, Feltri M, Meucci G, Spinzi G, Terruzzi V, Minoli G.
Ischemic colitis associated with rofecoxib.
Dig Liver Dis. 2005 May;37(5):372-6.
14:
Charles JA, Pullicino PM, Stoopack PM, Shroff Y.
Ischemic colitis associated with naratriptan and oral contraceptive use.
Headache. 2005 Apr;45(4):386-9.
15:
Ahmed S, Shahid RK, Russo LA.
Unusual causes of abdominal pain: sickle cell anemia.
Best Pract Res Clin Gastroenterol. 2005 Apr;19(2):297-310.
16:
Morales Garcia D, Bernal Marco JM, Naranjo Gomez A.
[Colic ischemia mimicking carcinoma]
Rev Esp Enferm Dig. 2005 Jan;97(1):66-7. Spanish. No abstract available.
17:
Yoshida K, Matsumoto M, Sugita T, Nishizawa J, Matsuyama K, Tokuda Y, Matsuo T.
Gastrointestinal complications in patients undergoing coronary artery bypass grafting.
Ann Thorac Cardiovasc Surg. 2005 Feb;11(1):25-8.
18:
Yasuhara H.
Acute mesenteric ischemia: the challenge of gastroenterology.
Surg Today. 2005;35(3):185-95. Review.
19:
Okuda T, Azuma T, Ohtani M, Masaki R, Ito Y, Yamazaki Y, Ito S, Kuriyama M.
Hypoxia-inducible factor 1 alpha and vascular endothelial growth factor overexpression in
ischemic colitis.
World J Gastroenterol. 2005 Mar 14;11(10):1535-9.
20:
Moses FM.
Exercise-associated intestinal ischemia.
Curr Sports Med Rep. 2005 Apr;4(2):91-5.
21:
Green BT, Tendler DA.
Ischemic colitis: a clinical review.
South Med J. 2005 Feb;98(2):217-22. Review.
22:
Chey WD, Cash BD.
Cilansetron: a new serotonergic agent for the irritable bowel syndrome with diarrhoea.
Expert Opin Investig Drugs. 2005 Feb;14(2):185-93.
23:
Versaci A, Macri A, Scuderi G, Bartolone S, Familiari L, Lupattelli T, Famulari C.
Ischemic colitis following colonoscopy in a systemic lupus erythematosus patient: report of a
case.
Dis Colon Rectum. 2005 Apr;48(4):866-9.
24:
Mehta M, Roddy SP, Darling RC 3rd, Ozsvath KJ, Kreienberg PB, Paty PS, Chang BB, Shah DM.
Infrarenal abdominal aortic aneurysm repair via endovascular versus open retroperitoneal
approach.
Ann Vasc Surg. 2005 May;19(3):374-8.
25:
Ripolles T, Simo L, Martinez-Perez MJ, Pastor MR, Igual A, Lopez A.
Sonographic findings in ischemic colitis in 58 patients.
AJR Am J Roentgenol. 2005 Mar;184(3):777-85. Review.
26:
Seet RC, Ooi SB, Mak KS, Lim EC.
Close temporal association of bronchial asthma and ischemic colitis--case report and review of the
literature.
Respir Med. 2005 Feb;99(2):250-3. Review.
27:
Chang L, Ameen VZ, Dukes GE, McSorley DJ, Carter EG, Mayer EA.
A dose-ranging, phase II study of the efficacy and safety of alosetron in men with diarrheapredominant IBS.
Am J Gastroenterol. 2005 Jan;100(1):115-23.
28:
Brandt LJ.
Bloody diarrhea in an elderly patient.
Gastroenterology. 2005 Jan;128(1):157-63. No abstract available.
29
Rahhal RM, Pashankar DS, Bishop WP.
Ulcerative colitis complicated by ischemic colitis and Budd Chiari syndrome.
J Pediatr Gastroenterol Nutr. 2005 Jan;40(1):94-7. No abstract available.
30:
Randolph M, Longacre TA, Gerson LB.
Acute colitis secondary to self-administered alcohol enemas: a mimic of ischemic colitis.
J Clin Gastroenterol. 2005 Jan;39(1):78-9. No abstract available.
31:
Korotinski S, Katz A, Malnick SD.
Chronic ischaemic bowel diseases in the aged--go with the flow.
Age Ageing. 2005 Jan;34(1):10-6. Review.
32:
Koutroubakis IE, Antoniou P, Tzardi M, Kouroumalis EA.
The spectrum of segmental colitis associated with diverticulosis.
Int J Colorectal Dis. 2005 Jan;20(1):28-32. Epub 2004 Aug 14.