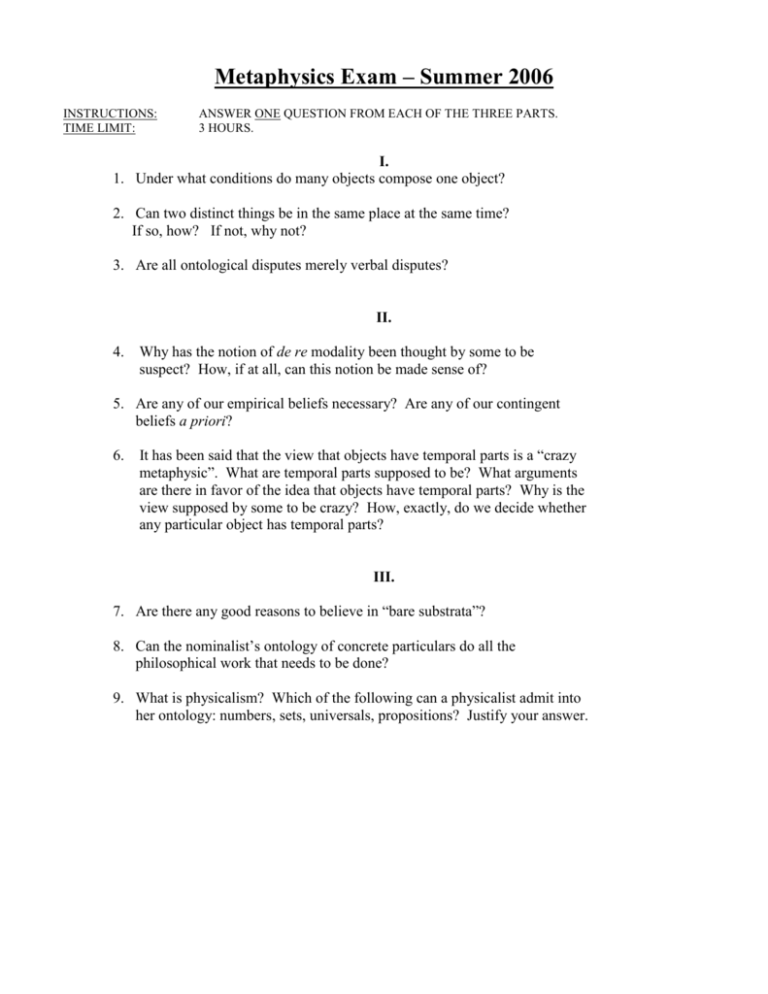 Metaphysics Exam – Summer 2006
INSTRUCTIONS:
TIME LIMIT:
ANSWER ONE QUESTION FROM EACH OF THE THREE PARTS.
3 HOURS.
I.
1. Under what conditions do many objects compose one object?
2. Can two distinct things be in the same place at the same time?
If so, how? If not, why not?
3. Are all ontological disputes merely verbal disputes?
II.
4. Why has the notion of de re modality been thought by some to be
suspect? How, if at all, can this notion be made sense of?
5. Are any of our empirical beliefs necessary? Are any of our contingent
beliefs a priori?
6.
It has been said that the view that objects have temporal parts is a "crazy
metaphysic". What are temporal parts supposed to be? What arguments
are there in favor of the idea that objects have temporal parts? Why is the
view supposed by some to be crazy? How, exactly, do we decide whether
any particular object has temporal parts?
III.
7. Are there any good reasons to believe in "bare substrata"?
8. Can the nominalist's ontology of concrete particulars do all the
philosophical work that needs to be done?
9. What is physicalism? Which of the following can a physicalist admit into
her ontology: numbers, sets, universals, propositions? Justify your answer.