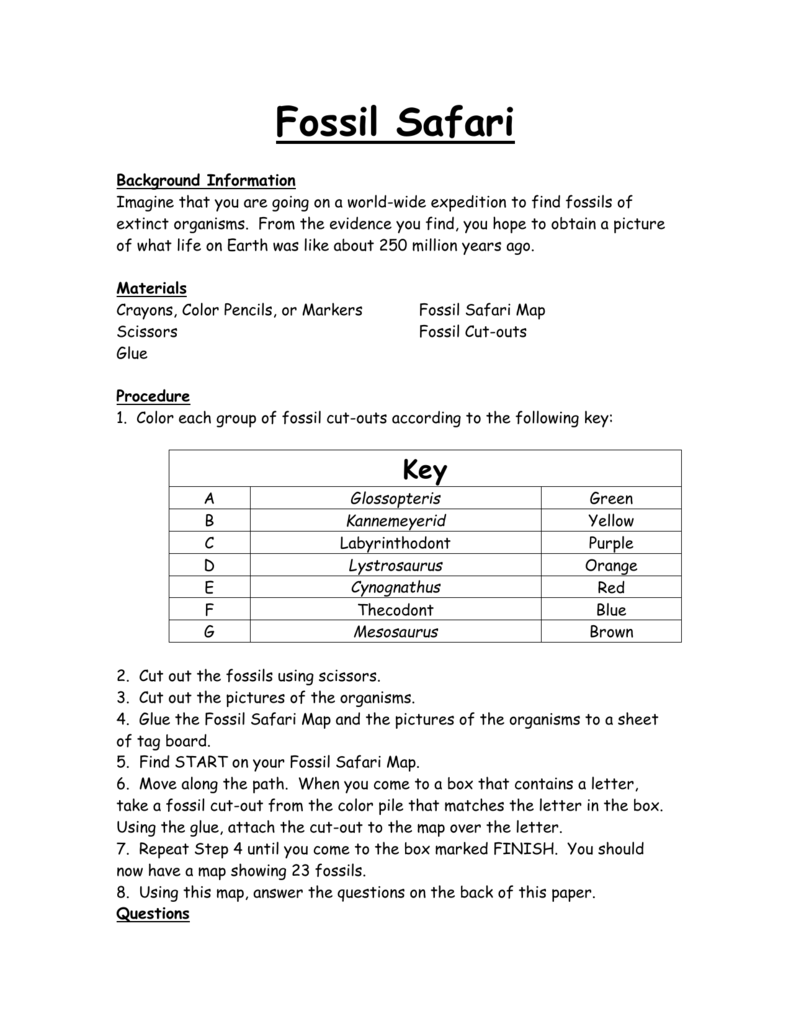 Fossil Safari
Background Information
Imagine that you are going on a world-wide expedition to find fossils of
extinct organisms. From the evidence you find, you hope to obtain a picture
of what life on Earth was like about 250 million years ago.
Materials
Crayons, Color Pencils, or Markers
Scissors
Glue
Fossil Safari Map
Fossil Cut-outs
Procedure
1. Color each group of fossil cut-outs according to the following key:
Key
A
B
C
D
E
F
G
Glossopteris
Kannemeyerid
Labyrinthodont
Lystrosaurus
Cynognathus
Thecodont
Mesosaurus
Green
Yellow
Purple
Orange
Red
Blue
Brown
2. Cut out the fossils using scissors.
3. Cut out the pictures of the organisms.
4. Glue the Fossil Safari Map and the pictures of the organisms to a sheet
of tag board.
5. Find START on your Fossil Safari Map.
6. Move along the path. When you come to a box that contains a letter,
take a fossil cut-out from the color pile that matches the letter in the box.
Using the glue, attach the cut-out to the map over the letter.
7. Repeat Step 4 until you come to the box marked FINISH. You should
now have a map showing 23 fossils.
8. Using this map, answer the questions on the back of this paper.
Questions
Complete these tables and questions on the back of your poster:
1. Compare the number of different fossils found on each continent.
Continent
# Different Fossils
Total # Fossils
Africa
Asia
Antarctica
Australia
Europe
North America
South America
2. On which continents do the fossils of each organism appear?
Fossil
Glossopteris
Kannemeyerid
Labyrinthodont
Lystrosaurus
Cynognathus
Thecodont
Mesosaurus
Continents
3. Mesosaurus was a small lizard-like animal about 20 centimeters long. It
could survive only in shallow freshwater environments. Look at the
locations where fossils of Mesosaurus were found. Does it seem likely
that this animal traveled between these two areas? Explain your answer.
4. Glossopteris belonged to an extinct (no longer living) group of plants
known as seed ferns. Although modern ferns do not produce seeds,
these plants did. Where on your safari did you find Glossopteris?
Does it seem likely that one type of plant could live in all of these places
today? Think about the different climates and explain your answer.
5. Does the distribution of any of the other fossils organisms seem strange
or unlikely? Explain.
6. How could you explain the distribution of the fossils your safari has
uncovered?