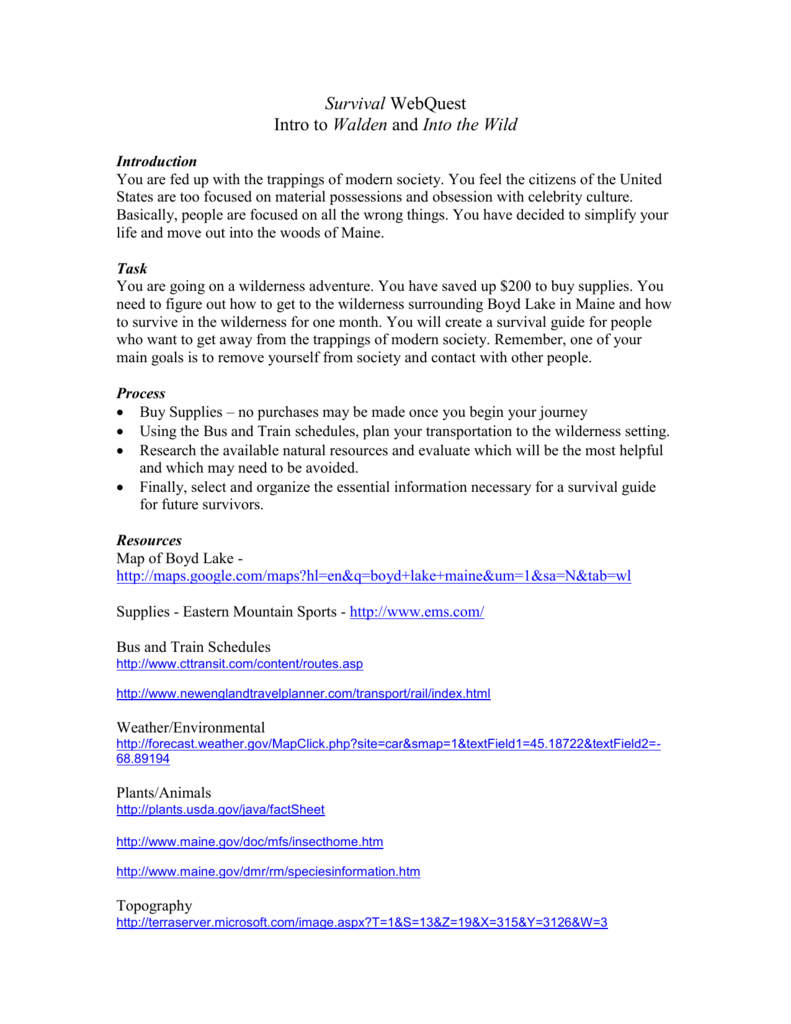 Survival WebQuest
Intro to Walden and Into the Wild
Introduction
You are fed up with the trappings of modern society. You feel the citizens of the United
States are too focused on material possessions and obsession with celebrity culture.
Basically, people are focused on all the wrong things. You have decided to simplify your
life and move out into the woods of Maine.
Task
You are going on a wilderness adventure. You have saved up $200 to buy supplies. You
need to figure out how to get to the wilderness surrounding Boyd Lake in Maine and how
to survive in the wilderness for one month. You will create a survival guide for people
who want to get away from the trappings of modern society. Remember, one of your
main goals is to remove yourself from society and contact with other people.
Process
 Buy Supplies – no purchases may be made once you begin your journey
 Using the Bus and Train schedules, plan your transportation to the wilderness setting.
 Research the available natural resources and evaluate which will be the most helpful
and which may need to be avoided.
 Finally, select and organize the essential information necessary for a survival guide
for future survivors.
Resources
Map of Boyd Lake http://maps.google.com/maps?hl=en&q=boyd+lake+maine&um=1&sa=N&tab=wl
Supplies - Eastern Mountain Sports - http://www.ems.com/
Bus and Train Schedules
http://www.cttransit.com/content/routes.asp
http://www.newenglandtravelplanner.com/transport/rail/index.html
Weather/Environmental
http://forecast.weather.gov/MapClick.php?site=car&smap=1&textField1=45.18722&textField2=68.89194
Plants/Animals
http://plants.usda.gov/java/factSheet
http://www.maine.gov/doc/mfs/insecthome.htm
http://www.maine.gov/dmr/rm/speciesinformation.htm
Topography
http://terraserver.microsoft.com/image.aspx?T=1&S=13&Z=19&X=315&Y=3126&W=3
State Laws re: hunting and fishing
http://maineoutdoors.com/hunting/
http://maineoutdoors.com/hiking/
Evaluation
Conclusion
What skill was most essential for helping you survive?
What item was most essential for helping you survive?
Discuss the ease or difficulty at which people in today's society may remove themselves
from society.