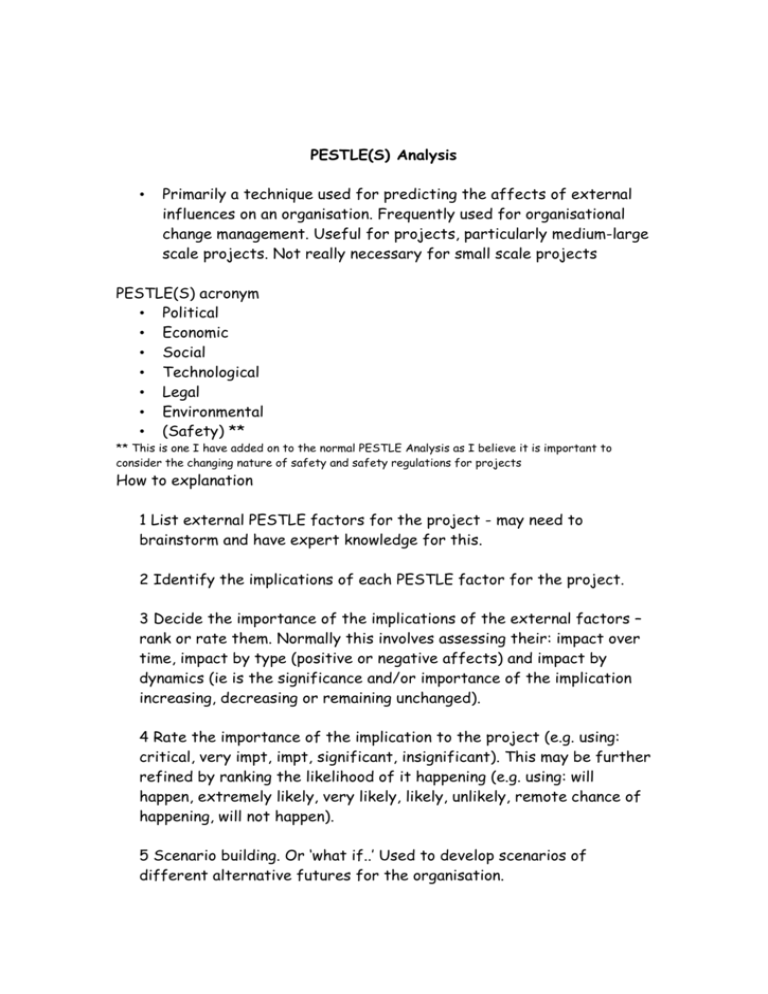 PESTLE(S) Analysis
•
Primarily a technique used for predicting the affects of external
influences on an organisation. Frequently used for organisational
change management. Useful for projects, particularly medium-large
scale projects. Not really necessary for small scale projects
PESTLE(S) acronym
• Political
• Economic
• Social
• Technological
• Legal
• Environmental
• (Safety) **
** This is one I have added on to the normal PESTLE Analysis as I believe it is important to
consider the changing nature of safety and safety regulations for projects
How to explanation
1 List external PESTLE factors for the project - may need to
brainstorm and have expert knowledge for this.
2 Identify the implications of each PESTLE factor for the project.
3 Decide the importance of the implications of the external factors –
rank or rate them. Normally this involves assessing their: impact over
time, impact by type (positive or negative affects) and impact by
dynamics (ie is the significance and/or importance of the implication
increasing, decreasing or remaining unchanged).
4 Rate the importance of the implication to the project (e.g. using:
critical, very impt, impt, significant, insignificant). This may be further
refined by ranking the likelihood of it happening (e.g. using: will
happen, extremely likely, very likely, likely, unlikely, remote chance of
happening, will not happen).
5 Scenario building. Or 'what if..' Used to develop scenarios of
different alternative futures for the organisation.