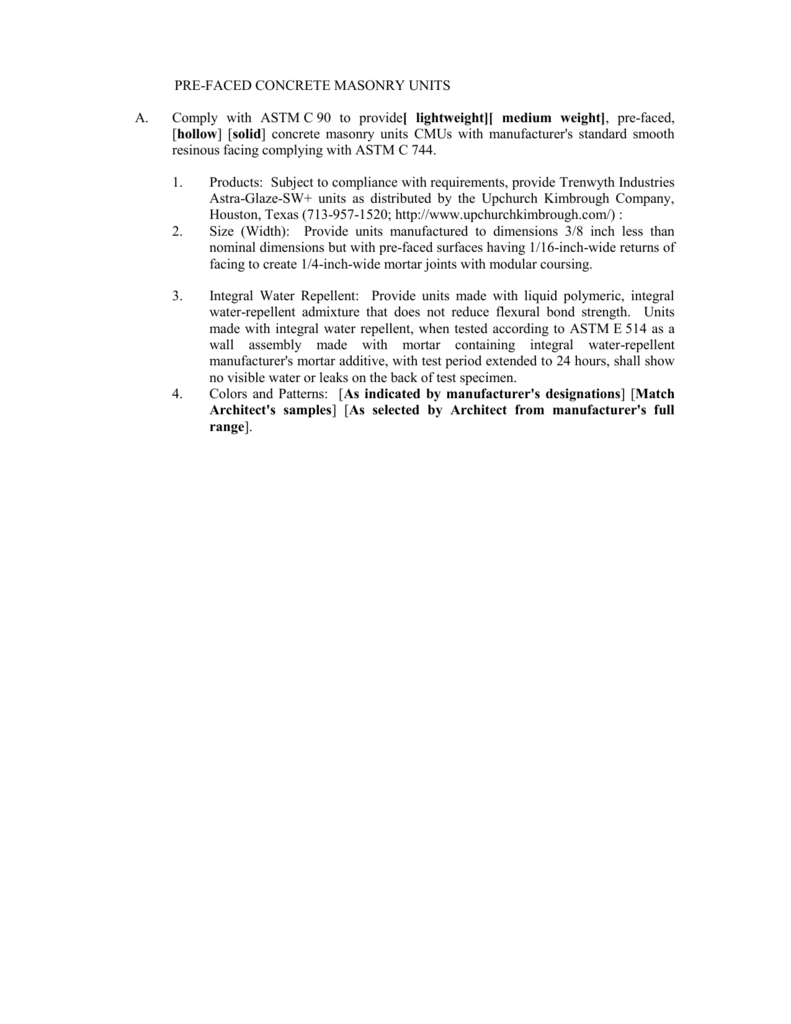 PRE-FACED CONCRETE MASONRY UNITS
A.
Comply with ASTM C 90 to provide[ lightweight][ medium weight], pre-faced,
[hollow] [solid] concrete masonry units CMUs with manufacturer's standard smooth
resinous facing complying with ASTM C 744.
1.
2.
3.
4.
Products: Subject to compliance with requirements, provide Trenwyth Industries
Astra-Glaze-SW+ units as distributed by the Upchurch Kimbrough Company,
Houston, Texas (713-957-1520; http://www.upchurchkimbrough.com/) :
Size (Width): Provide units manufactured to dimensions 3/8 inch less than
nominal dimensions but with pre-faced surfaces having 1/16-inch-wide returns of
facing to create 1/4-inch-wide mortar joints with modular coursing.
Integral Water Repellent: Provide units made with liquid polymeric, integral
water-repellent admixture that does not reduce flexural bond strength. Units
made with integral water repellent, when tested according to ASTM E 514 as a
wall assembly made with mortar containing integral water-repellent
manufacturer's mortar additive, with test period extended to 24 hours, shall show
no visible water or leaks on the back of test specimen.
Colors and Patterns: [As indicated by manufacturer's designations] [Match
Architect's samples] [As selected by Architect from manufacturer's full
range].