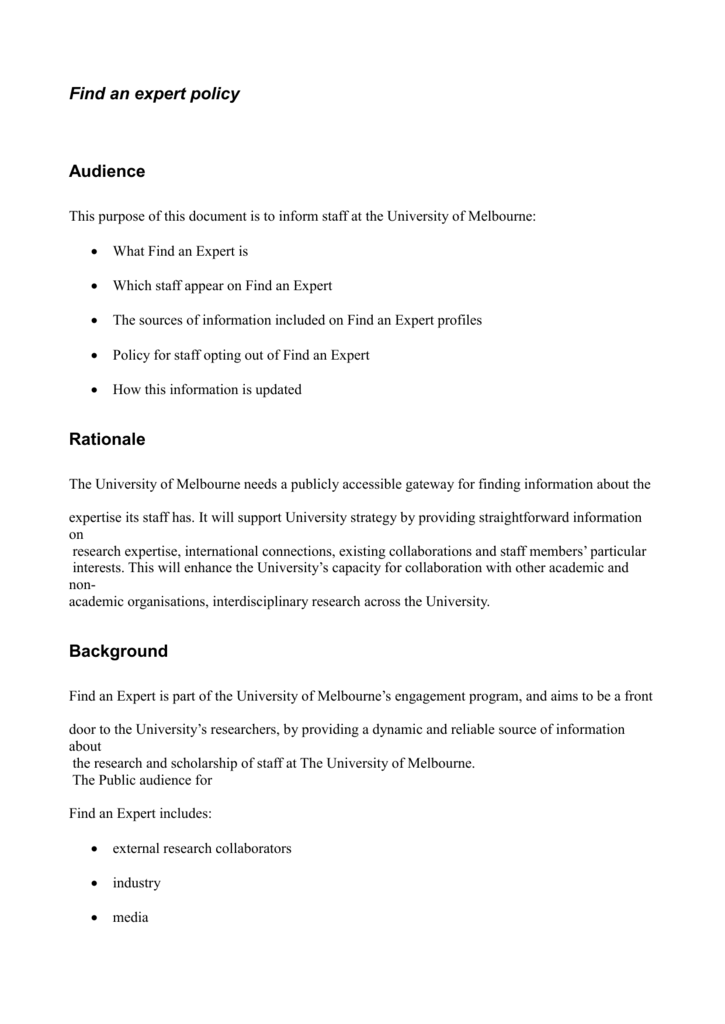 Find an expert policy
Audience
This purpose of this document is to inform staff at the University of Melbourne:

What Find an Expert is

Which staff appear on Find an Expert

The sources of information included on Find an Expert profiles

Policy for staff opting out of Find an Expert

How this information is updated
Rationale
The University of Melbourne needs a publicly accessible gateway for finding information about the
expertise its staff has. It will support University strategy by providing straightforward information
on
research expertise, international connections, existing collaborations and staff members' particular
interests. This will enhance the University's capacity for collaboration with other academic and
nonacademic organisations, interdisciplinary research across the University.
Background
Find an Expert is part of the University of Melbourne's engagement program, and aims to be a front
door to the University's researchers, by providing a dynamic and reliable source of information
about
the research and scholarship of staff at The University of Melbourne.
The Public audience for
Find an Expert includes:

external research collaborators

industry

media

government departments

philanthropists,

the general public,

potential post graduate students, and

diplomatic and Austrade staff
Internally, Find an Expert is used by:

Departments which use Find an Expert to manage their online staff profiles

The Knowledge Partnerships Office to bring together researchers with members of the
community and government around Engagement activities.

The University's News Room to source experts for media comment and stories

Asialink and the International Relations Office to find researchers for visiting dignitaries
and

international outreach activities

Melbourne Ventures and Melbourne Consulting and Customised Programs to identify

researchers for industry opportunities

The School of Graduate Research as a key source of information for potential postgraduate

students

internal research collaborators
Find an Expert uses data on Themis provided by staff and represents these in the form of individual
web pages. These web pages list key information regarding active research staff and experts at the
University of Melbourne across a comprehensive range of disciplines. The University of Melbourne
is
unique for the range of non-intrusive information contained in Themis.
At this stage, Find an Expert does not cover the teaching, learning and supervisory profiles of
University of Melbourne Staff.
Which University of Melbourne staff are included on Find an Expert?
To be included on Find an Expert, a staff member must be

An academic or professional or professional (not a student, including RHD)

Full-time or part-time (not casual)

Holding an honorary or normal position

In addition, the staff member must have met at least one of the following criteria:

Have recorded research expertise on Themis, or

Have recorded publications on Themis, or

Have recorded research funding agreements on Themis including:

Grants

Contracts and Collaborative Agreements for which there is no legal reason to keep
the
existence of the contract confidential.
Postgraduate students are not included in Find an Expert.
What is the scope of information included on Find an Expert?
The following information where applicable is recorded in Themis, and displayed on Find an
Expert:

Contact details (staff can indicate whether contact details such as phone numbers and

locations are displayed)

Staff homepage

Biography and Photo

Publications (recorded through Themis Publications Reporting)

Grants and Contracts (recorded in the Themis Agreements module except where legally
negotiated to be confidential)

Research expertise

International linkages

Government Research Classifications such as Research Fields, Courses and Disciplines
(RFCD) Codes and Socio-Economic Objective (SEO) Codes
Responsibilities
Individual employees are ultimately responsible for making sure that their information represented
in
Find an Expert is up to date.
Updating Information:
The following information can be updated directly via the Public Staff Profile section of the Themis
Researcher Self Service Responsibility:

Contact Details

Staff Homepage

Biography and Photo

Grants and Contracts received prior to commencing at the University

Research Expertise

International Linkages
Staff are encouraged to enter this information themselves, however Department Administrators and
nominated members of Departments and Faculties may also enter this information on behalf of
others.
Entering Publications
Publications can also be entered via self service, although staff are advised to consult with their
department administrator as to the preferred method of data entry.
Changing name details
Changes of title and preferred name should be sent to the faculty's business centre, via the
Department Administrator.
Grants and Contracts information
Records of grants and contracts obtained whilst at the University are maintained by the Research
Office. Grants and contracts obtained prior to working at the University can be entered by the
researcher.
Opting out of Find an Expert
Find an expert is designed to profile all research expertise at the University, including professional
staff who maintain a research profile.
Find an Expert only provides information relating to the work of staff at the University, and is part
of
the University's commitment to making its research publicly available.
Find an Expert is therefore a key tool for representing the research identity of the University, and, as
such, requests to opt out of the profile are not automatic. To opt out of Find an Expert, a request
endorsed by the Head of Department must be sent to the Dean of the applicant's faculty for
consideration.
Criteria for assessing a request to opt out of Find an Expert would be:

Confidentiality requirements relating to information to be published in Find an Expert

The likelihood of the staff member suffering harm through being findable on the web.
Business Owner
Melbourne Research is the business owner of Find an Expert.