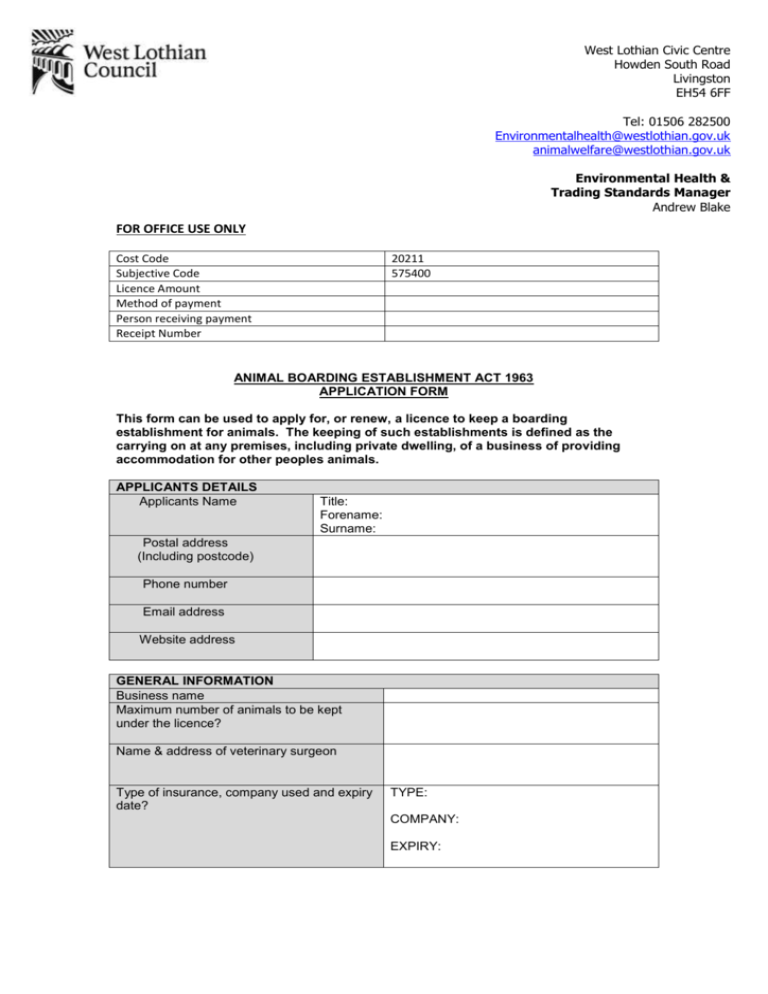 West Lothian Civic Centre
Howden South Road
Livingston
EH54 6FF
Tel: 01506 282500
Environmentalhealth@westlothian.gov.uk
animalwelfare@westlothian.gov.uk
Environmental Health &
Trading Standards Manager
Andrew Blake
FOR OFFICE USE ONLY
Cost Code
Subjective Code
Licence Amount
Method of payment
Person receiving payment
Receipt Number
20211
575400
ANIMAL BOARDING ESTABLISHMENT ACT 1963
APPLICATION FORM
This form can be used to apply for, or renew, a licence to keep a boarding
establishment for animals. The keeping of such establishments is defined as the
carrying on at any premises, including private dwelling, of a business of providing
accommodation for other peoples animals.
APPLICANTS DETAILS
Applicants Name
Title:
Forename:
Surname:
Postal address
(Including postcode)
Phone number
Email address
Website address
GENERAL INFORMATION
Business name
Maximum number of animals to be kept
under the licence?
Name & address of veterinary surgeon
Type of insurance, company used and expiry
date?
TYPE:
COMPANY:
EXPIRY:
ESTABLISHMENT DETAILS
Number, construction and size of quarters in
which the animals will be kept.
Sleeping area size:
Exercise facilities for the animals
Exercise area size:
Method of heating / temperature monitoring
Method of ventilation
Lighting arrangements
(artificial and natural)
Water supply
Method of drainage
Details of the provision, storage and
preparation of food
Arrangements for disposal of excreta
Description of isolation facilities for disease
control
Type of disinfectant used to clean the
premises.
Details of the cleaning regime including
details of the frequency
Details of fire precautions and equipment
PREVIOUS CONVICTIONS/ DISQUALIFICATIONS
Have you ever been convicted of any offence under the
following Acts? If yes please provide details.

The Animal Boarding Establishments Act 1963

The Protections of Animals Act 1911

The Protection of Animals (Scotland) Act 1912

The Pet Animals Act 1951

Animal Health Act 1981

Animal Health and Welfare (Scotland) Act 2006
Have you been disqualified under any of the following
acts? If yes please provide details

Animal Boarding Establishments Act 1963, from
keeping a boarding establishment for animals;

The Pet Animals Act 1951, from keeping a pet
shop;

The Protection of Animals (Amendment) Act 1954,
from having the custody of animals;

Section 28F(1) and (2) of the Animal Health Act
1981

Section 40(1) and (2) of the Animal Health and
Welfare (Scotland) Act 2006
Please include copies of the following documentation with your application.
This is required for new applications and renewals.





Standard Operating Procedure detailing how the cattery will be run,
including:
o Day to day routine for the management of the cats;
o Daily cleaning and cleaning between different cats;
o Cleaning of equipment used;
o Accommodation temperature control.
Copy of medicine record sheet;
Emergency and Evacuation Plan;
Insurance certificate/s;
A plan of the boarding establishment. This must include a sketch of
how the premises are laid out including details of the ventilation
system, plumbing, finishes of floors, walls and ceilings. The plan should
include measurements of cat sleeping/ exercise areas.
For premises employing staff the following additional paper work must also be
submitted:
o System of recording observation of animals;
o Staff training manual;
o Documented evidence of staff training and reviews.
INCLUDED
Declaration
I am applying for a licence under the Animal Boarding Establishments Act 1963 and enclose
the relevant fee.
I agree that an officer or veterinary surgeon authorised by the council, may inspect the
premises which are subject of this application before and / or after any licence is granted. Vet
fees incurred in assessing compliance will be fully recharged to myself.
I declare my answers to the above questions to be correct in every respect.
Signature
Date
Application process
The initial inspection of your premises is carried out with a vet. A separate invoice will be
issued to cover the vets cost once the inspection has taken place, and is payable whether or
not the licence is approved. On receipt of this being paid and the licence conditions being
met, your new licence will be sent out.
48 hours notice is required for the cancellation of a veterinary appointment, if less than 48
hours notice a cancellation fee will be charged.
Please send your completed application form along with a cheque or postal order (made
payable to West Lothian Council) to the address on the front of this application form.
Alternatively you can take your completed application along with payment (cheque, postal
order, cash, Credit or Debit card) to one of the following Customer Information Services.
Armadale 1/3 East Main Street
Livingston West Lothian Connected Unit 16 Alondvale Centre
Bathgate Bathgate Partnership Centre, South Bridge Street, West Lothian Connected
Broxburn Strathbrock Partnership Centre, 189a West Main Street
Whitburn 5 East Main Street
Opening times vary between Council Information Service Centres. Please log on to
www.westlothian.gov.uk or contact the Service Centre to check opening times.
Please note the following:
Information supplied on this form will be held on computer and applicants are advised that in
processing this application background checks will be made which may include reference to
personal data held on computer. If this form is incomplete it will be returned to you by ordinary
post.
The information on this form may be held on an electronic register which may be available to
members of the public.
This authority has a duty to protect the public funds it administers, and to this end may use
the information you have provided on this form for the prevention and detection of fraud. It
may also share this information with other bodies responsible for auditing or administering
public funds for these purposes.