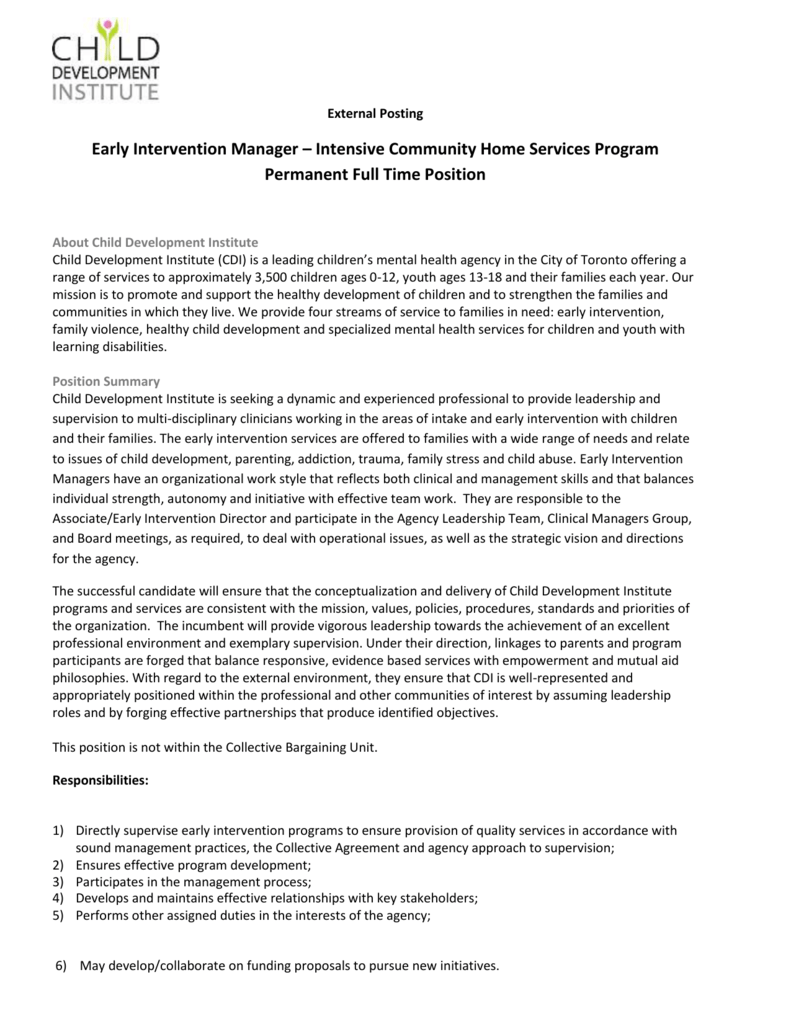 External Posting
Early Intervention Manager – Intensive Community Home Services Program
Permanent Full Time Position
About Child Development Institute
Child Development Institute (CDI) is a leading children's mental health agency in the City of Toronto offering a
range of services to approximately 3,500 children ages 0‐12, youth ages 13-18 and their families each year. Our
mission is to promote and support the healthy development of children and to strengthen the families and
communities in which they live. We provide four streams of service to families in need: early intervention,
family violence, healthy child development and specialized mental health services for children and youth with
learning disabilities.
Position Summary
Child Development Institute is seeking a dynamic and experienced professional to provide leadership and
supervision to multi-disciplinary clinicians working in the areas of intake and early intervention with children
and their families. The early intervention services are offered to families with a wide range of needs and relate
to issues of child development, parenting, addiction, trauma, family stress and child abuse. Early Intervention
Managers have an organizational work style that reflects both clinical and management skills and that balances
individual strength, autonomy and initiative with effective team work. They are responsible to the
Associate/Early Intervention Director and participate in the Agency Leadership Team, Clinical Managers Group,
and Board meetings, as required, to deal with operational issues, as well as the strategic vision and directions
for the agency.
The successful candidate will ensure that the conceptualization and delivery of Child Development Institute
programs and services are consistent with the mission, values, policies, procedures, standards and priorities of
the organization. The incumbent will provide vigorous leadership towards the achievement of an excellent
professional environment and exemplary supervision. Under their direction, linkages to parents and program
participants are forged that balance responsive, evidence based services with empowerment and mutual aid
philosophies. With regard to the external environment, they ensure that CDI is well-represented and
appropriately positioned within the professional and other communities of interest by assuming leadership
roles and by forging effective partnerships that produce identified objectives.
This position is not within the Collective Bargaining Unit.
Responsibilities:
1) Directly supervise early intervention programs to ensure provision of quality services in accordance with
sound management practices, the Collective Agreement and agency approach to supervision;
2) Ensures effective program development;
3) Participates in the management process;
4) Develops and maintains effective relationships with key stakeholders;
5) Performs other assigned duties in the interests of the agency;
6) May develop/collaborate on funding proposals to pursue new initiatives.
Minimum Qualifications:
 Possesses a master's level degree in a related field (i.e., social work, psychology);
 At least 5 years of direct service in a related field;
 Strong leadership, coaching, planning, problem-solving, communication, computer, and financial skills;
 Previous supervisory experience an asset;
 Demonstrated experience working with external agencies, committees and communities;
 Commitment to ongoing learning and development in the area of: research, program development,
supervision and leadership;
 Experience with budgeting and fiscal responsibility;
 Sound knowledge and experience with current literature and clinical practice in relevant areas, including
trauma assessment and treatment, family therapy and parent-child interventions, parenting groups and
families impacted by maternal substance use;
 Knowledge of community resources and extensive networking experience;
 Excellent administrative, organizational, communication:
 Strong written and verbal communication skills; Strong computer skills and report writing skills;
 Experience in managing staff including recruitment, training, evaluation and performance management;
 Experience in developing and managing complex projects;
 Demonstrated leadership and problem solving abilities with internal and external teams and community
partners;
 A Police Record Check is required.
Annual Salary: Competitive salary and benefits are provided
Deadline for Applications: February 5, 2016
Submit application via email to:
Kathy Levene
Associate/Director of Early Intervention Services
46 St. Clair Gardens, Toronto Ontario
Fax: 416-654-8996
[email protected]
All applicants are advised that offers of employment are contingent upon the successful completion of a police
records check.
We strive to foster a workplace that reflects the diversity of people and the communities we serve and we are
committed to excellence and inclusion in our Agency. We welcome applications from all qualified candidates.
We thank all those who apply. However, only those selected for an interview will be contacted.