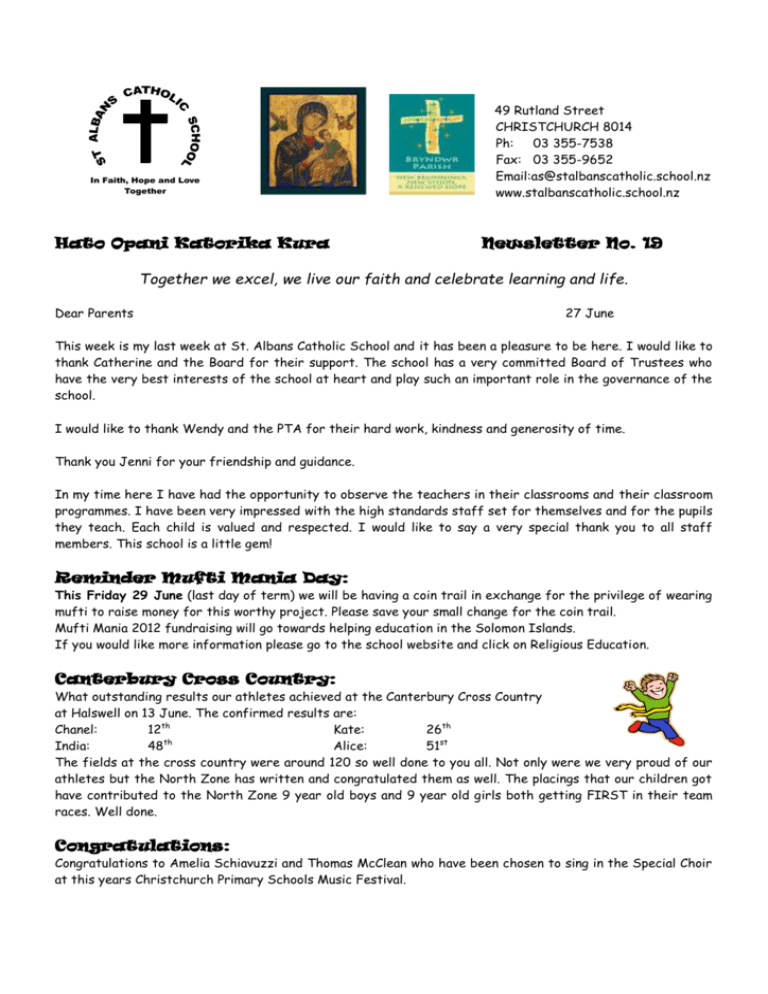 In Faith, Hope and Love
Together
Hato Opani Katorika Kura
49 Rutland Street
CHRISTCHURCH 8014
Ph:
03 355-7538
Fax: 03 355-9652
Email:as@stalbanscatholic.school.nz
www.stalbanscatholic.school.nz
Newsletter No. 19
Together we excel, we live our faith and celebrate learning and life.
Dear Parents
27 June
This week is my last week at St. Albans Catholic School and it has been a pleasure to be here. I would like to
thank Catherine and the Board for their support. The school has a very committed Board of Trustees who
have the very best interests of the school at heart and play such an important role in the governance of the
school.
I would like to thank Wendy and the PTA for their hard work, kindness and generosity of time.
Thank you Jenni for your friendship and guidance.
In my time here I have had the opportunity to observe the teachers in their classrooms and their classroom
programmes. I have been very impressed with the high standards staff set for themselves and for the pupils
they teach. Each child is valued and respected. I would like to say a very special thank you to all staff
members. This school is a little gem!
Reminder Mufti Mania Day:
This Friday 29 June (last day of term) we will be having a coin trail in exchange for the privilege of wearing
mufti to raise money for this worthy project. Please save your small change for the coin trail.
Mufti Mania 2012 fundraising will go towards helping education in the Solomon Islands.
If you would like more information please go to the school website and click on Religious Education.
Canterbury Cross Country:
What outstanding results our athletes achieved at the Canterbury Cross Country
at Halswell on 13 June. The confirmed results are:
Chanel:
12th
Kate:
26th
th
India:
48
Alice:
51st
The fields at the cross country were around 120 so well done to you all. Not only were we very proud of our
athletes but the North Zone has written and congratulated them as well. The placings that our children got
have contributed to the North Zone 9 year old boys and 9 year old girls both getting FIRST in their team
races. Well done.
Congratulations:
Congratulations to Amelia Schiavuzzi and Thomas McClean who have been chosen to sing in the Special Choir
at this years Christchurch Primary Schools Music Festival.
Class Awards:
Room 2:
Room 3:
Room 4:
Room 5:
Lillie Howell
Bridgetta Coyle
Hudson Irving
Declan Barry
Principal's Award:
Zoey Plew-Smeehuyzen
PTA News:
TRIVIA NIGHT RAFFLE:
Today each family will receive one Quiz Night Raffle Card (10 tickets) to sell over the holidays. Prizes
include food hampers, wine and $100 voucher to Brigitte's Espresso. Cards and money are due back at school
on Monday 23 July.
ST ALBANS CATHOLIC SCHOOL QUIZ NIGHT – FRIDAY 27 JULY – ST ALBANS SHIRLEY CLUB
Doors open 7pm, Quiz starts at 7.30pm
Tickets for our quiz night go on sale today and every Wednesday after school. Tickets are $15 per head, up
to six people in a team. Numbers are limited so get your team together now!
Our quiz mistress, Mrs Sjoberg, guarantees a great night out!
We would like to remind you that about the learning activities on the school website which you are can do
with your children.
God Bless
Maureen Moore
From the Parish:
ATTENDANCE DUES:
It would be appreciated if Attendance Dues could be paid by the end of Term. Thanks.
PLEASE NOTE:
As the driveway from Rutland street to the presbytery carpark is in a very bad state of repair it would be
appreciated if parents DO NOT use this driveway or carpark when bringing children to school or picking
children up from school.
Community News:
CHRISTCHURCH CITY LIBRARIES MATARIKI EVENT
Whanau Fun Day Saturday 30 June 10-4pm
Join your community at Reha Marae at 79 Springfield Road,
St Albans for storytelling,weaving, waiata, stalls and more.