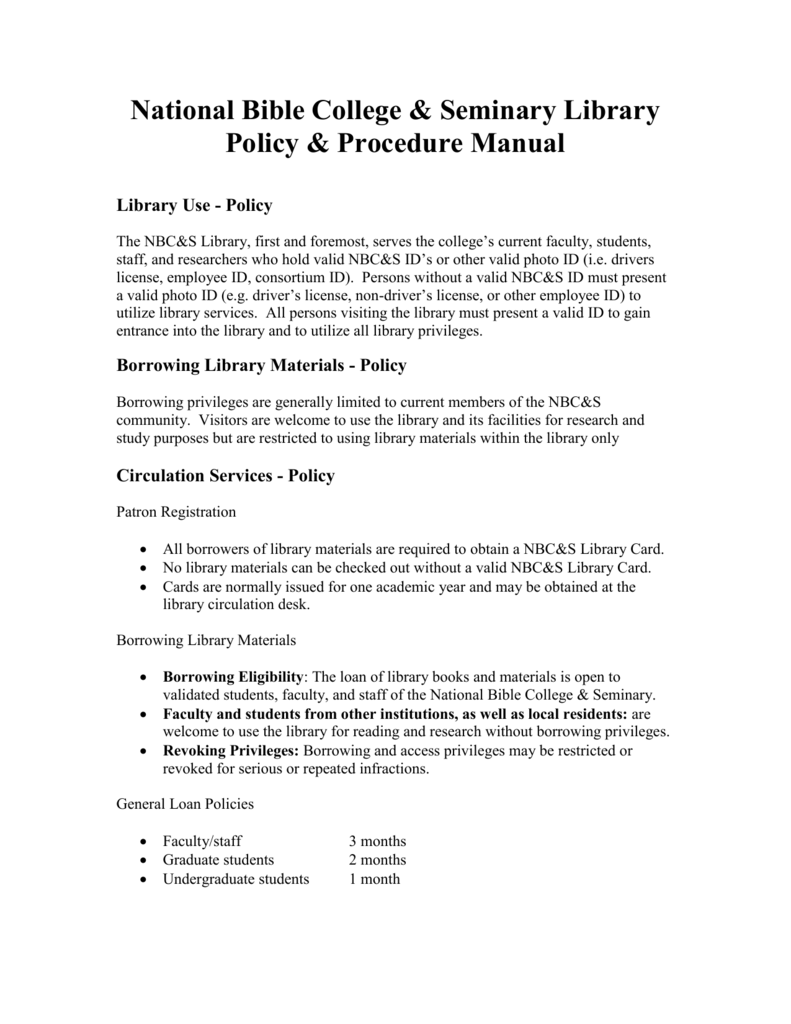 National Bible College & Seminary Library
Policy & Procedure Manual
Library Use - Policy
The NBC&S Library, first and foremost, serves the college's current faculty, students,
staff, and researchers who hold valid NBC&S ID's or other valid photo ID (i.e. drivers
license, employee ID, consortium ID). Persons without a valid NBC&S ID must present
a valid photo ID (e.g. driver's license, non-driver's license, or other employee ID) to
utilize library services. All persons visiting the library must present a valid ID to gain
entrance into the library and to utilize all library privileges.
Borrowing Library Materials - Policy
Borrowing privileges are generally limited to current members of the NBC&S
community. Visitors are welcome to use the library and its facilities for research and
study purposes but are restricted to using library materials within the library only
Circulation Services - Policy
Patron Registration



All borrowers of library materials are required to obtain a NBC&S Library Card.
No library materials can be checked out without a valid NBC&S Library Card.
Cards are normally issued for one academic year and may be obtained at the
library circulation desk.
Borrowing Library Materials



Borrowing Eligibility: The loan of library books and materials is open to
validated students, faculty, and staff of the National Bible College & Seminary.
Faculty and students from other institutions, as well as local residents: are
welcome to use the library for reading and research without borrowing privileges.
Revoking Privileges: Borrowing and access privileges may be restricted or
revoked for serious or repeated infractions.
General Loan Policies



Faculty/staff
Graduate students
Undergraduate students
3 months
2 months
1 month
Length of Borrowing Periods for Books & Other Materials




Regular Collection Books: Circulate according to the above mentioned statuses
Reference Books: Non-circulating books that cannot be checked out
Videos, Cassettes, and CD's: Items that circulate for four weeks or according to
the status of the borrower (and less depending on the demand or designation by
the instructor).
Thesis or D. Ministry Project Students: Theses students are eligible for special
extended loan periods. Ask at circulation desk for information concerning this
borrowing privilege.
Renewals
Books may be renewed in person at the library circulation desk, or by calling the
circulation desk at 301-567-9503. Items may be renewed unless someone has placed a
hold on the item.
Returns
Books and other items must be returned on or before the due date. Books and other print
items should be placed in the Return Book slot at the Circulation Desk. Audio-Visual
equipment and related materials should be returned at the Circulation Desk.
Overdue Fines
Patrons are expected to return items before the library closes on the date the items are
due. If an item is not returned on time, patrons will be notified by phone or by mail on
the 10th day that the item is overdue. A letter of invoice from NBC&S Library will be
sent out when the overdue item has reached the 21-day limit. Fines are calculated as
follows:

Non-reference books – $0.50 per day per item to a maximum of $5.00 per item

Videos, Cassettes & CDs - $1.00 per day per item to a maximum of $10.00 per
item
Lost Item Fees
Patrons are responsible for all materials they have checked out. When an item is 60 days
overdue, it is considered lost. Lost items are billed to your student account on the
following scale:


Cost of item plus $15.00 processing fee for items still in print
$25.00 - $100.00 for items that a replacement cannot be found
 If you find a lost item within two months of losing it, your money will be
refunded
Reserve Books - Policy



Reserve books are located behind the circulation desk.
Materials may be looked up by instructor's late name or course title.
Most reserve materials are for in-library use only. The instructor may designate
an item(s) for overnight use.
Most items are loaned for 2-hour use in the library and may be renewed if not
requested by another patron.

Printing and Photocopying - Policy
Printers – Computer Center
Networked printers are available in the library's computer center. Printing from the
networked computer printers is currently ten cents per copy.
Photocopy machines are available in the library for the convenience of patrons and is
centrally located. Please note the following:



The photocopy machine is centrally located
Cost of copying is ten cents per copy
Photocopy machines take coins or dollar bills
For assistance, see library staff.
Interlibrary Loans - Policy
Interlibrary Loan (ILL) service is available only to NBC&S students, faculty, and staff.
There is no cost for borrowing materials through NBC&S Library's interlibrary loan
service. However, borrowers could experience a cost when the lending institution
imposes fees.
Patrons can request up to five pieces of materials using ILL. They can make ILL
requests at the circulation desk and requests are accepted Monday through Friday,
excluding holidays. Requests for materials usually require one to two weeks to fill. If
users have questions, they may contact a library staff for full explanation of the process.
Reference Services - Policy
The NBC&S Library Center offers reference service to assist patrons in making the
fullest possible use of its information resources. The library staff is delighted and equipped
to answer questions and to offer direct personal assistance in using the Library's electronic and
print sources to find information for research and study. The Library staff strives to provide
access to current technology appropriate to the curriculum and research needs of its user
clientele.
Reference Room Reminders:
1. The library is open to the public from 9:00 a.m. to 9:30 p.m., Monday through
Friday, except on official holidays and posted closings.
2. Information and assistance in using the facilities may be obtained from the staff at
the reference desk.
3. Books and other materials are not to be re-shelved in the reference room or in the
stack areas. All items should be returned to a book truck or left on a table for a
staff member to re-shelve or simply leave them on desk or table area for a staff to
remove.
Library Conduct - Policy
The NBC&S Library ensures a pleasant and productive environment that is conducive to
thought, research, and study for all members of its academic community. It is the
responsibility of library users to contribute to this atmosphere and to respect the needs of
all library users. To this end a Library Conduct Policy has been established and it is the
responsibility of all users to become familiarized with this policy and to abide by the
specific rules established. Failure to do so will result in loss of library use privileges or
other disciplinary action. Unacceptable behavior includes but is not limited to the
following:
The following actions are prohibited:
1. Causing a disturbance or engaging in any behavior that interferes with normal use
of the library.
2. Food and beverages are not allowed in the public areas of the library.
3. Smoking or using tobacco products in the library is not allowed.
4. Removing library materials, equipment, or property from the library that is
properly checked out.
5. Damaging library materials by marking, underlining, removing pages or portions
of pages, removing binding or in any way damaging or defacing library materials.
6. Failing to return borrowed materials on the expiration date.
7. Vandalizing or defacing the library building, furniture or equipment.
8. Failing to pay for library fees, lost or damaged materials, or for fee-based charges.
9. Being in unauthorized areas of the library.
10. Bringing animals in the library except for those trained to assist persons with
disabilities.
11. Carrying weapons of any type in the library unless authorized by law.
12. The intentional damaging of computer hardware, computer programs, or networks
by accessing, altering, or deleting data.
13. Failure to adhere to copyright laws. Behaving in a way that interferes with a library
employee's performance of his/her duties including verbal abuse, intimidation, or
harassment of any type.
Collection Development Policy
Purpose of the Collection
The purpose of the NBC&S Library is to provide information services and bibliographic
resources that support the National Bible College and Seminary in its work of educating
laypersons, ministers, and Christian professionals for ministry within the United States
and internationally. The collection provides resources for undergraduate study towards
the Associates of Biblical Studies and Bachelor of Ministry on the undergraduate level,
the Masters of Religious Education, Masters of Divinity and the Doctorate of Ministry on
the graduate level, as well as providing for faculty research and instruction. Building the
library's collection is a collaborative effort that includes faculty as well as student
collaboration for selection of materials.
Goals

The library endeavors to provide materials that permit its clientele to conduct
research for the purpose of writing academic essays, research papers,
dissertations, and special academic research projects.

The library endeavors to provide materials for the study of topics not actually
required by the curriculum but the study of which promotes the intellectual and
personal growth of its clientele.

The library is interested in providing materials that will assist in the religious and
professional growth and development of its clientele.

The library is interested in serving beyond its immediate academic community,
making its resources available to the local community, schools, and other
institutions of higher learning, thereby contributing educationally and culturally to
the community.

It is the policy of the library to provide all patrons with professional, equitable,
and courteous reference assistance. Reference assistance is available to students,
faculty, staff, and the general public upon request.
Scope and Coverage
The subject emphasis for the NBC&S Library includes the areas of theology, Christian
counseling, evangelism, history, communications, New Testament studies, Old
Testament studies, Christian education, general education, including subjects within the
social sciences, natural sciences, applied sciences, humanities and Greek/Hebrew
languages.
Languages
In view of the undergraduate and graduate program requirements in theology at NBC&S,
primary focus and consideration is given to English language sources when selecting
materials.
Geographic Areas
American, Western European, and Near Eastern (Judaic thought) are the primary
languages of the collection.
Time frame
The library's emphasis is on the acquisition of current titles. Requests for earlier titles
shall be satisfied through inter-library loan. When there is a continual demand for a
particular title, the library will consider its purchase.
Types of Materials Collected
The types of materials that the NBC&S Library collects includes, books, periodicals,
audiovisual and electronic resources.
Format of Materials Collected
Monographs
The library prefers to purchase hardcover book titles because of their durability,
especially books that are of a lasting value, either single titles or in book series format.
Paperback books will be purchased in interest of economy and when demand is high or
when paperback is the only format available. The titles must reflect areas of study
relevant to faculty and student research.
Serials
The library subscribes to mainly serials that are published in the United States but will
subscribe to international serials if they satisfy particular curricular need. The primary
emphasis, though, is on purchasing core periodicals that are relevant to faculty and
student research. Priority is given to titles that students or faculty repeatedly request and
that are used frequently in citation. Electronic access is made available when
economically feasible.
Reference Materials
The library purchases encyclopedic works, handbooks, commentaries, subject
dictionaries, and biographical resources that are updated regularly.
Textbooks
The library will collect a single copy of classroom textbooks to house in the library's
main book collection for the use of students. Also, professors may place a copy of their
own textbook(s) on reserve for student use.
Electronic Resources
Electronic resources are defined as any material requiring a computer for access. A main
aspiration of NBC&S Library is to provide access to selected full-text and scholarly
resources via an online network system that allows for multi-users and remote access.
The NBC&S Library shall acquire or access electronic versions of major abstracts, index,
and multiple–subject resources, as well as frequently consulted materials in response to
major research needs and when it is cost effective.
Responsibility for Collection Development – Policy
The Reference Librarian acts as a liaison to the academic disciplines for collection
development. The librarian shall consult with faculty members to obtain purchasing
recommendations, and also shall utilize pertinent selection tools, such as review
publications, bibliographies, and publisher catalogs to select materials. Ultimate
responsibility for collection development rests with the College Vice President.
Also, library patrons are encouraged to make recommendations regarding titles for
purchase by the library regardless of their status. The material may be acquired if it is
consistent with the library's collection development policy and according to the
availability of funds.
Intellectual Freedom – Policy
The NBC&S Library adheres to the principles established in the American Library
Association's ALA | Library Bill of Rights, ALA | Freedom to Read Statement,
and ALA | Code of Ethics.
Copyright – Policy
The NBC&S Library supports the copyright laws as stated in the Copyright Act of 1976
as amended (U.S. Copyright Office - Copyright Law of the United States). The
library also recognizes the "fair use" (copyrightchart) by educational institutions.
Food and Drink – Policy
Food and beverages may not be consumed in any part of the library. Also, beverages of
any type may never be consumed at library computer workstations or in office work
areas. Food and beverages may be consumed in the staff lounge only.
Children in the Library - Policy
Children under the ages 17 must under the direct supervision of a responsible adult at all
times in the library for safety reasons that include:





The library is open to the public, which could possibly place unattended children
at risk.
The library's computers are to be used for serious academic research purposes
(and other related purposes) by students, faculty and other library patrons.
Internet use is prohibited in the library for unattended and unsupervised children
of any age.
The library must maintain an environment that is conducive to study and research.
If children are left unattended and unsupervised in the library, a library staff will
first attempt to locate the parent or adult caregiver. If the library staff is unable to
locate the parent or adult caregiver, campus security will be contacted.
Cell Phones – Policy
The use of cell phones is restricted to the foyer and building entry area. Cell phones
should be placed on silent or vibrate when entering the library or when working in the
library so that other library users are not disturbed.
Closing - Policy
At closing, all personal belongings left in the library will be placed in Lost and Found.
Library materials will be re-shelved.
Personal Items - Policy
The library staff is not responsible for personal items left unattended. If a patron plans to
be away from the area where he/she has left personal belongings, the library's policy is
that patrons take all personal items with him/her to prevent them from being stolen.