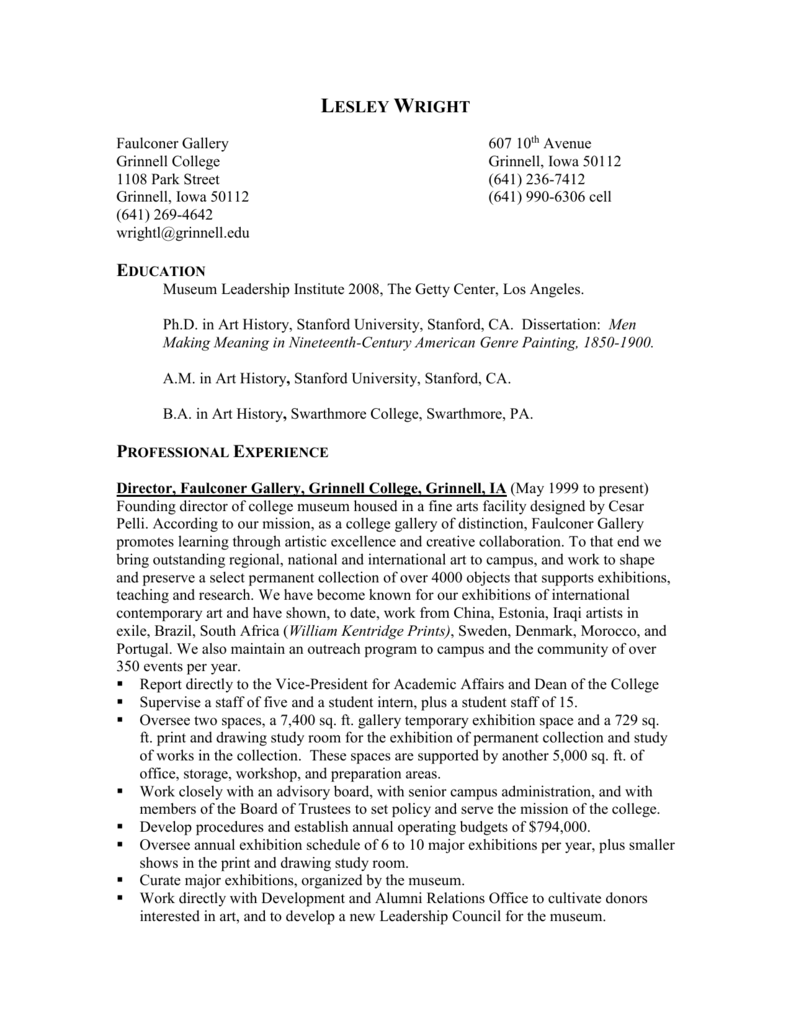 LESLEY WRIGHT
Faulconer Gallery
Grinnell College
1108 Park Street
Grinnell, Iowa 50112
(641) 269-4642
[email protected]
607 10th Avenue
Grinnell, Iowa 50112
(641) 236-7412
(641) 990-6306 cell
EDUCATION
Museum Leadership Institute 2008, The Getty Center, Los Angeles.
Ph.D. in Art History, Stanford University, Stanford, CA. Dissertation: Men
Making Meaning in Nineteenth-Century American Genre Painting, 1850-1900.
A.M. in Art History, Stanford University, Stanford, CA.
B.A. in Art History, Swarthmore College, Swarthmore, PA.
PROFESSIONAL EXPERIENCE
Director, Faulconer Gallery, Grinnell College, Grinnell, IA (May 1999 to present)
Founding director of college museum housed in a fine arts facility designed by Cesar
Pelli. According to our mission, as a college gallery of distinction, Faulconer Gallery
promotes learning through artistic excellence and creative collaboration. To that end we
bring outstanding regional, national and international art to campus, and work to shape
and preserve a select permanent collection of over 4000 objects that supports exhibitions,
teaching and research. We have become known for our exhibitions of international
contemporary art and have shown, to date, work from China, Estonia, Iraqi artists in
exile, Brazil, South Africa (William Kentridge Prints), Sweden, Denmark, Morocco, and
Portugal. We also maintain an outreach program to campus and the community of over
350 events per year.
 Report directly to the Vice-President for Academic Affairs and Dean of the College
 Supervise a staff of five and a student intern, plus a student staff of 15.
 Oversee two spaces, a 7,400 sq. ft. gallery temporary exhibition space and a 729 sq.
ft. print and drawing study room for the exhibition of permanent collection and study
of works in the collection. These spaces are supported by another 5,000 sq. ft. of
office, storage, workshop, and preparation areas.
 Work closely with an advisory board, with senior campus administration, and with
members of the Board of Trustees to set policy and serve the mission of the college.
 Develop procedures and establish annual operating budgets of $794,000.
 Oversee annual exhibition schedule of 6 to 10 major exhibitions per year, plus smaller
shows in the print and drawing study room.
 Curate major exhibitions, organized by the museum.
 Work directly with Development and Alumni Relations Office to cultivate donors
interested in art, and to develop a new Leadership Council for the museum.
2








With the Curator of the Collection, shape the collection of works on paper and
develop digital tools for access and research.
Write and administer grants, including a Collections Assessment through the Museum
Assessment Program of the IMLS (2006-2008). Wrote two successful internal
Innovation Fund grants in 2013 for digitizing the collection and to create an artist
residency program.
Work with museum, library and ITS staff to develop a new collection management
system to serve the art collection and other campus collections.
Work closely with the Curator of Academic and Community Outreach to design
educational and outreach programs.
Serve as liaison to the Faculty on exhibition, program, and collection issues, with
wide service on faculty and staff committees.
Research, write, and edit catalogues and brochures; generate necessary wall texts and
publicity materials.
Manage annual advertising program.
Advise students and contribute to courses and Mentored Advanced Projects as
requested.
Exhibitions Curated
From Wunderkammer to the Modern Museum, 1606-1884 (October 4-December 15,
2013). Exhibition drawn from a private collection and developed with the collector.
Extensive course use across the curriculum. Resulted in a $35,000 gift from the collector.
Catalogue.
Culturing Community: Projects about Place (September 24-December 12, 2010).
Four art projects ranging from installations to photography about the community in and
around Grinnell, IA. Received $10,000 NEA Challenge America grant to help support
work with the community. Wrote and edited the catalogue.
Influence: Faculty Selections from Grinnell College Collections (January 29March 21, 2010). Worked with four faculty from the departments of biology, English,
German, and the Library to curate a collection-based exhibition around the theme of
influence. Brochure.
Below the Surface: A 21st-Century Look at the Prairie (June 12-September 6,
2009). Work by 13 artists from across the country whose work depicts prairie plants,
animals, insects and environments. All the artists selected draw on natural history to
order the presentation of visual information. Wrote and edited brochure.
Where are you from? Contemporary Portuguese Art (February 1-April 20, 2008).
Work by 21 Portuguese artists whose work engages the geographical, cultural, theoretical
and personal issues suggested by the title. Oversaw an installation that includes 12 multimedia works. Cultivated €35,000 in funding (approx. $50,000) from 4 ministries and
foundations in Portugal. Coordinated the project with two other college museums in
Iowa, and brought 13 of the artists to Iowa from Portugal. Wrote and edited the
catalogue.
Stories and Histories (March 9-April 22, 2007). American art from the Grinnell
College Art Collection in which artists use history, collage, and personal narrative to
create striking visual stories. Artists included Robert Arneson, Enrique Chagoya, Willie
3
Cole, Roy DeForest, Leon Golub, Jane Hammond, Deborah Muirhead, Robert
Rauschenberg, Kiki Smith, and Kara Walker. Co-curated with Julia McHugh, intern.
Roots of Renewal (September 6-December 12, 2003). Exhibition of contemporary
art that explored the people, landscape, economy, and culture of the upper Midwest in the
21st century. This project included work by 18 artists, 3 site-specific installations,
extensive programming, and the commissioning of an original piece of music for the
community. Wrote and administered four grants totaling over $35,000 from: Humanities
Iowa and the National Endowment for Humanities; from the Elizabeth Firestone Graham
Foundation, Albuquerque, New Mexico; from American Composers Forum's Continental
Harmony program, Minneapolis, Minnesota; and from the Grinnell College Program on
the Liberal Arts and Vocation, which is funded by a grant from the Lilly Endowment,
Inc., Programs on the Theological Exploration of Vocation. Wrote and edited catalogue.
Layers of Brazilian Art/Camadas da Arte Brasileira (January 31-April 13, 2003).
Work by 24 contemporary Brazilian artists, ranging in age from 30 to 82 and introducing
several artists to the U.S. for the first time. Travelled to Brazil twice to curate exhibition;
coordinated all international shipping; organized visits of 4 artists to Iowa. Wrote and
edited catalogue.
Positional Play – Joe Mancuso and James von Minor (November 1-December 20,
2002). Site-specific, collaborative installation encompassing the entire gallery space.
Wrote and edited catalogue.
Energy Inside (June 1–September 16, 2001). Exhibition of work by 5 young
sculptors, all of whom have work that embodies or expresses energy, force and power.
Co-curated with Daniel Strong, Associate Director, Faulconer Gallery. Wrote for
catalogue.
Patient Process (February 3–April 5, 2001). Exhibition of abstract contemporary
painting, created using elaborate technical processes and requiring patience on the part of
the viewer in understanding and appreciating the finished work. Co-curated with Dr.
Donald Doe. Co-wrote and edited catalogue.
Re-Structure (September 25 – December 11, 1999). Inaugural exhibition for new
art gallery. 42 works by 21 artists, including Sean Scully, Jennifer Bartlett, Stephane
Couturier, Stephen Hendee, Mark Di Suvero, James Turrell, and Fletcher Benton. Wrote
and edited catalogue.
Re-Structuring the Prairie (October 15 – November 20, 1999). Exhibition of new
landscape paintings by midwestern artists. Co-curated with Kay Wilson Jenkins for the
Print & Drawing Study Room.
Curator, Cedar Rapids Museum of Art, Cedar Rapids, IA (1993 to 1999).
 Head of curatorial department. Curated or co-curated an annual exhibition calendar of
approximately 12 shows per year for a regional museum with 60,000 square feet of
space, including 8 permanent collection galleries and 8 temporary exhibition
galleries.
 Curated two to three reinstallations of the permanent collection annually (for a
collection that features 19th and 20th century American art).
 Curated and oversaw five exhibitions in an ongoing series, all of which traveled
nationally, featuring major children's book illustrators.
4






Prepared exhibition budgets, wrote catalogue copy and wall text, designed exhibition
installations.
Oversaw all Museum printing projects, working with several freelance designers.
Worked closely with the director, and offices of development, publicity, and
education.
Wrote and administered grants from the Iowa Humanities Board and Iowa Arts
Council (2-3 per year), and administered the grant from the Lila Wallace Reader's
Digest Fund.
With the director, set guidelines for acquisitions, selected work for purchase, and
made recommendations for acceptance from gifts of art offered to the collection.
Staff liaison to Collections Committee of Board of Trustees.
Handled all rights and reproduction requests and collection photo archives.
Selected Exhibitions Curated
In Shape: Six Sculptors (Dec. 12–Feb. 14, 1999). Co-curator, catalogue published.
Work by six contemporary Midwestern sculptors whose work engages issues of craft and
imbedded personal meaning.
Albuquerque, Santa Fe, Taos: The City Series (Sept. 12–Nov. 29, 1998). Cocurator, catalogue published. 120 works by 42 contemporary artists living in New
Mexico. Second in a series.
The Journey is the Destination: The Journals of Dan Eldon (Mar. 28– May 31,
1998). Toured nationally. Journals, photographs, and reproductions of journal pages by a
remarkable young artist working in Africa, who was cut down by a mob in Somalia.
Down Under & Over Here: Children's Book Illustration from Australia and
America (Mar. 28–May 31, 1998). Exhibition coordinator, catalogue and education
materials published, toured nationally. 54 original works of art by Australian and
American children's book illustrators, spanning the 20th century.
A Sustaining Passion: The Tsagaris/Hilberry Collection (Jan. 17–Mar. 22, 1998).
Co-curator, catalogue published. Selections from a remarkable private collection from
Detroit highlighting work by Cass Corridor and contemporary New York artists.
St. Louis: The City Series (Oct. 24, 1997–Jan. 3, 1998). Co-curator, catalogue
published. First in series spotlighting art from mid-continent urban areas. 92 works by 29
contemporary artists.
Meditations: Four Artists from Fairfield, Iowa (Aug. 8–Oct. 12, 1997). Cocurator, catalogue published. Photography, painting, ceramic sculpture, and installation
pieces by artists living a community centered around the daily communal practice of
Transcendental Meditation.
Words & Images: The Narrative Works of the Pinkneys (Oct. 26, 1996–Jan. 18,
1997). Education materials published, toured nationally. Children's book illustration by
Jerry and Brian Pinkney (father and son) for books written by their wives.
Drawing Out the Land: The Prairie in Eastern Iowa (Jul. 27–Oct. 13, 1996).
Small group exhibition of work by Iowa artists who paint the prairie landscape.
The World of Jan Brett (Nov. 4. 1995–Jan. 21, 1996). Toured nationally. Selected
work by award winning illustrator Jan Brett.
Tony Berlant: Pieces of a Life (Nov. 1, 1995–Jan. 6, 1996). Large metal collage
paintings by California artist Tony Berlant.
5
Tomie Turns 60! New Art for Children by Tomie dePaola (Apr. 1–May 28, 1995).
Toured nationally. Large exhibition surveying recent work by wildly popular children's
book illustrator Tomie dePaola.
Shonto Begay: My Story Rock (Nov. 12–Feb. 18, 1995). Work from three books
illustrated by Navajo artist Shonto Begay.
Mesquakie Artists and Their Influence (Sept. 10–Oct. 30, 1994). Co-curated.
Exhibition of traditional and contemporary art by members of the Mesquakie tribe in
Iowa.
Contemporary Art of the Navajo Nation (Aug. 2–Dec. 31, 1994). Catalogue,
brochures published, toured nationally. Largest exhibition ever assembled of Navajo folk
art. Produced with funding from the Lila Wallace Reader's Digest Fund.
Selected Exhibitions from the Collection
Contexts (opened November 1998). Co-curated. Three galleries of work from the
permanent collection, each one exploring a different theme: contemporary trends, the
figure, and the art world from 1935 to 1940.
Grant Wood and Marvin Cone: Painting a Perfect World (opened June 1998).
Co-curated. Four-gallery presentation of work by two Regionalist painters who worked
side by side for over 30 years.
Turn-of-the-Century Gallery (Apr. 1997-Aug. 1998). Reinstallation of the
Museum's collection of paintings by Impressionist, post-Impressionist, and Regionalist
artists, and sculpture by Malvina Hoffman.
Mauricio Lasansky: the First 30 Years (Sept. 7–Oct. 27, 1996). An exhibition
presenting prints from the first half of Lasansky's career, particularly his years in
Argentina and New York.
African Doorlocks from the Lasansky Collection (Feb. 1–Mar. 3, 1996). First
presentation of the Museum's collection of granary doorlocks from the Dogon and
Bamana peoples of Mali.
Malvina Hoffman and Abraham Walkowitz: The Dancer as Muse (Jan. 28–Apr.
29, 1995). Brochure published. An exhibition featuring turn-of-the-century artists who
took dancers as their inspiration: sculptor Hoffman and Anna Pavlova, painter Walkowitz
and Isadora Duncan.
Other Projects
The Iowa Gallery (1993 to 1999). Curator for an ongoing series of six to eight
annual exhibitions of art by Iowa artists. Selected work, coordinated with artists,
published announcements, designed installations.
Midwest Photographers Series (Sept. 1996 to June 1998). Co-curator for series on
contemporary midwest photography.
Inventory of the collection (Sept. 1995 to Nov. 1996). Oversaw the first ever
comprehensive inventory of the collection, undertaken for the Board of Trustees.
6
TEACHING AND RELATED EXPERIENCE
Lecturer in Art, Grinnell College, Grinnell, IA. Developed Museum Studies: The Art
Museum for the Art Department. Offered 2004, 2005, 2008 (Spring and Fall), 2010,
2011, 2013.
Designed and taught Captured Creatures, an interdisciplinary humanities course
exploring animals and their meanings in contemporary life, and working with students to
curate an exhibition built from the permanent collection (2012-13).
Discussion leader with faculty from Anthropology and Biology for Environmental
Challenges and Responses, Fall 2009.
Internship supervisor, Grinnell College. Designed and co-supervised an undergraduate
museum internship in programming and publicity for the Faulconer Gallery. Offered
every Fall and Spring semester since 2005.
Co-supervisor, Mentored Advanced Project, Grinnell College. With Anthropology
professor, oversaw two students' summer project on researching and exhibiting a
collection of 80 carvings by the Seri people, donated to the College.
Instructor in Art, Coe College, Cedar Rapids, IA. Designed and taught American Art:
Prehistoric to 1865, survey course of American art including folk art, Native American
materials, art of women, architecture, and early photography.
Visiting Assistant Professor, University of Iowa, Iowa City, IA. Team-designed and
taught The Roots of Modernism for the Literature, Science and the Arts program,
focusing on the beginnings of professionalization in the US in the late 19th and early 20th
centuries.
Instructor, San Francisco State University, San Francisco, CA. Taught Women Artists of
American Art, a survey course on American women artists.
Instructor, Stanford University, Stanford, CA. Designed and taught Women Artists of
American Art, a course on American women artists never before offered by the Art
Department or Feminist Studies program.
Research Assistant, "American Art Exhibition Catalogues, 1877-1915," for Professor
William H. Gerdts; Joseph DeCamp (exhibition, catalogue), by Laurene Buckley; and for
Mary Zlot and Associates, Art Consultants, San Francisco and for Spanierman Gallery,
New York, NY.
7
OTHER PUBLICATIONS, SELECTED:
"Iowa View: Without art historians, there would be no Monuments Men." The
Des Moines Register. February 6, 2014.
"Introduction: Pieces of Jane," Jane Gilmor: I'll be back for the cat. Brooklyn, NY:
A.I.R. Gallery, 2012.
"Living and Choosing at Cacela Velha," (essay on an installation by Paula Reaes
Pinto) in Interacções artísticas com o Lugar (Artistic Interactions with the Place).
Summer 2010.
"Robert Erickson: Seana Thir," (2006) http://www.uwsp.edu/art-design/rerickso/
writing_st.html
Made Out of the Ordinary, exhibition catalogue. New York: A.I.R. Gallery,
2007.
"William T. Ranney," catalogue entry in New Britain Museum of American Art:
Highlights of the Collection: Volume II, New Britain, CT: New Britain Museum of
American Art, 2004.
"John Whetten Ehninger," catalogue entry for The Sewell C. Biggs Collection of
American Art—A Catalogue, vol. II, Paintings and Sculpture, Dover, DE: Biggs Museum
of American Art, 2002.
"Introduction," Laura Young: The Intimate Landscape," Sioux City, IA: The
Sioux City Art Center, 2001.
"William Sidney Mount" and "Lilly Martin Spencer," catalogue entries in New
Britain Museum of American Art: Highlights of the Collection: Volume I, New Britain,
CT: New Britain Museum of American Art in association with Prestel Verlag, 1999.
"Iowa Artists 1998," Tractor, Cedar Rapids, Iowa (October 1998).
"Conger Metcalf," The Gazette, Cedar Rapids, Iowa (April 19, 1998).
"Janis Goodman," Art Papers 21:2 (March/April 1997).
"Plain Pictures," Art Papers 21:1 (Jan/Feb 1997) 54.
"Mainly on the Plain: Paying Attention to the Prairie," Tractor (Winter 1997) 37-.
"Bookish and Homeward," Tractor (Fall 1995) 45-46.
PROFESSIONAL PAPERS AND PRESENTATIONS:
"Curating and the Creation of Meaning," at Iowa Humanities Festival, Salisbury
House, Des Moines, IA, March 9, 2013.
"Making Meaning with Objects: A Hands-On Activity," session co-presented
with Laurel Bradley, at Visual Learning: Transforming the Liberal Arts conference,
Carleton College, Minnesota, September 29, 2012.
"The Impact of Outreach In and Beyond the Gallery On Teaching," paper
presented with Tilly Woodward at session "Curating, Collaboration and Curriculum,"
Associated Museums of the Midwest conference, St. Paul, Minnesota, September 29,
2009.
"Finding the Art World: The Local, the Global, and the International," Alumni
College lecture series, Grinnell College, June 2007.
"Collecting, Curating and Controversy," three-lecture series for ACES (Adult
Community Exploration Series), Grinnell, Iowa, Summer 2007.
8
"Synthesizing a Contemporary Midwest," paper presented at "Roundtable:
Regional Art Esthetics in the Missouri Valley," Missouri Valley History Conference,
Omaha, Nebraska, March 2005.
"Roots and Renewal in Midwestern Art," paper presented at session "Sense of
Place/Sense of Self," at Mid-American College Art Association conference, Minneapolis,
Minnesota, October 2004 (session chair and presenter).
"Meeting Expectations: Identifying the Role(s) for a New College Gallery in
Rural Iowa," paper presented at session on "Promises and Pitfalls: The Place of Galleries
and Museums in Academe," College Art Association meeting, Philadelphia,
Pennsylvania, 2002.
"Do You See What I See?" paper presented at session on "Visual Literacy and the
Creation of Publics for Art," American Studies Association conference, Washington,
D.C., 2001
"Bootblacks and the Brady Bunch: American Consensus Narratives," paper
presented at College Art Association meeting, San Francisco, California, 1992.
"The Paragraph Picture: Verbal Discourse in 19th-century American Genre
Painting," paper presented at U.C. Santa Barbara, 1991.
AWARDS AND FELLOWSHIPS
Museum Leadership Institute (MLI), The Getty Leadership Institute, The Getty
Center, 2008
Kress Fellowship, Art Department, Stanford University.
Henry Luce Foundation Fellowship in American Art, Art Department, Stanford
University.
Curatorial Intern, American Paintings Department, M.H. deYoung Memorial
Museum, The Fine Arts Museums of San Francisco.
Stanford Humanities Center Graduate Fellowship, Stanford University.
Oak Leaf Award, Swarthmore College.
SERVICE:
Iowa representative, Association of Academic Museums and Galleries, 2013-present.
Board member, Grinnell Area Arts Council, 2002-2008, 2012-present; Vice-President
2004-05, 2012-13; President 2005-2007, 2013-present.
Member, Art in State Buildings Committee—University of Iowa Hospitals and Clinics,
2004-present.
Member, Grinnell Tourism Committee, 2004-present, Vice-Chair 2010-2012. Chair
2012-present.
Juror, 43rd Annual Juried Student Exhibition, Anderson Gallery, Drake University, Des
Moines, Iowa March 2014.
Peer Review for exhibition Magpie Tendencies, Jennifer Angus, curated by Professors
Maura Lyons and Angela Battle, Anderson Gallery, Drake University, January 2013.
Chair, Beverage Garden Committee, RAGBRAI 2011.
Board member, Grinnell Chamber of Commerce, 2010-2012.
Member Executive and Destination Marketing committees.
9
Advocacy Committee, Iowa Museum Association, 2009-present. Co-chair 2011-2012.
Member, Endowment Campaign Leadership Committee, Grinnell Area Arts Council,
2010-present.
Curator, Made Out of the Ordinary, exhibition of work by the 20 national members of
A.I.R. Gallery, New York City. January 10-February 3, 2007. Selected work, designed
installation, wrote catalogue essay, gave gallery talk.
Chair, Grinnell Great Places committee, 2005, 2006.
Juror, Missouri 50, Missouri State Fair, Sedalia, Missouri, August 2005.
Juror, Iowa Exhibited 20, Polk County Heritage Gallery, Des Moines, Iowa, June 2005.
Coordinator, Alumni Council Scholarship fund, Swarthmore College, 2004-06.
Mid-Size Operating Support Grant Panel member, Iowa Arts Council, March 2002.
Juror, Annual Student Art exhibition, Drake University, Des Moines, Iowa, May 2002.
Program Committee, Director's Forum, American Federation of Arts, 2000.
Alumni Council, Swarthmore College, elected 1998-2001 term.
Grinnell College service
Member, Wall Alumni Service Award selection committee, 2014-2017.
Strategic Planning Steering Committee, 2011-2012; co-chair, Post-Graduation Success
working group.
Environmental Response and Sustainability Advisory Committee, 2011-2014
Reunion Planning Committee, 2011
Center for Prairie Studies, Advisory Board member, 2010-11
Academic Resource Centers (ARC) Committee, member, 2009-present
Humanities Center, Advisory Board member, 2008-2011
Ecocampus Committee, 2006-2008, chair 2007-2008
Member, American Association of Museums.
Member, College Art Association.