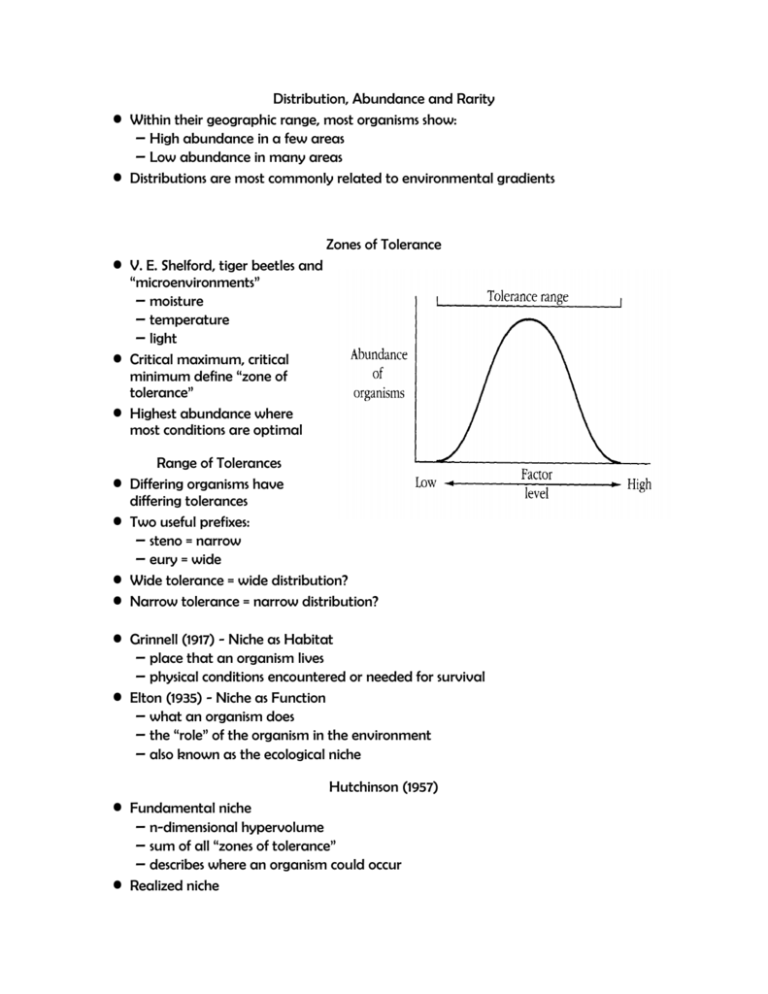 •
•
Distribution, Abundance and Rarity
Within their geographic range, most organisms show:
– High abundance in a few areas
– Low abundance in many areas
Distributions are most commonly related to environmental gradients
Zones of Tolerance
•
•
•
•
•
•
•
•
•
V. E. Shelford, tiger beetles and
"microenvironments"
– moisture
– temperature
– light
Critical maximum, critical
minimum define "zone of
tolerance"
Highest abundance where
most conditions are optimal
Range of Tolerances
Differing organisms have
differing tolerances
Two useful prefixes:
– steno = narrow
– eury = wide
Wide tolerance = wide distribution?
Narrow tolerance = narrow distribution?
Grinnell (1917) - Niche as Habitat
– place that an organism lives
– physical conditions encountered or needed for survival
Elton (1935) - Niche as Function
– what an organism does
– the "role" of the organism in the environment
– also known as the ecological niche
Hutchinson (1957)
•
•
Fundamental niche
– n-dimensional hypervolume
– sum of all "zones of tolerance"
– describes where an organism could occur
Realized niche
– subset of fundamental niche
– the space actually occupied by the organism
– fundamental niche reduced by environmental limitations
•
•
•
•
•
•
Metapopulations
Populations are not always directly connected
Since habitat is patchy, populations may also be patchy
Dispersal between separated populations influences population persistence
Commonness, Rarity, and Extinction Vulnerability
Three attributes:
– Geographic range (large to small)
– Habitat tolerance (broad to narrow)
– Population size (large to small)
Given these attributes, which combinations would lead to rare species?
How would this affect extinction risk?