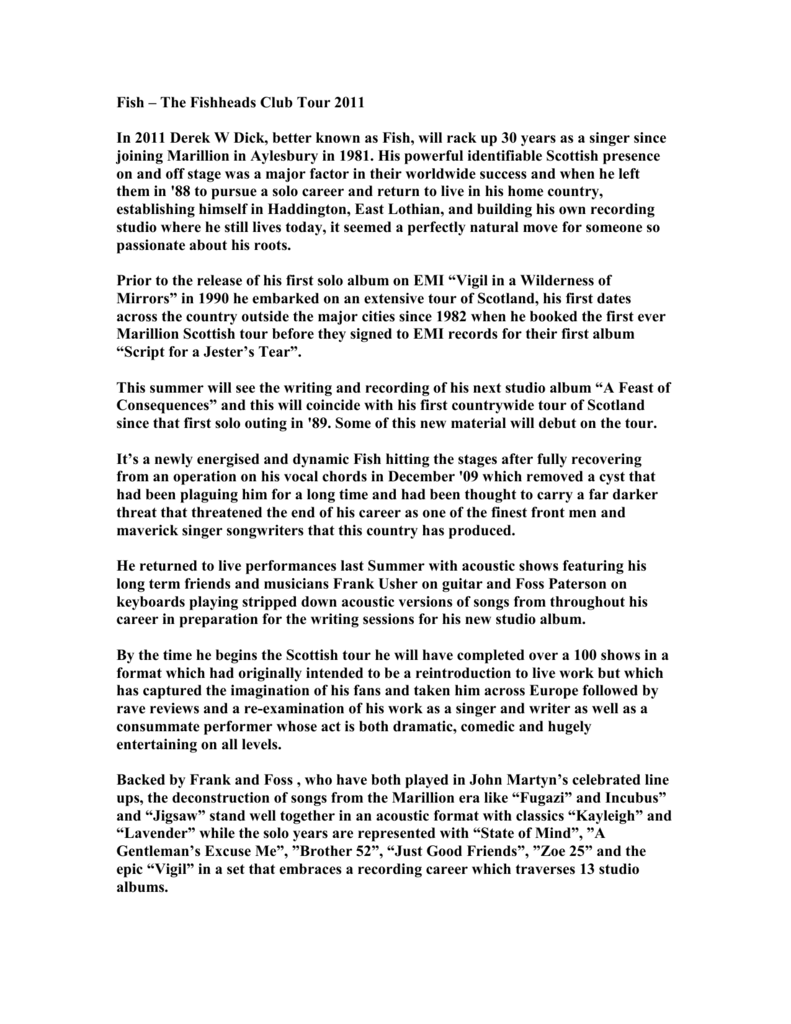 Fish – The Fishheads Club Tour 2011
In 2011 Derek W Dick, better known as Fish, will rack up 30 years as a singer since
joining Marillion in Aylesbury in 1981. His powerful identifiable Scottish presence
on and off stage was a major factor in their worldwide success and when he left
them in '88 to pursue a solo career and return to live in his home country,
establishing himself in Haddington, East Lothian, and building his own recording
studio where he still lives today, it seemed a perfectly natural move for someone so
passionate about his roots.
Prior to the release of his first solo album on EMI "Vigil in a Wilderness of
Mirrors" in 1990 he embarked on an extensive tour of Scotland, his first dates
across the country outside the major cities since 1982 when he booked the first ever
Marillion Scottish tour before they signed to EMI records for their first album
"Script for a Jester's Tear".
This summer will see the writing and recording of his next studio album "A Feast of
Consequences" and this will coincide with his first countrywide tour of Scotland
since that first solo outing in '89. Some of this new material will debut on the tour.
It's a newly energised and dynamic Fish hitting the stages after fully recovering
from an operation on his vocal chords in December '09 which removed a cyst that
had been plaguing him for a long time and had been thought to carry a far darker
threat that threatened the end of his career as one of the finest front men and
maverick singer songwriters that this country has produced.
He returned to live performances last Summer with acoustic shows featuring his
long term friends and musicians Frank Usher on guitar and Foss Paterson on
keyboards playing stripped down acoustic versions of songs from throughout his
career in preparation for the writing sessions for his new studio album.
By the time he begins the Scottish tour he will have completed over a 100 shows in a
format which had originally intended to be a reintroduction to live work but which
has captured the imagination of his fans and taken him across Europe followed by
rave reviews and a re-examination of his work as a singer and writer as well as a
consummate performer whose act is both dramatic, comedic and hugely
entertaining on all levels.
Backed by Frank and Foss , who have both played in John Martyn's celebrated line
ups, the deconstruction of songs from the Marillion era like "Fugazi" and Incubus"
and "Jigsaw" stand well together in an acoustic format with classics "Kayleigh" and
"Lavender" while the solo years are represented with "State of Mind", "A
Gentleman's Excuse Me", "Brother 52", "Just Good Friends", "Zoe 25" and the
epic "Vigil" in a set that embraces a recording career which traverses 13 studio
albums.
The acoustic versions take on a new majesty and intimacy, shining a new light on his
songwriting talents and, together with Fish's stories and anecdotes, come together to
make a fascinating and rewarding evening of entertainment that shouldn't be
missed.
More information can be found on his web site http://www.the-company.com and on
his Facebook page Fish (Musician/Band) where you can find his updates and posts
from his touring activities.