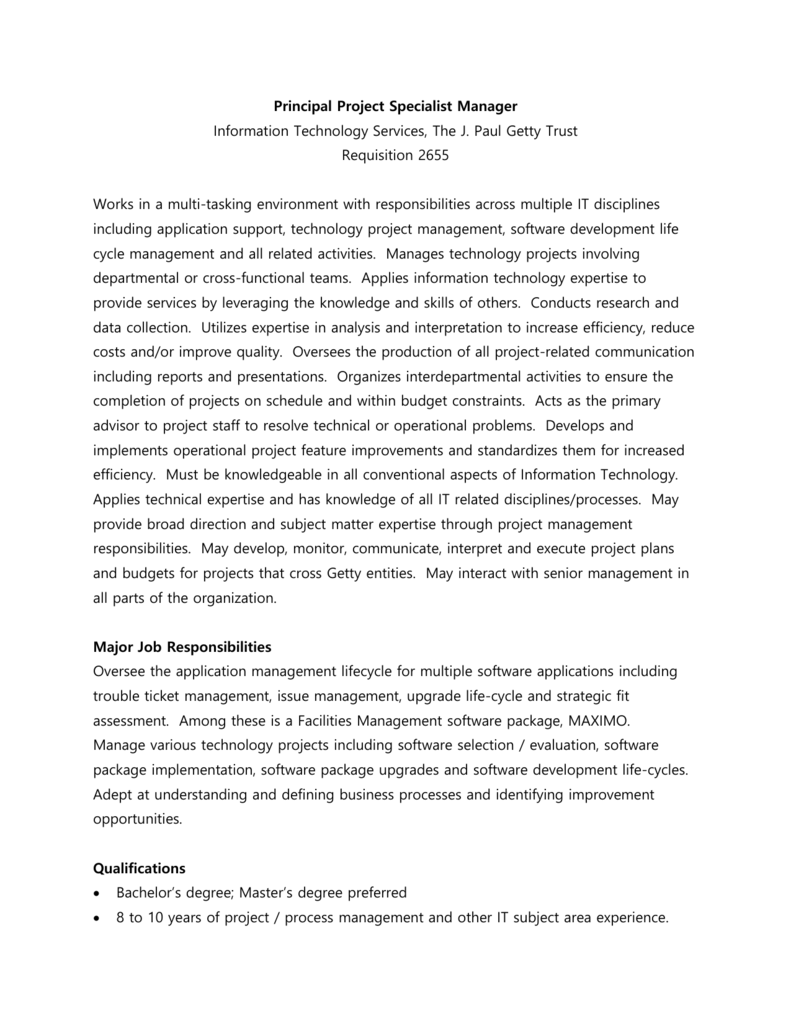 Principal Project Specialist Manager
Information Technology Services, The J. Paul Getty Trust
Requisition 2655
Works in a multi-tasking environment with responsibilities across multiple IT disciplines
including application support, technology project management, software development life
cycle management and all related activities. Manages technology projects involving
departmental or cross-functional teams. Applies information technology expertise to
provide services by leveraging the knowledge and skills of others. Conducts research and
data collection. Utilizes expertise in analysis and interpretation to increase efficiency, reduce
costs and/or improve quality. Oversees the production of all project-related communication
including reports and presentations. Organizes interdepartmental activities to ensure the
completion of projects on schedule and within budget constraints. Acts as the primary
advisor to project staff to resolve technical or operational problems. Develops and
implements operational project feature improvements and standardizes them for increased
efficiency. Must be knowledgeable in all conventional aspects of Information Technology.
Applies technical expertise and has knowledge of all IT related disciplines/processes. May
provide broad direction and subject matter expertise through project management
responsibilities. May develop, monitor, communicate, interpret and execute project plans
and budgets for projects that cross Getty entities. May interact with senior management in
all parts of the organization.
Major Job Responsibilities
Oversee the application management lifecycle for multiple software applications including
trouble ticket management, issue management, upgrade life-cycle and strategic fit
assessment. Among these is a Facilities Management software package, MAXIMO.
Manage various technology projects including software selection / evaluation, software
package implementation, software package upgrades and software development life-cycles.
Adept at understanding and defining business processes and identifying improvement
opportunities.
Qualifications

Bachelor's degree; Master's degree preferred

8 to 10 years of project / process management and other IT subject area experience.
Technical Experience

Strong knowledge and understanding of IT processes

Excellent writing and verbal skills.

Strong analytical skills with the ability to thoroughly assess issues from all perspectives –
technical, financial and organizational.

Adept with MS Project, MS Word, MS Excel, PowerPoint.

Experience managing Facilities Management software solutions. Experience with Maximo
software application a big plus.
To apply:
Please email cover letter, resume, and salary history to [email protected] indicating
"PPSpec/PMgr ITS 2655" in the subject line. EOE.