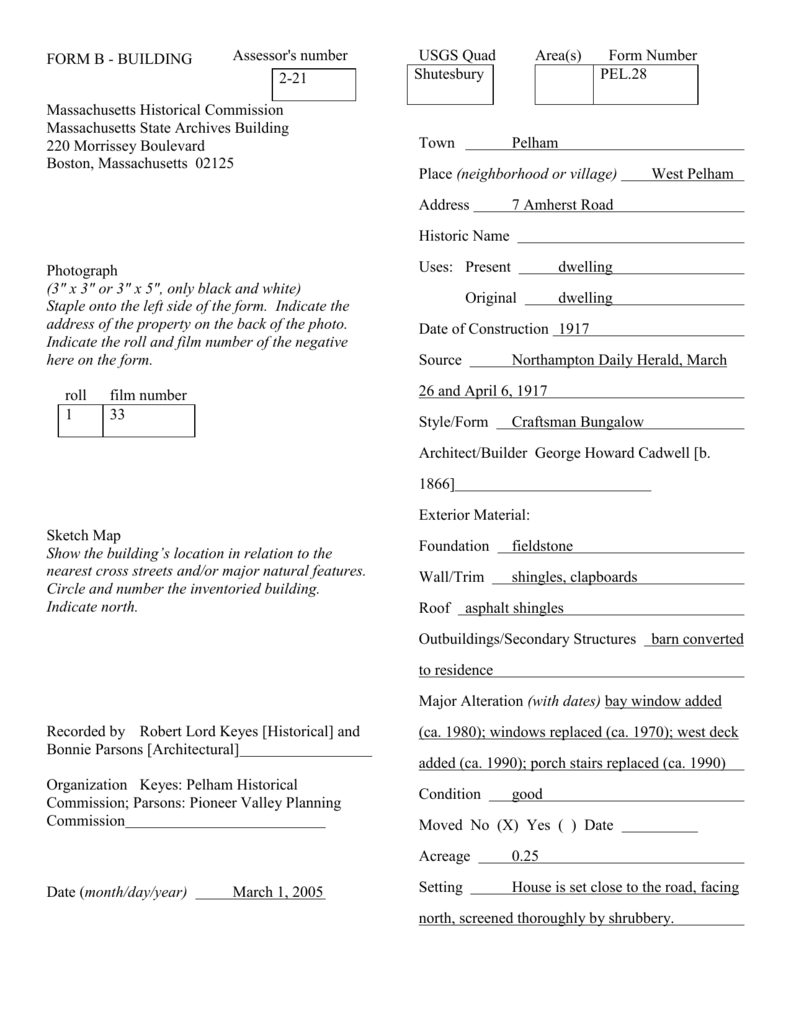 FORM B - BUILDING
Assessor's number
2-21
Massachusetts Historical Commission
Massachusetts State Archives Building
220 Morrissey Boulevard
Boston, Massachusetts 02125
USGS Quad
Shutesbury
Town
Area(s)
Form Number
PEL.28
Pelham
Place (neighborhood or village)
Address
West Pelham
7 Amherst Road
Historic Name
Photograph
(3" x 3" or 3" x 5", only black and white)
Staple onto the left side of the form. Indicate the
address of the property on the back of the photo.
Indicate the roll and film number of the negative
here on the form.
roll
1
Uses: Present
dwelling
Original
dwelling
Date of Construction 1917
Source
Northampton Daily Herald, March
26 and April 6, 1917
film number
33
Style/Form
Craftsman Bungalow
Architect/Builder George Howard Cadwell [b.
1866]
Exterior Material:
Sketch Map
Show the building's location in relation to the
nearest cross streets and/or major natural features.
Circle and number the inventoried building.
Indicate north.
Foundation
fieldstone
Wall/Trim
shingles, clapboards
Roof asphalt shingles
Outbuildings/Secondary Structures barn converted
to residence
Major Alteration (with dates) bay window added
Recorded by Robert Lord Keyes [Historical] and
Bonnie Parsons [Architectural]
Organization Keyes: Pelham Historical
Commission; Parsons: Pioneer Valley Planning
Commission
Date (month/day/year)
March 1, 2005
(ca. 1980); windows replaced (ca. 1970); west deck
added (ca. 1990); porch stairs replaced (ca. 1990)
Condition
good
Moved No (X) Yes ( ) Date
Acreage
0.25
Setting
House is set close to the road, facing
north, screened thoroughly by shrubbery.
BUILDING FORM
ARCHITECTURAL DESCRIPTION  see continuation sheet
Describe architectural features. Evaluate the characteristics of this building in terms of
other buildings within the community.
This house is almost identical to its neighbor at 5 Amherst Road and is one of a number
of similar and contemporary bungalows in this stretch of the road between Amherst and
Pelham Center. It is representative of the bungalow house form in the second decade of
the 20th century and has few alterations. The house is one-and-a-half stories in height
under a side-gable roof. It is a dormer front bungalow with a broad, shed roof dormer
centered on its north side. At the eaves of the dormer the rafters are exposed in typical
Craftsman style. The house is three bays wide with a set of paired windows flanking
each side of the center entry. The entry is sheltered by a deep bungalow porch whose
roof is once again ornamented with exposed rafters and is supported by battered posts on
paneled bases, very similar to those posts on the house at 5 Amherst Road. There is a
through-roof, exterior chimney on the east side of the house, which also has a secondary
entry beneath a shed roof porch. The house is three bays deep and each gable end is
ornamented with a barge board and exposed purlins.
HISTORICAL NARRATIVE  see continuation sheet
Discuss the history of the building. Explain its associations with local (or state) history.
Include uses of the building, and the role(s) the owners/occupants played within the
community.
7 Amherst Road was originally part of Lot 58-3 [58th lot in the third division] drawn by
James Thornton, Sr. [ca. 1684-1754] in 1739. Thornton was one of the founders of
Pelham. He was one of two agents for the proprietary company which purchased the land
from speculator Col. John Stoddard [1682-1748] that eventually became the town of
Pelham. Thornton's son, Dr. Matthew Thornton [1714-1803] lived in Pelham for a time
and was signer of the Declaration of Independence in 1776 from New Hampshire.
Montague City Fish Rod Factory and West Pelham land owner Eugene P. Bartlett [18531925] sold the lot which became 7 Amherst Road to George Howard Cadwell [b. 1866]
on August 24, 1916. Cadwell was an Amherst resident when he moved to 51 Amherst
Road in Pelham in 1908 and where "he operated a large farm…specializing in poultry
and livestock…During the period of his residence in Pelham he purchased a farm
property [51 Amherst Road] on the main highway, and divided the tract into house lots,
on which he built houses, selling them and thus adding to the growth of the population
and the real value of the town. He also built [actually, sold the land to] the Pelham school
house [City School II] . He was elected a member of the Board of Selectmen and
occupied the office of chairman of the board for a long term of years." ["History of
Western Massachusetts," III: 50]
George H. Cadwell developed properties on Amherst Road and Cadwell Street. Cadwell
Street was named for him. [Cadwell Forest in Pelham was named for his brother, timber
baron Frank Arthur Cadwell (1860-1935), while Cadwell Creek was named for their
father, Aretas James Cadwell (1828-1876).]
Follow Massachusetts Historical Commission Survey Manual instructions for completing this form.
Two properties not contiguous with 51 Amherst Road but developed by George H.
Cadwell were 5 and 7 Amherst Road. 5 and 7 Amherst Road were both very similar
houses, while 5 Amherst Road is identical with another Cadwell house, 49 Amherst
Road, built in 1916.
The Northampton Daily Herald of March 26, 1917 reports: "George Cadwell has sold the
house which he has just completed on the Amherst road in West Pelham to William C.
Atwater of Atwater & Dow, brick manufacturers in South Amherst." The Herald of April
6, 1917 says: "William C. Atwater has moved from North Prospect street [Amherst] to
the house in West Pelham which he recently bought of George Cadwell.
William C. Atwater [b. ca. 1878] and Christina B. Atwater [b. ca. 1879] owned 7
Amherst Road from 1917 until 1921. In 1918 they added a garage to the property. In
1920 the Atwaters had two children, ages 5 and 16, and a boarder, a local teacher, living
with them.
In 1922, the Atwaters moved to New Haven and sold 7 Amherst Road to John G.
Archibald and Cora B. Archibald. The Archibalds owned the property for only a short
time, until 1923.
Harold Joseph Moakler [1892-1971] and Persis Marie Aldrich Moakler [b. 1898] owned
7 Amherst Road in 1924. Harold was a clerk in the Amherst Post Office and eventually
its postmaster. Persis Moakler was granddaughter of Eugene P. Bartlett. They had one
child, Lota Marie Moakler [b. 1924], born while they were living at 7 Amherst Road.
Harold Moakler was on the Pelham baseball team in the 1920s.
The Moaklers owned 7 Amherst Road until 1927 when they sold it to Amy Louise Pratt
Stone [1889-1947], wife of George Robert Stone [1889-1955]. The Stones had three
children, including Malcolm Sherwood Stone [1928-1999], who was born while they
were living at 7 Amherst Road. George Stone was a rodmaker and a carpenter. His son,
Sidney P. Stone [b. 1917], recalled that George did "a little of everything." The Stones
apparently moved to North Belchertown by 1939 and rented the property. Kenneth R.
Aldrich [b. 1932] recalled that the Greanier family rented it from Mrs. Stone.
Grace Schmidt and Edward L. Schmidt purchased 7 Amherst Road from Mrs. Stone in
1946 and lived there until 1948. Rev. M. Paul S. Huntington and Marie L. Huntington
owned 7 Amherst Road from 1949 until 1956.
Amherst College professor and Admissions officer Courtland Van Halsey [b. ca. 1926]
and Jessica P. Halsey [ca. 1927-1981] owned 7 Amherst Road from 1957 until 1960. In
1959, the Halseys built a new house at 22 Harkness Road. They sold Amherst Road to
Amherst realtor Everett L. Roberts [1911-2002], who rented the property until at least
1964.
The 1966 Tax Valuations list Frank A. Jacoby [b. ca. 1928] and Hannah B. Jacoby [b. ca.
1938] as owning 7 Amherst Road, a .25 acre lot with house and garage. Frank was a
professor and naturalized American citizen. Hannah was German. The Jacobys were last
listed as residents of 7 Amherst Road in 1973. In 1973 the house appeared to have been
rented.
Follow Massachusetts Historical Commission Survey Manual instructions for completing this form.
Frank R. Llamas [b. 1939], an administrator, and Barbara Llamas [b. 1943], a teacher's
aide, were owners in 1974. From 1990 to 2003, two children of Frank and Barbara
Llamas—Joseph Llamas [b. 1962] and Robert Llamas [b. 1962]—and others, were living
at 7 Amherst Road. In 2004 the title of the property was transferred to Frank Llamas
(solely) and he was listed as being the only resident.
BIBLIOGRAPHY and/or REFERENCES
 see continuation sheet
Hampshire County Deeds 725-492 [1916]; 729-396 [1917]; 729-479 [1917]; 768-208
[1921]; 1475-355 [1965]; 3797-32 [2004]. Hampshire County Plan Book 77-83 [1971].
Pelham Tax Valuations, Annual Reports, and Street Lists, [Town Vault, Town of Pelham;
and History Room, Pelham Free Public Library].
Pelham Vital Records, [Town Clerk's Office, Town of Pelham].
Federal Census, 1920, 1930.
Board of Assessors, Town of Pelham, Revaluation Card, 7 Amherst Road, 1982.
Parmenter, C[harles] O[scar], "History of Pelham," [Amherst, MA: Carpenter and
Morehouse, 1898], pp. 24, 25, 30, 31.
Lockwood, Rev. John, Ed., "Western Massachusetts: A History, 1636-1925," [New
York: Lewis Historical Publishing Co., 1925], Vol. 3, pp. 49-50.
Aldrich, Walter Scott, Jr. and Sidney P. Stone, in "An Evening at Campbell's Bakery,"
[Pelham Historical Society Meeting, May 18, 1998], [Video in History Room, Pelham
Free Public Library].
Keyes, Pearly P., Jr., Personal Recollections, May 19, 2004, to Robert Lord Keyes.
Northampton Daily Herald, March 26 and April 7, 1917.
Keyes, Robert Lord, 40 South Valley Road, Pelham, MA 01002, Pelham, Massachusetts
History Project: Genealogical and Historical Research.
Recommended for listing in the National Register of Historic Places. If checked, you
must attach a completed National Register Criteria Statement form.
Follow Massachusetts Historical Commission Survey Manual instructions for completing this form.
Massachusetts Historical Commission
Address
State Archives Facility
220 Morrissey Boulevard
Boston, Massachusetts 02125
Community
Pelham
Property
7 Amherst Road
Area(s) Form No.
PEL.28
National Register of Historic Places Criteria Statement Form
Check all that apply:
Individually eligible
Eligible only in an historic district
Contributing to a potential historic district
Potential historic district
Criteria:
A
Criteria Considerations:
B
C
A
D
B
C
D
E
F
G
Statement of Significance by _Bonnie Parsons________________________________
The criteria that are checked in the above sections must be justified here.
This property contributes to the potential West Pelham Historic District. The district is
significant according to criteria A and C and it has local significance. West Pelham is
significant as the site of 18th century settlement at four mill sites, one of which exists
today, and for its association with events of Shays' Rebellion after the Revolutionary
War.
West Pelham, known during the late 19th and early 20th century as "Pelham City"
represents a 19th century agricultural and light industrial village that superceded Pelham
Center as the town center due to the long term success of its industry attracting and
sustaining workers and to its development in the early 20th century as a suburban area for
population spillover from Amherst, long a college town and intellectual center of the
region. A late 19th century resort destination, West Pelham is also important as it retains
a building from this era, and from the resort Orient Springs.
The district retains buildings from its 19th century agricultural, resort and industrial past
as well as from its early 20th century suburban phase, which continues to the present.
There are fine examples of Federal and Greek Revival farmsteads. With a Queen Anne
store and single and double houses from the Colonial Revival and Craftsman styles applied to bungalow, cape and Four-square forms - the district's stylistic range as a home
to workers and suburban commuters is exemplary.
Follow Massachusetts Historical Commission Survey Manual instructions for completing this form.