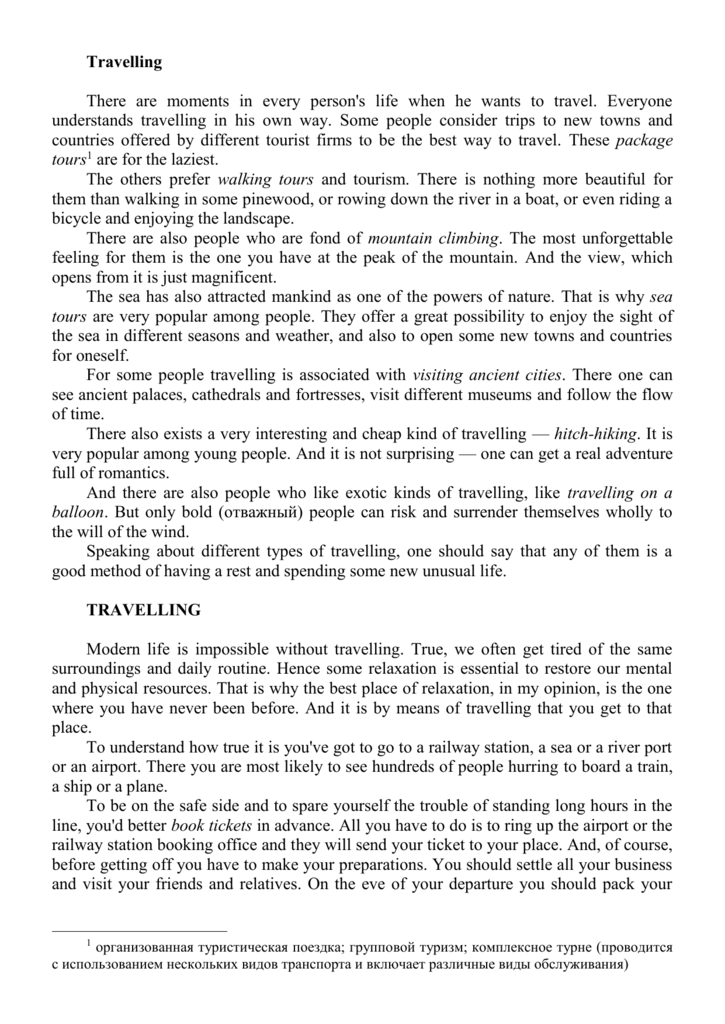 Travelling
There are moments in every person's life when he wants to travel. Everyone
understands travelling in his own way. Some people consider trips to new towns and
countries offered by different tourist firms to be the best way to travel. These package
tours1 are for the laziest.
The others prefer walking tours and tourism. There is nothing more beautiful for
them than walking in some pinewood, or rowing down the river in a boat, or even riding a
bicycle and enjoying the landscape.
There are also people who are fond of mountain climbing. The most unforgettable
feeling for them is the one you have at the peak of the mountain. And the view, which
opens from it is just magnificent.
The sea has also attracted mankind as one of the powers of nature. That is why sea
tours are very popular among people. They offer a great possibility to enjoy the sight of
the sea in different seasons and weather, and also to open some new towns and countries
for oneself.
For some people travelling is associated with visiting ancient cities. There one can
see ancient palaces, cathedrals and fortresses, visit different museums and follow the flow
of time.
There also exists a very interesting and cheap kind of travelling — hitch-hiking. It is
very popular among young people. And it is not surprising — one can get a real adventure
full of romantics.
And there are also people who like exotic kinds of travelling, like travelling on a
balloon. But only bold (отважный) people can risk and surrender themselves wholly to
the will of the wind.
Speaking about different types of travelling, one should say that any of them is a
good method of having a rest and spending some new unusual life.
TRAVELLING
Modern life is impossible without travelling. True, we often get tired of the same
surroundings and daily routine. Hence some relaxation is essential to restore our mental
and physical resources. That is why the best place of relaxation, in my opinion, is the one
where you have never been before. And it is by means of travelling that you get to that
place.
To understand how true it is you've got to go to a railway station, a sea or a river port
or an airport. There you are most likely to see hundreds of people hurring to board a train,
a ship or a plane.
To be on the safe side and to spare yourself the trouble of standing long hours in the
line, you'd better book tickets in advance. All you have to do is to ring up the airport or the
railway station booking office and they will send your ticket to your place. And, of course,
before getting off you have to make your preparations. You should settle all your business
and visit your friends and relatives. On the eve of your departure you should pack your
организованная туристическая поездка; групповой туризм; комплексное турне (проводится
с использованием нескольких видов транспорта и включает различные виды обслуживания)
1
things in a suitcase. When the day of your departure comes you call a taxi and go to the
airport or the railway station.
For some time you stay in the waiting-room. If you are hungry you take some
refreshments. In some time the loud speaker announces that the train or the plain is in and
the passengers are invited to take their seats. If you travel by train you find your carriage,
enter the corridor and find your berth (койка). It may be a lower berth, which is more
convenient or an upper one. You put your suitcase into a special box under the lower seat.
Then you arrange your smaller packages on the racks (вешалки). In some time the train
starts off. Travelling by train is slower than by plane, but it has its advantages. You can see
the country you are travelling through and enjoy the beautiful nature. It may be an express
train or a passenger one. There is no doubt it's much more convenient to travel by an
express train, because it does not stop at small stations and it takes you less time to get to
your destination.
But if you are in a hurry and want to save your time you'd better travel by plane,
because it is the fastest way of travelling. After the procedure of registration you board the
plane at last. You sit down in comfortable armchair and in a few minutes you are already
above the clouds. The land can be seen below between the clouds and it looks like a
geographical map. After the plane gained its regular height the stewardess brings in some
mineral water. You can sit and read a book or a magazine, look through the window to
watch the passing clouds change their colour from white to black.
Some people prefer to travel by ship when possible. A sea voyage is very enjoyable,
indeed. But to my mind the best way of travelling is by car. The advantages of this way of
spending your holiday are that you don't have to buy a ticket, you can stop wherever you
wish, where there is something interesting to see. And for this reason travelling by car is
popular for pleasure trips while people usually take a train or a plane when they are
travelling on business.
When you get tired of relaxation, you become home-sick and feel like returning
home. You realize that "East or West — home is best", as the saying goes.