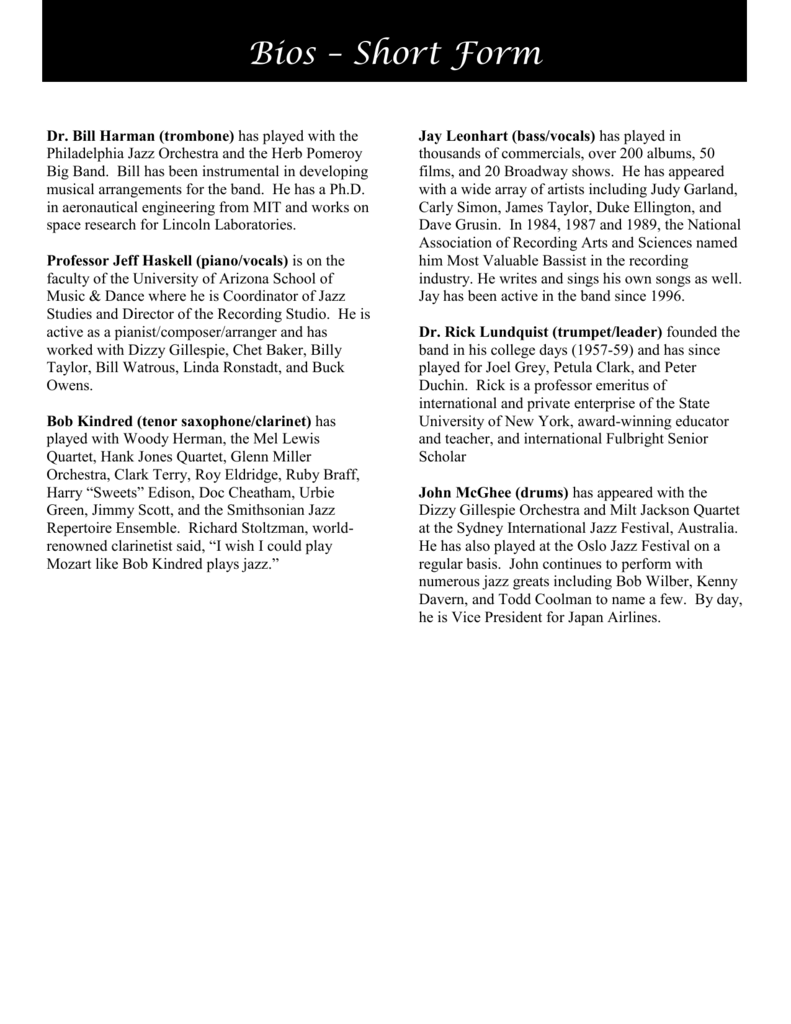 Bios – Short Form
Dr. Bill Harman (trombone) has played with the
Philadelphia Jazz Orchestra and the Herb Pomeroy
Big Band. Bill has been instrumental in developing
musical arrangements for the band. He has a Ph.D.
in aeronautical engineering from MIT and works on
space research for Lincoln Laboratories.
Professor Jeff Haskell (piano/vocals) is on the
faculty of the University of Arizona School of
Music & Dance where he is Coordinator of Jazz
Studies and Director of the Recording Studio. He is
active as a pianist/composer/arranger and has
worked with Dizzy Gillespie, Chet Baker, Billy
Taylor, Bill Watrous, Linda Ronstadt, and Buck
Owens.
Bob Kindred (tenor saxophone/clarinet) has
played with Woody Herman, the Mel Lewis
Quartet, Hank Jones Quartet, Glenn Miller
Orchestra, Clark Terry, Roy Eldridge, Ruby Braff,
Harry "Sweets" Edison, Doc Cheatham, Urbie
Green, Jimmy Scott, and the Smithsonian Jazz
Repertoire Ensemble. Richard Stoltzman, worldrenowned clarinetist said, "I wish I could play
Mozart like Bob Kindred plays jazz."
Jay Leonhart (bass/vocals) has played in
thousands of commercials, over 200 albums, 50
films, and 20 Broadway shows. He has appeared
with a wide array of artists including Judy Garland,
Carly Simon, James Taylor, Duke Ellington, and
Dave Grusin. In 1984, 1987 and 1989, the National
Association of Recording Arts and Sciences named
him Most Valuable Bassist in the recording
industry. He writes and sings his own songs as well.
Jay has been active in the band since 1996.
Dr. Rick Lundquist (trumpet/leader) founded the
band in his college days (1957-59) and has since
played for Joel Grey, Petula Clark, and Peter
Duchin. Rick is a professor emeritus of
international and private enterprise of the State
University of New York, award-winning educator
and teacher, and international Fulbright Senior
Scholar
John McGhee (drums) has appeared with the
Dizzy Gillespie Orchestra and Milt Jackson Quartet
at the Sydney International Jazz Festival, Australia.
He has also played at the Oslo Jazz Festival on a
regular basis. John continues to perform with
numerous jazz greats including Bob Wilber, Kenny
Davern, and Todd Coolman to name a few. By day,
he is Vice President for Japan Airlines.