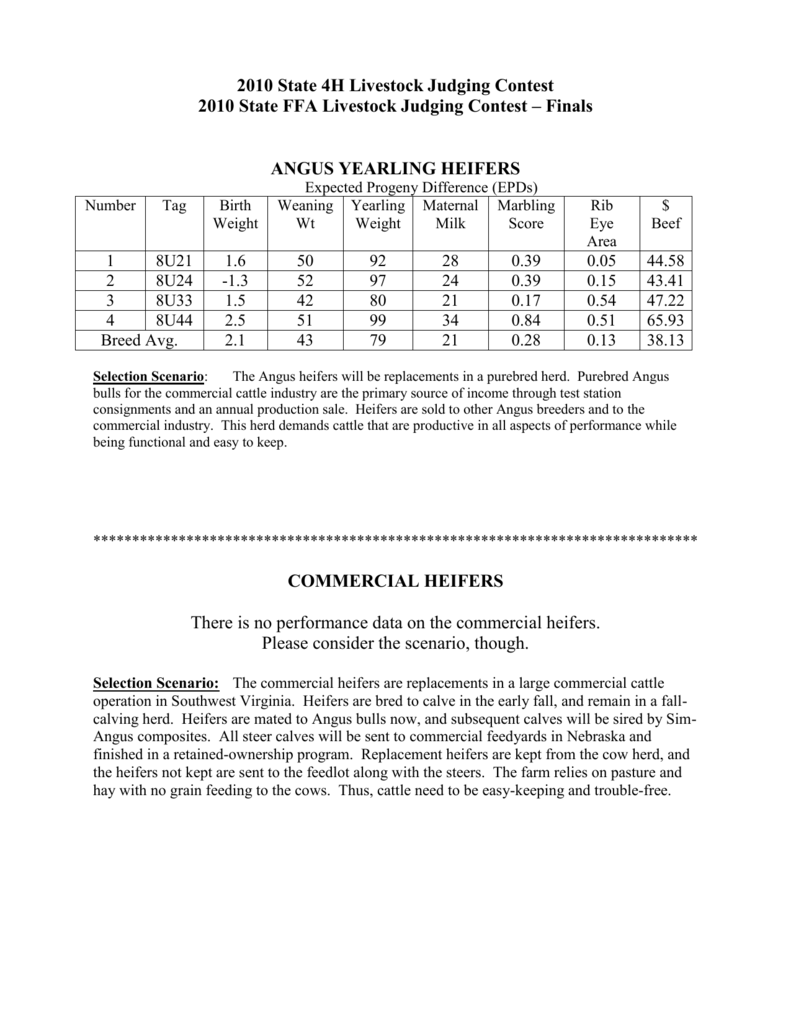 2010 State 4H Livestock Judging Contest
2010 State FFA Livestock Judging Contest – Finals
ANGUS YEARLING HEIFERS
Number
Tag
Birth
Weight
1
8U21
2
8U24
3
8U33
4
8U44
Breed Avg.
1.6
-1.3
1.5
2.5
2.1
Expected Progeny Difference (EPDs)
Weaning Yearling Maternal Marbling
Wt
Weight
Milk
Score
50
52
42
51
43
92
97
80
99
79
28
24
21
34
21
0.39
0.39
0.17
0.84
0.28
Rib
Eye
Area
$
Beef
0.05
0.15
0.54
0.51
0.13
44.58
43.41
47.22
65.93
38.13
Selection Scenario:
The Angus heifers will be replacements in a purebred herd. Purebred Angus
bulls for the commercial cattle industry are the primary source of income through test station
consignments and an annual production sale. Heifers are sold to other Angus breeders and to the
commercial industry. This herd demands cattle that are productive in all aspects of performance while
being functional and easy to keep.
******************************************************************************
COMMERCIAL HEIFERS
There is no performance data on the commercial heifers.
Please consider the scenario, though.
Selection Scenario: The commercial heifers are replacements in a large commercial cattle
operation in Southwest Virginia. Heifers are bred to calve in the early fall, and remain in a fallcalving herd. Heifers are mated to Angus bulls now, and subsequent calves will be sired by SimAngus composites. All steer calves will be sent to commercial feedyards in Nebraska and
finished in a retained-ownership program. Replacement heifers are kept from the cow herd, and
the heifers not kept are sent to the feedlot along with the steers. The farm relies on pasture and
hay with no grain feeding to the cows. Thus, cattle need to be easy-keeping and trouble-free.
2010 State 4H Livestock Judging Contest
2010 State FFA Livestock Judging Contest - Finals
CROSSBRED GILTS
Number
1
2
3
4
Notch
Number
45-5
46-7
52-4
52-9
Litter
Size
10
9
12
12
21-Day
Litter Wt.
122
103
142
142
Days to
260 Pounds
206
239
166
229
Adjusted
Backfat
0.72
0.88
0.59
0.55
Dam's SPIBV
101
94
116
116
Selection Scenario:
These gilts are born in the fall of 2009. Rank the gilts as replacements in a
commercial farrow-to-finish operation. They will be mated to Hamp x York composite boars to produce
market hogs that will be sold to a commercial packer. The top-end gilts will be kept as replacements. All
barrows and gilts not kept will be sold as finished market hogs on a carcass basis with payment based on
Fat Free Lean Index. All pigs will be raised in total confinement. The producer profits most from having
large litters of fast-growing, lean, heavy-muscled hogs from sows that are functional, trouble-free, and
long-lived.
SUFFOLK YEARLING EWES
Across Flock EPDs
No.
1
2
3
4
Codon
171
Genotype
K220
QR
K243
RR
K258
RR
K263
RR
Flock Average
Tag
Wean.
Wt.
+0.8
+2.2
+1.7
+0.2
+0.5
120-d
Wt.
+2.1
+3.7
+2.8
+0.3
+0.9
Maternal
Milk
+0.1
-0.1
0.0
+0.1
+0.1
% Lamb
Crop
-1.8
+3.3
+2.2
+2.4
+2.1
Type of
Birth Rearing
S-S
Tw - Tw
Tr - Tr
Tw - Tw
These registered yearling ewes were all born in February, 2009. They are being retained in a
performance-oriented Suffolk flock which sells rams to commercial producers. Many of these
commercial flocks use Suffolk rams as terminal sires on Katahdin ewes. The commercial buyers
place a high demand on rams which will generate fast-growing, heavy-muscled lambs for their
market.