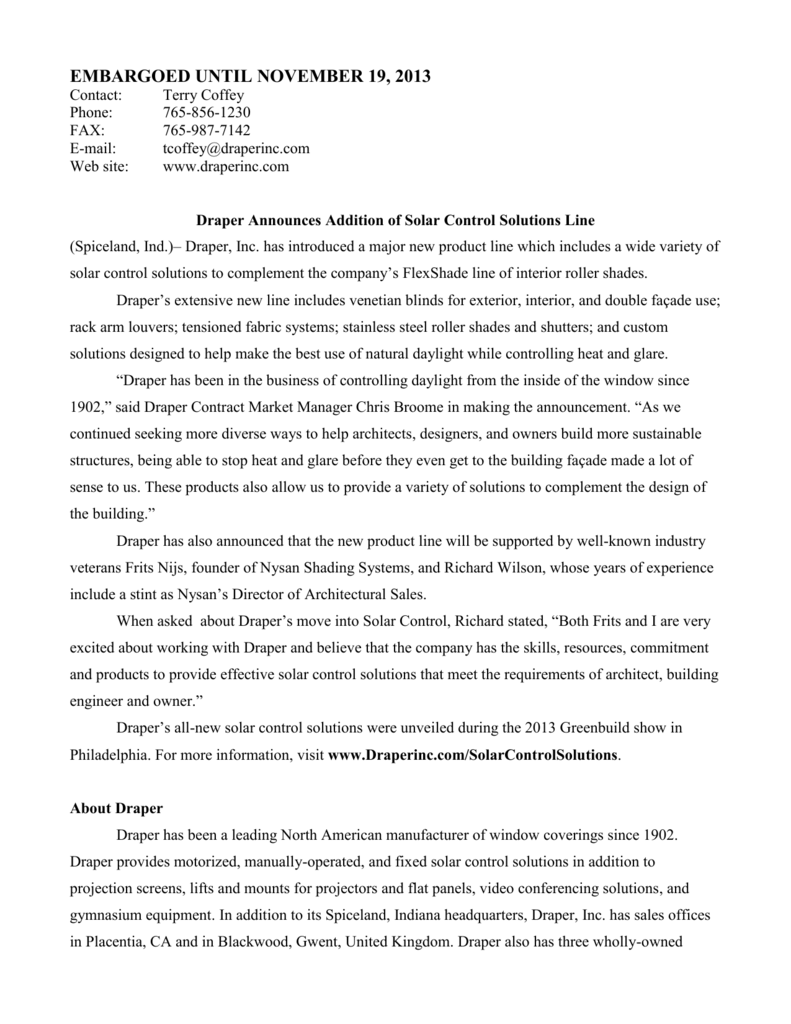 EMBARGOED UNTIL NOVEMBER 19, 2013
Contact:
Phone:
FAX:
E-mail:
Web site:
Terry Coffey
765-856-1230
765-987-7142
[email protected]
www.draperinc.com
Draper Announces Addition of Solar Control Solutions Line
(Spiceland, Ind.)– Draper, Inc. has introduced a major new product line which includes a wide variety of
solar control solutions to complement the company's FlexShade line of interior roller shades.
Draper's extensive new line includes venetian blinds for exterior, interior, and double façade use;
rack arm louvers; tensioned fabric systems; stainless steel roller shades and shutters; and custom
solutions designed to help make the best use of natural daylight while controlling heat and glare.
"Draper has been in the business of controlling daylight from the inside of the window since
1902," said Draper Contract Market Manager Chris Broome in making the announcement. "As we
continued seeking more diverse ways to help architects, designers, and owners build more sustainable
structures, being able to stop heat and glare before they even get to the building façade made a lot of
sense to us. These products also allow us to provide a variety of solutions to complement the design of
the building."
Draper has also announced that the new product line will be supported by well-known industry
veterans Frits Nijs, founder of Nysan Shading Systems, and Richard Wilson, whose years of experience
include a stint as Nysan's Director of Architectural Sales.
When asked about Draper's move into Solar Control, Richard stated, "Both Frits and I are very
excited about working with Draper and believe that the company has the skills, resources, commitment
and products to provide effective solar control solutions that meet the requirements of architect, building
engineer and owner."
Draper's all-new solar control solutions were unveiled during the 2013 Greenbuild show in
Philadelphia. For more information, visit www.Draperinc.com/SolarControlSolutions.
About Draper
Draper has been a leading North American manufacturer of window coverings since 1902.
Draper provides motorized, manually-operated, and fixed solar control solutions in addition to
projection screens, lifts and mounts for projectors and flat panels, video conferencing solutions, and
gymnasium equipment. In addition to its Spiceland, Indiana headquarters, Draper, Inc. has sales offices
in Placentia, CA and in Blackwood, Gwent, United Kingdom. Draper also has three wholly-owned
subsidiaries: Draper Group Ltd., a sales and warehouse facility in Corby, Northamptonshire, United
Kingdom; and two manufacturing companies in Sweden: Draper Europe AB, a leading European
projection screen manufacturer, and SMS Smart Media Solutions AB, a leading European provider of
video projector and flat screen mounts. For more information, visit www.draperinc.com.