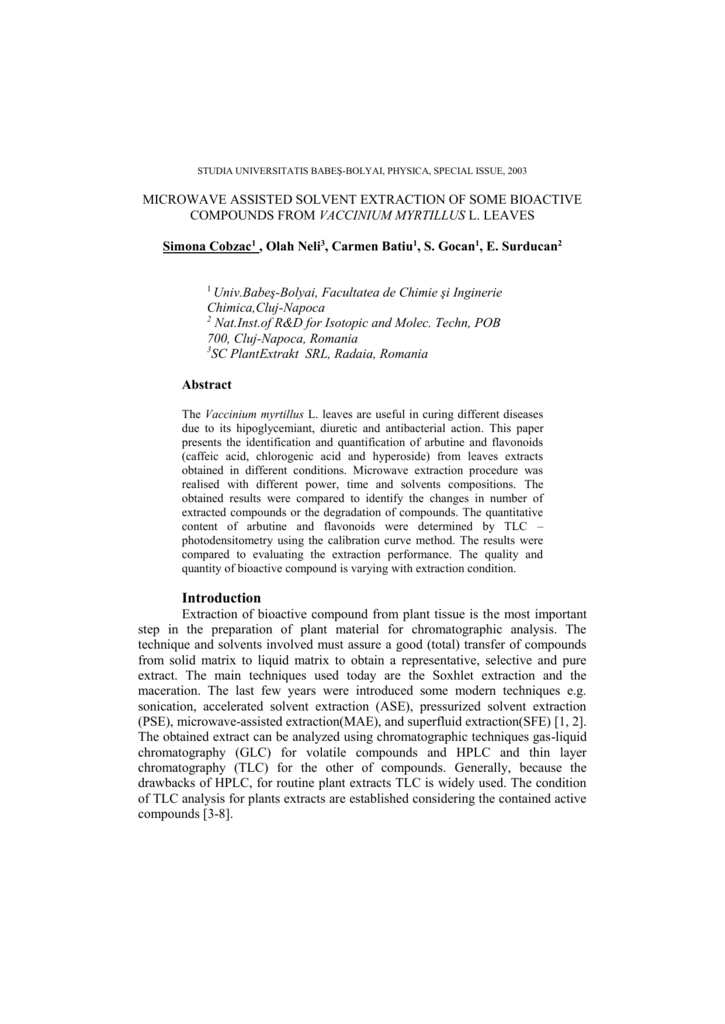 STUDIA UNIVERSITATIS BABEŞ-BOLYAI, PHYSICA, SPECIAL ISSUE, 2003
MICROWAVE ASSISTED SOLVENT EXTRACTION OF SOME BIOACTIVE
COMPOUNDS FROM VACCINIUM MYRTILLUS L. LEAVES
Simona Cobzac1 , Olah Neli3, Carmen Batiu1, S. Gocan1, E. Surducan2
Univ.Babeş-Bolyai, Facultatea de Chimie şi Inginerie
Chimica,Cluj-Napoca
2
Nat.Inst.of R&D for Isotopic and Molec. Techn, POB
700, Cluj-Napoca, Romania
3
SC PlantExtrakt SRL, Radaia, Romania
1
Abstract
The Vaccinium myrtillus L. leaves are useful in curing different diseases
due to its hipoglycemiant, diuretic and antibacterial action. This paper
presents the identification and quantification of arbutine and flavonoids
(caffeic acid, chlorogenic acid and hyperoside) from leaves extracts
obtained in different conditions. Microwave extraction procedure was
realised with different power, time and solvents compositions. The
obtained results were compared to identify the changes in number of
extracted compounds or the degradation of compounds. The quantitative
content of arbutine and flavonoids were determined by TLC –
photodensitometry using the calibration curve method. The results were
compared to evaluating the extraction performance. The quality and
quantity of bioactive compound is varying with extraction condition.
Introduction
Extraction of bioactive compound from plant tissue is the most important
step in the preparation of plant material for chromatographic analysis. The
technique and solvents involved must assure a good (total) transfer of compounds
from solid matrix to liquid matrix to obtain a representative, selective and pure
extract. The main techniques used today are the Soxhlet extraction and the
maceration. The last few years were introduced some modern techniques e.g.
sonication, accelerated solvent extraction (ASE), pressurized solvent extraction
(PSE), microwave-assisted extraction(MAE), and superfluid extraction(SFE) [1, 2].
The obtained extract can be analyzed using chromatographic techniques gas-liquid
chromatography (GLC) for volatile compounds and HPLC and thin layer
chromatography (TLC) for the other of compounds. Generally, because the
drawbacks of HPLC, for routine plant extracts TLC is widely used. The condition
of TLC analysis for plants extracts are established considering the contained active
compounds [3-8].
SIMONA COBZAC, OLAH NELI, CARMEN BATIU, S. GOCAN, E. SURDUCAN
Experimental
The plant extracts was obtained using three different extraction techniques:
Soxhlet extraction, hot solvent extraction and microwave assisted extraction.
Bioactive compound extraction The dryed Vaccinium myrtillus (Fares Bio Vital,
Bucureşti) leaves were grinded using a blender and seaved using the seave no. 2.
The lipophilic compounds and chlorophile were Soxhlet-extracted with CCl4.
Flavonoids and arbutin were extracted in three different ways with methanol. For
each type of extraction techniques a quantity (2 gr) of epuised plant material were
weigthed.
Extract A – obtained after concentration the Soxhlet extract with a
rotavapor and adjusting the final volume to 10 mL.
Extract B – were obtained by refluxing the plant material 30 min. with 25
mL methanol. After centrifugation the volume were reduced by rotavapor and than
the final volume was bring up to 10 ml.
Extract C – the plant material was subjected two times to microwave
extraction with 10 mL methanol (table 1). The unified methanolic extracts were
evaporated using a rotavapor and than bring up to a final volume of 10 mL.
Table 1.
Condition for microwave assisted extraction of Vaccinium myrtillus leaves.
Power factor
Time (sec)
Temperature range (0C)
9x80
240
32-50
9x80
240
50-75,3
Metanolic solutions (1mL) of arbutine, caffeic acid, chlorogenic acid and
hyperoside were also subjected to a microwave treatment to determine if the
microwave radiations induce changing in molecular structure.
TLC separation, identification and quantitation conditions TLC separation
was performed using Kiselgel 60 F254 plates (Merck) and a solvent mixture of ethyl
acetat - methanol – water (77:13:10, v/v) as mobile phase. The migration distance
was 12 cm. The samples ( A, B and C Extracts) and the reference solutions (caffeic
acid-1.05 mg/mL, chlorogenic acid-0.97 mg/mL, arbutin-5 mg/mL and hyperosid1.03 mg/mL) were manual aplied as bands (20L) and respective as spots (10L)
using a Hamilton microseringe. For quantitation were applied 20 L spots from
reference solution with different concentration. After development the plates were
dried in a gentile air stream and the obtained chromatograms were inspected in UV
light (254 nm) and after spraying with NTS + PEG 400 at 366 nm. The
photodensitograms were obtained by scanning the plates at 254 nm in reflection
mode with a Desaga CD 60 apparatus. The in-situ UV-Vis spectra were obtained in
the 200 – 500 nm range. The total flavonoids was also determined using the
aluminum chloride spectrophotometric method. The absorbance were determined
after 15 min. at 430nm. The calibration curve was achieved using rutin as reference
compound.
MICROWAVE ASSISTED SOLVENT EXTRACTION OF SOME BIOACTIVE COMPOUNDS …
Results and discussion
In figure 1 are presented the chromatograms of A, B and C Extracts near
the reference solution at 254 and 366 nm and in figure 2 the photodensitograms at
245nm. In the table 2 are presented the equations for calibration curve for the
analised compounds and for rutin.
The analysis of the reference solution subjected to microwave treatment
show no change in molecular structure. The results obtained after quantitative TLC
determination for the analysed bioactive compound and for the flavonic total
content are presented in table 3.
Figure 1. The chromatograms for Soxhlet extract - A, refluxing extract –B, microwave
extract -C and reference solution of chlorogenic acid (1), arbutin (2), hyperosid (3), caffeic
acid (4) at 254 nm and 366 nm.
Figure 2. The photodensitograms for A, B and C extracts overlapped on the reference
solution (1, 2, 3,4) at 254 nm.
SIMONA COBZAC, OLAH NELI, CARMEN BATIU, S. GOCAN, E. SURDUCAN
Tabele.2.
Rf values and calibration curve equation for the analyzed compound and rutin .
Compound
Rf
Calibration curve equation
Chlorogenic acid
0.18 Y=924.98(±780.14)+6466.71(±1772.41)X
Caffeic acid
0.82 Y=345.4(±1445.11)+8290.98(±3032.97)X
Hyperosid
0.57 Y=59.5 (±1224.09)+991.12(±295.26)X
Arbutin
0.49 Y=676.65 (±1624.29)+12398.42(±3490.08)X
Rutin
--Y = 0.06(±0.12)+1.92(±1.1) X
r2
0.989
0.981
0.987
0.988
0.982
Table 3.
The determinate bioactive components concentration in the three different types of extracts.
Sample
Concentration (mg/mL)
Chlorogenic acid Caffeic acid Hyperosid Arbutin
Total Flavonoids
A
0.42
--0.26
--0.48
B
0.44
--0.24
--0.39
C
0.07
0.02
0.09
0.89
0.16
Conclusions
The chromatograms presented in figure 1 and the results from table 4 show
a great similarity between extract A (Soxhlet) and B (refluxing). The microwave
extract differs very much from the previous two and can be observed a change in
the quantity of extracted compounds (caffeic acid and arbutin). In the same time
the microwave extraction is less efficient due to small quantity in total flavonoids.
It is clear that the extraction technique have a great influence in the nature and
quantity of extracted compound.
Bibliography:
1. Sz.N yi r ed y, K .G lo wn ia k, Planar Chromatography In Medicinal Plant Research,
Planar Chromatography, Ed.Sz.Nyiredy, Springer, Budapesta, 2001, 550.
2. J .Na mie s ni k, T .Go r e ki , Sample Preparation For Chromatographic Analysis Of
Plant Material, J.P.C.-Modern TLC, 13(2000), 404.
3. DAB, Ed X, Deutscher Apotheker Verelag, Stuttgart, 1991
4. HAB, Homeopatisches Arzneibuch, 2000, Deutscher Apotheker Verelag, Stuttgart, Govi
Verlag, Pharmazeutischer Verlag, GmbH, Eschborn, 2000.
5. H.W ag ner , S.B lad t, E.M. Zga i n s ki , Drogen Analyse, DC Analyse von
Arzneidrogen, Springer Verlag, Berlin, 1983.
6. M.W ic h tel , Teedrogen und Phytopharmaka, 3 Auflage, Wissenschaftliche Verlag,
Stuttgard, 1997.
7. S.Co b z ac, G. Ci mp a n, N.O la h, S. Go ca n , The Quantitative Determination Of
Rutin In Different Glycerinic Plant Extracts By SPE And TLC/Densitometry, J.P.C.-Modern
TLC, 12(1999), 26
8. S.Go ca n, S. Co b za c , Determinarea Cantitativa A Hiperosidului Din Maceratul
Glicerinic De Betula Verrucosa Prin CSS/Fotodensitometrare, Revista de Chimie,
47(1996), 54.