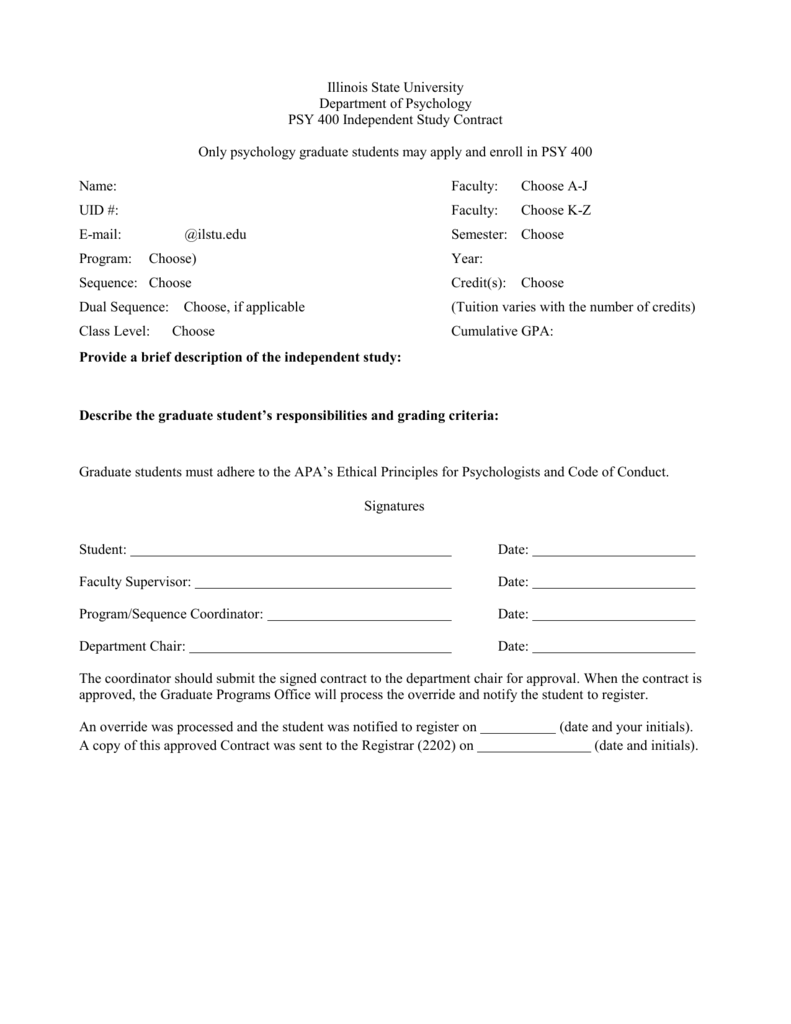 Illinois State University
Department of Psychology
PSY 400 Independent Study Contract
Only psychology graduate students may apply and enroll in PSY 400
Name:
Faculty:
Choose A-J
UID #:
Faculty:
Choose K-Z
E-mail:
Program:
@ilstu.edu
Semester: Choose
Choose)
Year:
Sequence: Choose
Credit(s):
Dual Sequence:
(Tuition varies with the number of credits)
Class Level:
Choose, if applicable
Choose
Choose
Cumulative GPA:
Provide a brief description of the independent study:
Describe the graduate student's responsibilities and grading criteria:
Graduate students must adhere to the APA's Ethical Principles for Psychologists and Code of Conduct.
Signatures
Student:
Date:
Faculty Supervisor:
Date:
Program/Sequence Coordinator:
Date:
Department Chair:
Date:
The coordinator should submit the signed contract to the department chair for approval. When the contract is
approved, the Graduate Programs Office will process the override and notify the student to register.
An override was processed and the student was notified to register on
A copy of this approved Contract was sent to the Registrar (2202) on
(date and your initials).
(date and initials).