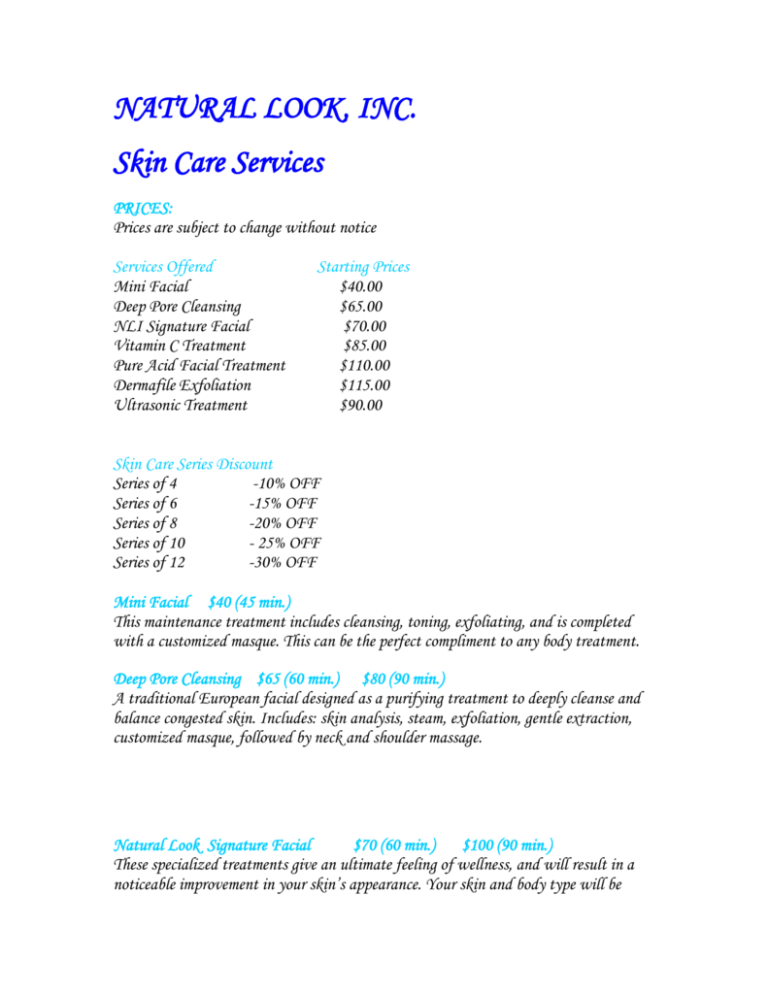 NATURAL LOOK, INC.
Skin Care Services
PRICES:
Prices are subject to change without notice
Services Offered
Mini Facial
Deep Pore Cleansing
NLI Signature Facial
Vitamin C Treatment
Pure Acid Facial Treatment
Dermafile Exfoliation
Ultrasonic Treatment
Starting Prices
$40.00
$65.00
$70.00
$85.00
$110.00
$115.00
$90.00
Skin Care Series Discount
Series of 4
-10% OFF
Series of 6
-15% OFF
Series of 8
-20% OFF
Series of 10
- 25% OFF
Series of 12
-30% OFF
Mini Facial $40 (45 min.)
This maintenance treatment includes cleansing, toning, exfoliating, and is completed
with a customized masque. This can be the perfect compliment to any body treatment.
Deep Pore Cleansing $65 (60 min.) $80 (90 min.)
A traditional European facial designed as a purifying treatment to deeply cleanse and
balance congested skin. Includes: skin analysis, steam, exfoliation, gentle extraction,
customized masque, followed by neck and shoulder massage.
Natural Look Signature Facial
$70 (60 min.)
$100 (90 min.)
These specialized treatments give an ultimate feeling of wellness, and will result in a
noticeable improvement in your skin's appearance. Your skin and body type will be
analyzed by our professional therapists and will be treated with a serum of pure
concentrated extracts. Your entire body will feel relaxed after a soothing aromatic
massage of hands, neck, and shoulders. These personalized facials will leave your skin
detoxified with a radiant glow.
Vitamin C Treatment
$85 (90 min.)
This treatment reduces fine lines and improves the skin's elasticity. Your skin appears
vibrant, fresh and luminous. This is the perfect treatment just before special occasions.
Pure Acids Facial Treatment
$110 (90 min.)
We use a chemical solution to improve and smooth the texture of the facial skin by
removing its damaged outer layers. For those individuals with facial blemishes, acne
scars, wrinkles and uneven skin pigmentation, this treatment helps control acne and
removes precancerous skin growths.
Dermafile Exfoliation
$115 (90 min.)
Dermafile Exfoliation is an effective deep skin polishing technique that removes
unwanted dead skin cells, repairs years of sun damage, hyper-pigmentation, fine lines,
wrinkles and acne scars. It helps makeup look smoother and builds collagen. Dermafile
is a safe, natural, and holistic alternative to chemical peels and microdermabrasion.
Facial Ultrasonic Treatment
$90 (60 min.) $120 (90 min.).
This treatment is the new generation of microdermabrasion or what is being called "soft
peeling". Using the ultrasonic skin spatula, it stimulates and expands the cell
membrane, improves local blood and lymph circulation, and increases the penetration of
skin enhancing products. It strengthens the skin tissue metabolism, resulting in the
reduction of fine lines and wrinkles.