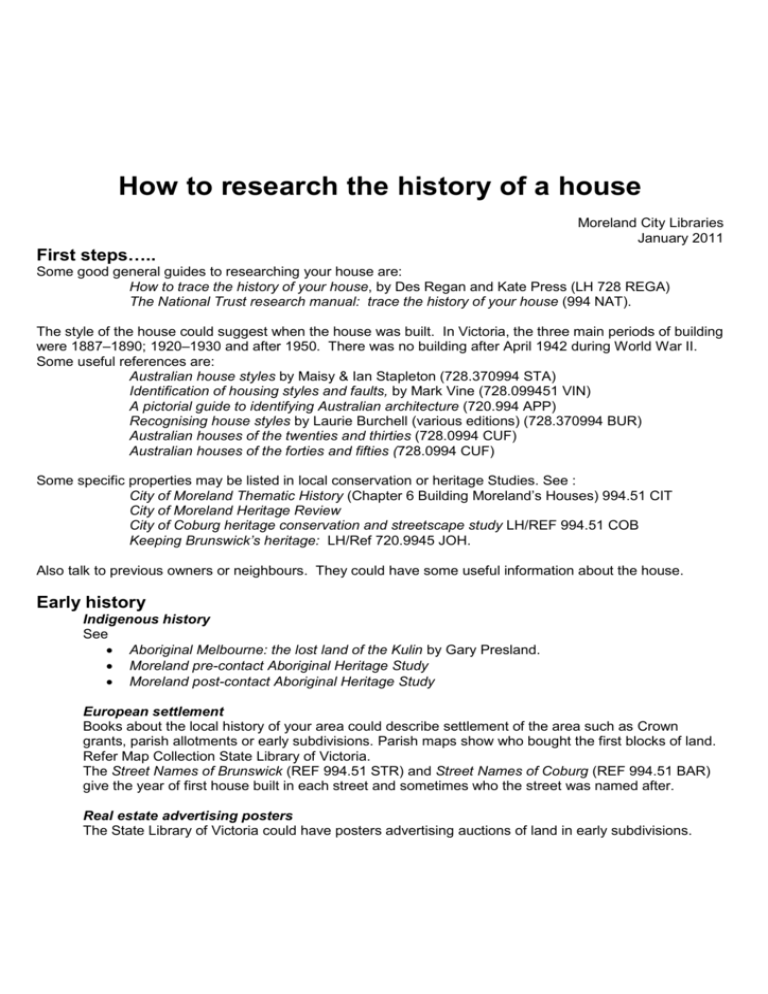 Do not alter margins – they are specifically set to the requirements of the letterhead. This text will not print
How to research the history of a house
Moreland City Libraries
January 2011
First steps…..
Some good general guides to researching your house are:
How to trace the history of your house, by Des Regan and Kate Press (LH 728 REGA)
The National Trust research manual: trace the history of your house (994 NAT).
The style of the house could suggest when the house was built. In Victoria, the three main periods of building
were 1887–1890; 1920–1930 and after 1950. There was no building after April 1942 during World War II.
Some useful references are:
Australian house styles by Maisy & Ian Stapleton (728.370994 STA)
Identification of housing styles and faults, by Mark Vine (728.099451 VIN)
A pictorial guide to identifying Australian architecture (720.994 APP)
Recognising house styles by Laurie Burchell (various editions) (728.370994 BUR)
Australian houses of the twenties and thirties (728.0994 CUF)
Australian houses of the forties and fifties (728.0994 CUF)
Some specific properties may be listed in local conservation or heritage Studies. See :
City of Moreland Thematic History (Chapter 6 Building Moreland's Houses) 994.51 CIT
City of Moreland Heritage Review
City of Coburg heritage conservation and streetscape study LH/REF 994.51 COB
Keeping Brunswick's heritage: LH/Ref 720.9945 JOH.
Also talk to previous owners or neighbours. They could have some useful information about the house.
Early history
Indigenous history
See
 Aboriginal Melbourne: the lost land of the Kulin by Gary Presland.
 Moreland pre-contact Aboriginal Heritage Study
 Moreland post-contact Aboriginal Heritage Study
European settlement
Books about the local history of your area could describe settlement of the area such as Crown
grants, parish allotments or early subdivisions. Parish maps show who bought the first blocks of land.
Refer Map Collection State Library of Victoria.
The Street Names of Brunswick (REF 994.51 STR) and Street Names of Coburg (REF 994.51 BAR)
give the year of first house built in each street and sometimes who the street was named after.
Real estate advertising posters
The State Library of Victoria could have posters advertising auctions of land in early subdivisions.
Do not alter margins – they are specifically set to the requirements of the letterhead. This text will not print.
Do not alter margins – they are specifically set to the requirements of the letterhead. This text will not print
The house over time
Land titles
Titles show when properties were bought and sold Refer www.land.vic.gov.au.
Melbourne & Metropolitan Board of Works drainage maps
These maps can be detailed to the level of the plumbing in individual houses. Looking at the maps
from different years could show how the property changed over time.
Coburg Historical Society has bound copies of first MMBW maps for Coburg and Pascoe Vale 1909–
1949. Also see the State Library of Victoria and Yarra Valley Water.
Sands & Kenny (1857–1861) and Sands & MacDougall Post Office Directories (1862–1974)
These directories were like modern phone books but arranged by suburb and street, as well as
alphabetically by name of the main occupier. They can tell you who lived at an address at a particular
time.
Information was collected by going door to door, and then published in the following year. To guess a
year of a house's construction, use the directories to work back in time until there is no listing of your
house. By taking away one year, this could be the year the house was built. Note: House numbers
for whole streets changed in the Brunswick/Coburg area at various times. By following the name of
the main resident over time you might be able to work out how the numbers changed.
Refer Genealogy Pathfinder for library holdings of postal directory records.
Rate records
Rates were once collected from residents (rather than owners) by rate collectors going to door-todoor. Rate records include feet of frontage of the house, construction material, number of rooms and
valuations. Rate records are organized by Council ward. Within the wards, the records follow the
path the collectors took around the streets. Note: wards do change over time.
At Brunswick there is an index to the streets in the rate records on the noticeboard in the Local History
Room. To find streets in the rate records for Coburg and Pascoe Vale, use the index at the beginning
of most years in the books from 1885–86 to 1937–38. Lot numbers are useful and will help you in
every year to limit your recording to the property you are researching. Be wary of lot numbers 1, 2
and 3 as these are often the result of re-subdivision and in long streets may appear more than once.
Refer Local studies pathfinder for holdings of rate records at library branches.
Building permit records
The Moreland City Council has the records of building permits.
The Coburg Historical Society has indexes of building permits for Coburg and Pascoe Vale 1930–
1976.
Real estate advertisements in local newspapers at time of sale
These could give good information about how the house has changed over time.
Photographs Unless the house is famous you probably won't find a photograph of the house. You
might find a photograph a street. Try www.pictureaustralia.org. Try search terms in inverted commas
e.g. "Chapman Street". Also search the short form e.g. "Chapman St".
Do not alter margins – they are specifically set to the requirements of the letterhead. This text will not print.