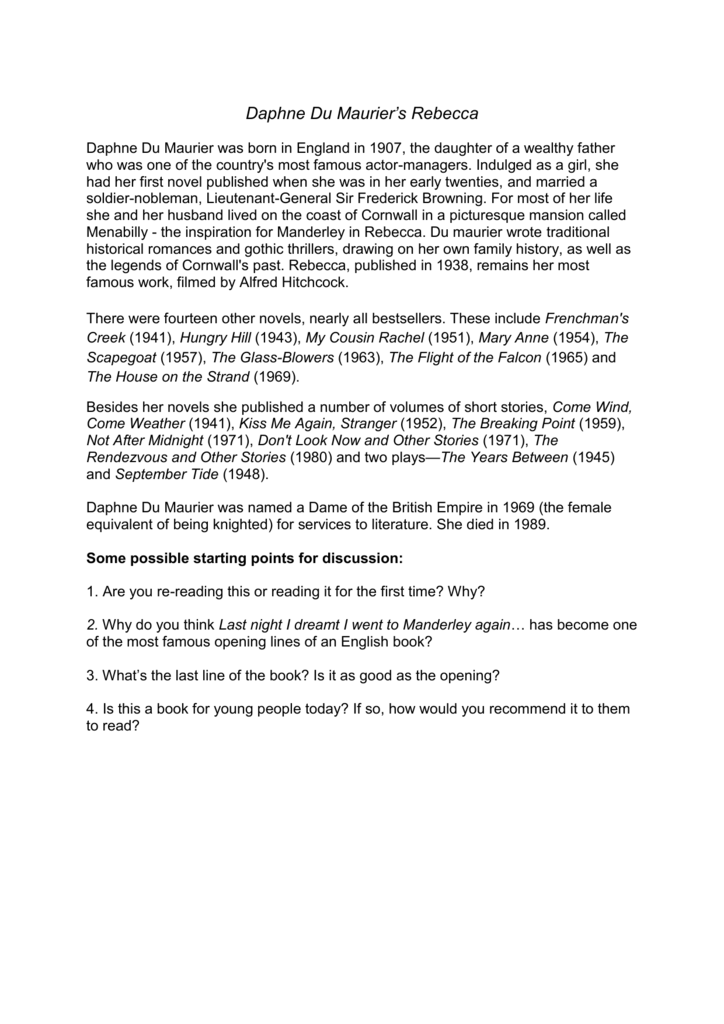 Daphne Du Maurier's Rebecca
Daphne Du Maurier was born in England in 1907, the daughter of a wealthy father
who was one of the country's most famous actor-managers. Indulged as a girl, she
had her first novel published when she was in her early twenties, and married a
soldier-nobleman, Lieutenant-General Sir Frederick Browning. For most of her life
she and her husband lived on the coast of Cornwall in a picturesque mansion called
Menabilly - the inspiration for Manderley in Rebecca. Du maurier wrote traditional
historical romances and gothic thrillers, drawing on her own family history, as well as
the legends of Cornwall's past. Rebecca, published in 1938, remains her most
famous work, filmed by Alfred Hitchcock.
There were fourteen other novels, nearly all bestsellers. These include Frenchman's
Creek (1941), Hungry Hill (1943), My Cousin Rachel (1951), Mary Anne (1954), The
Scapegoat (1957), The Glass-Blowers (1963), The Flight of the Falcon (1965) and
The House on the Strand (1969).
Besides her novels she published a number of volumes of short stories, Come Wind,
Come Weather (1941), Kiss Me Again, Stranger (1952), The Breaking Point (1959),
Not After Midnight (1971), Don't Look Now and Other Stories (1971), The
Rendezvous and Other Stories (1980) and two plays—The Years Between (1945)
and September Tide (1948).
Daphne Du Maurier was named a Dame of the British Empire in 1969 (the female
equivalent of being knighted) for services to literature. She died in 1989.
Some possible starting points for discussion:
1. Are you re-reading this or reading it for the first time? Why?
2. Why do you think Last night I dreamt I went to Manderley again… has become one
of the most famous opening lines of an English book?
3. What's the last line of the book? Is it as good as the opening?
4. Is this a book for young people today? If so, how would you recommend it to them
to read?